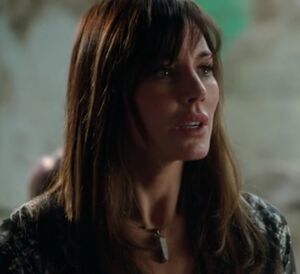 Naomi Duvray is the main villainess from "Last Action Hero," the 6th episode of Castle's seventh season.
She was played by Krista Allen, who also played Desiree Atkins on Smallville, Teresa Telenko on Monk, and Skyler Kase on Fastlane.
Biography
Naomi Duvray is an actress who was married to action star Brock Harmon, and is the mother of Trey Harmon. However, it was revealed that Naomi had an illicit tryst with fellow action star Lance DeLorca, which resulted in the conception of Trey. Naomi kept the affair and the fact that Lance was Trey's biological father a secret, but after Trey's bone marrow transplant saved Lance during his cancer scare, Lance had a paternity test taken, which confirmed his suspicions that he was Trey's father.
When Naomi was informed by Trey that Lance had something important to tell him, she figured that he would reveal the whole truth to Trey. Fearing that her marriage and her career would be ruined, the evil Naomi killed Lance at the alley of a movie theater, doing so by strangling him to death with a garrote. Beckett and Castle confronted Naomi at a movie set, where her villainous role was revealed. Naomi snarled that Lance was going to ruin everything she spent 30 years to build, and following this, she was arrested (off-screen) for Lance's murder.