Doctor Strange in The Multiverse o Madness - The Loop
Play Sound
Nathan Dean was a mutated thief from the WB TV series Smallville.
He appears in the Season 3 episode "Whisper" as the freak of the week main antagonist.
He was portrayed by Micah Alberti.
Biography
Nathan was a metahuman who possessed the ability to produce ultra-sonic waves capable of shattering glass or even temporarily deafening people.
He worked with another criminal named Walt Masterson and both drove up to Smallville Jewelers planning to rob it.
Nathan was supposed to smash the cases with his sonic scream while Masterson grabbed the goods. Clark Kent was in the store when Nathan walked in using his fingers to adjust his throat and vibrate up and down at a rapid rate.
With effort he emits a high-pitched shriek and everyone covers their ears in pain as Masterson enters the store. His screech detained the civilians in the store, including Clark.
While Masterson was collecting the valuables, Clark used his heat vision to disarm the thief but a beam of it was reflected into his eyes by a set of meteor rock earrings that were launched into the air during the attack and he was inadvertently blinded. Masterson was apprehended and Nathan slipped away blending into the crowd.
Nathan went to Smallville High to keep an eye on Pete Ross and Clark. On Masterson's orders, Nathan arrived at the Kent Farm in a tow truck and uses his ability to incapacitate Clark and Pete. He then forces Pete into the truck kidnapping him.
Nathan left a ransom demanding Judge Abigail Ross grant the motion to dismiss all charges against Masterson or else he would kill her son Pete.
While in town searching for Pete, Clark used his new ability of super-hearing to hear a tow truck recognizing it as the truck that took Pete.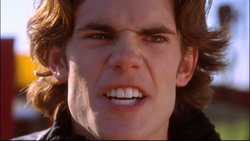 A blinded Clark then manages to hop on the back of the truck. The truck takes him straight to where Pete was being held.
Clark hears Pete call out and finds him, but Nathan Dean was not far away and he arrives in time to knock Pete over the head and attacks Clark with a blowtorch.
He knocks off Clark's sunglasses and passes the torch across Clark's eyes several times. Clark reels back in pain while Nathan moves Pete to a new location.
When Masterson was released, Nathan contacted him and planned to get rid of Pete anyways. Pete was locked inside the trunk of a car which was then placed into the compacting machine, but Clark, using his newly-acquired power of super-hearing, discovered Nathan's plan and rushed to the impound.
Clark was wandering around the junkyard when he found Nathan and doesn't recognize Nathan until he speaks. Nathan uses his ability to disable Clark. Clark confronted Nathan who used his sonic scream to incapacitate Clark, but also inadvertently disturbed a stack of cars in the junkyard that topples on top of Nathan that crushes him.

Villains
Protagonists