✔



Click To Help Darkseid!

Darkseid has declared that this article requires immediate Cleanup in order to meet a higher standard.
Help improve this article by improving formatting, spelling and general layout - least it fall victim to an Omega Effect


✔
| | | |
| --- | --- | --- |
| " | All life fears death from birth. Life fears death, but lives only to die. It starts with anxiety. Anxiety becomes fear. Fear leads to anger... anger leads to hate... hate leads to suffering... The only cure for this fear is total destruction. ...Now, the theory is undeniable. Kuja's action proves it. All things live to perish. | " |
| | ~ Necron | |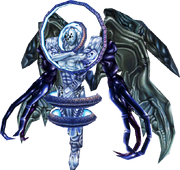 | | | |
| --- | --- | --- |
| " | This is not the end. I am eternal...as long as there is life and death. | " |
| | ~ Necron, upon being defeated by Zidane's party. | |
Necron is the final boss in Final Fantasy IX. It appears in the area Hill of Despair, after Zidane Tribal and his party battle Trance Kuja, and represents death itself. Necron's ultimate goal is to reduce everything to nothingness. Its appearance in the game is somewhat of a mystery, as it arrives unexpectedly and the character is never fully explained.
Trivia
While Necron is the final boss, Kuja is considered the Big Bad due to his constant role in the game, while Necron literally appears out of nowhere at the very end, with no mentioning or foreshadowing whatsoever of its existence beforehand. Necron is thus generally disliked by many Final Fantasy fans, who believe that Trance Kuja should have been the final boss instead.
Although Necron's personal background music is just called "The Final Battle", some fans have named it "Grand Cross", after one of his most notable attacks.
Necron uses Yoda's quote from Star Wars: Episode I - The Phantom Menace (which was released only a year before Final Fantasy IX) in the pre-battle cutscene.