Doctor Strange in The Multiverse o Madness - The Loop
Play Sound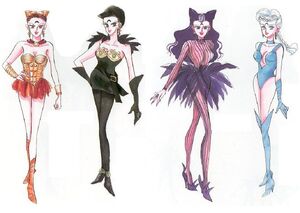 The four Specter Sisters (あやかしの四姉妹 Ayakashi no Yon Shimai), also known as the Negamoon Sisters, are subordinates of Rubeus and members of the Black Moon Clan. Each of the sisters possess earrings made of Malefic Black Crystal, giving them psychic powers as a result.
History
The Specter Sisters appear as the Black Moon Clan's first line of offense in attack on Tokyo in the 20th century. They were sent back with the mission of alter history to suit their group's ideals while capturing Chibiusa and Sailor Moon's Sailor Guardian bodyguards. The 4th born sister Koan started first by capturing Sailor Mars, then the 3rd born sister Berthier during the same with Sailor Mercury. After the eldest sister Petz died capturing Sailor Jupiter, Calaveras used her medium abilities to revive her sisters through host bodies while attempting to capture Sailor Venus. But Calavera's death marked the end of the sisters.
90s Anime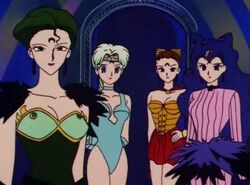 Portrayed as slightly obsessed with beauty, the Specter Sisters' role in the Sailor Moon R anime is to compromise Tokyo's Crystal Points which would alter the foundation of the White Moon palace of Crystal Tokyo. The four sisters were eventually purified by Sailor Moon's Moon Crystal Healing Activation, deciding to remain in 20th century Tokyo to run a cosmetics shop.
Musicals
Petz, Calaveras, and Koan appeared in the musical Tanjou! Ankoku no Princess Black Lady, and in its revision Berthier was also present with her sisters. In this continuity they had a group attack called "Black Vicious Crystal," performed with Esmeraude in the first musical and with only the four sisters in the kaiteiban.
Members
Gallery
Trivia
In the Kodansha English version of the manga, they were called the Spectre Sisters.
In early concept art, they were titled as the "Four Weird Sisters".
In the Mixx manga, they were referred to as "The Four Sisters of Deception", while the Kodansha release called them the "Spectre Sisters". Meanwhile, the ADV subtitles called them "The Four Phantom Sisters".
The Negamoon Sisters, along with the Doctor Tomoe and Sailor Galaxia, were the only main villains not killed off in the 90's Sailor Moon anime, unlike the manga storyline.

Also like Doctor Tomoe they were not redeemed in the original manga storyline, while in the 90's anime adaption they were.

Villains