Jurassic World: Dominion Dominates Fandom Wikis - The Loop
Play Sound
Neo Empire Gear are a technologically advanced society based from the Neo Grad at the South Pole and the main antagonists of Choudenshi Bioman.
History
Neo Empire Gear was originally established at the South Pole by the rogue scientist Hideo Kageyama, after he converted himself into a cyborg and took up the name "Doctor Man". Seeking to create a technologically-advanced empire to rule of the Earth, Doctor Man created an army of machines to assist him in his conquest, keeping his true origins a secret from them and everyone else. To command his army, Doctor Man created a trio of humanoid robots named the "Big Three". From their Neo Grad fortress, the Gear plot attacks across the world to further their goal of global domination.
While initially opposed by the Biomen, the Gear later face another opponent when Bio Hunter Silva arrives on Earth in search of his mecha Balzion and battles both the Gear and the Biomen. The Gear initially try to ally with Silva and he refuses, after which the Gear being plotting to seize his mech Balzion for themselves. Eventually, most of the Gear's generals were killed off by Silva before Doctor Man was defeated by the Biomen in the finale. After Doctor Man's death, Neograd would be buried in a snowstorm, signifying the end of Gear.
Arsenal
Neograd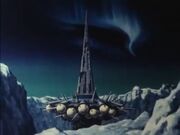 Neograd is the home fortress of Neo Empire Gear, a colossal complex located in the South Pole. It is comprised of a circular base with a large tower in the center. It contains a meeting room where Doctor Man and the Big Three discuss their plans of attack. It is also home to a dock where the Mecha-Gigan giant robots used by the empire are kept and maintained. Other areas include a prison for holding captured enemies and a laboratory where Doctor Man conducts experiments to create new soldiers of the empire.
After the Gear's downfall and Doctor Man's death, Neograd was buried under snow as a sign of Gear's end.
Mirage Fighters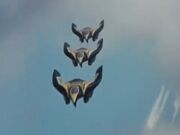 Mirage Fighters are aerial crafts used by the Neo Empire Gear for air combat. They attack by firing triangular lasers from their front. They are typically sent out in groups of three and piloted by Mechaclones. They were also built into Neo-Mecha Gigans, allowing the Big Three to make a quick escape whenever the Neo-Mecha Gigan they were piloting was defeated by the Biomen in Bio Robo.
Members
Doctor Man - Leader

Big Three

Beastnoids

Psygorn

Mettzler

Zyuoh

Aquaiger

Messer Beast

Mecha Gigans

Neo Mecha Gigans
Gallery

Villains
Neo Empire Gear
Doctor Man | Mason | Farrah | Farrah Cat | Monster | Mechaclones
Beastnoids: Zyuoh | Messerjū | Psygorn | Mettzler | Aquaiger
Mecha-Gigan: Kabuto Canth | Devil Canth | Gorilla Canth | Beetle Canth | Mummy Canth | Rhino Canth | Sea Anemone Canth | Twin Canth (Twin Dolls) | Chameleon Canth | Musha Canth | Hammer Canth | Shark Canth | Anchor Canth (Neo Intellect Brain) | Frog Canth | Neptune Canth | Turtle Canth | Haniwa Canth | Grotes Canth (Prince) | Camera Canth | Scarab Canth | Pirahna Canth | Poison Moth Canth | Crab Canth | Ghost Canth | Spider Canth | Octopus Canth | Jellyfish Canth | Mantis Canth
Neo Mecha-Gigan: Metal Megas | Axe Megas | Skull Megas | Wrestler Megas | Magne Megas (Magne Warrior) | Cannon Megas | Battle Megas | Sonic Megas | Crush Megas | Amazon Megas | Thunder Megas | Satan Megas | Baroque Megas | Rugger Megas | Lens Megas | Super Megas | King Megas
Anti-Bio Union
Bio Hunter Silva | Balzion