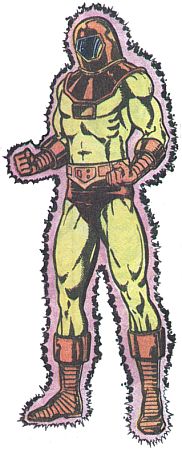 Neutron is a supervillain with radioactive powers in the DC comics and an enemy of Superman.
History
His name was initially Nathaniel Tryon, who was a security guard at a nuclear power plant. He and two other thugs formed the TNT Trio and broke into the power plant. They were caught in a nuclear meltdown were Nathaniel would have to wear a containment suit for the rest of his life. He had managed to obtain superstrength and the ability to fire radioactive blasts. He used these powers to try and kill those he thought were responsible but was stopped by Superman. Abraxas Industries would later have him released as part of a work-release program, though it was actually a plot by Vandal Savage to kill Superman. Savage's scheme would be revealed, however, and Neutron would be returned to prison. He was later held at S.T.A.R. labs with the villainess Jinx. He and Jinx were freed by the Fearsome Five and joined the team, though Neutron quickly left the team. He eventually came to work for the villain Conduit and was sent with Warp and Plasmus to kill Jonathan and Martha Kent. Superman managed to defeat the team, however. Neutron later joined the Secret Society of Supervillains. He was apparently killed when Lex Luthor used him as a power source for a teleporter and the device self-destructed.
Television History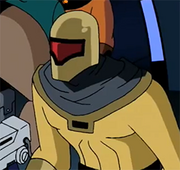 Neutron appeared in Justice League Unlimited as a member of Grodd's Legion of Doom. He was killed during the mutiny along with the other villains that sided with Grodd. He also appeared in Smallville along with Parasite, Livewire, and Plastique. This team was searching for Doomsday and Neutron would be killed after letting him get away the first time.

Villains
Comics
Andre LeBlanc | Anti-Monitor | Arsenal | Blackfire | Blizzard | Brother Blood | Brotherhood of Evil (Brain, Monsieur Mallah, Madame Rouge, General Immortus) | Brutale | Calculator | Cheshire | Clock King | Damien Darhk | Deathstroke | Deuce & Charger | Deathwing | Ding Dong Daddy | Doctor Light | Doctor Polaris | Duela Dent | Electrocutioner | Gentleman Ghost | Gizmo | Holocaust | Ice Kate | Jericho | Jinx | Kid Kold | Kwiz Kid | Legion of Doom (Superboy-Prime, Sun Girl, Headcase, Inertia, Indigo, Persuader, Zookeeper) | Mammoth | Mantis | Mister Twister | Neron | Neutron | Ocean Master | Phobia | Prometheus | Psimon | Puppeteer | Pylon | Ravager | Royal Flush Gang | Shimmer | Sunburst | Terra | Terror Titans | Trident | Trigon | Twister | Two-Face | Veil | Ultra-Humanite | Warp | Wildebeest | Wintergreen
Television
Slade | Terra | Trigon | Blackfire | H.I.V.E. Five (Jinx, Gizmo, Mammoth, Billy Numerous, See-More, & Kyd Wykkyd) | Dr. Light | Cinderblock | Brother Blood | Brotherhood of Evil (Brain, Monsieur Mallah, Madame Rouge, General Immortus) | Control Freak | Puppet King | Killer Moth | Mad Mod | Mother Mae-Eye | Mumbo Jumbo | Plasmus | Overload | Nega Cyborg | Nega Starfire | Nega Beast Boy | Fang | Kitten | Angel | Adonis | Johnny Rancid | Malchior | Master of Games | Ternion | Glgrdsklechhh | The Source | Guard | Kardiak | White Monster | Thunder & Lighting | Atlas | XL Terrestrial | H.I.V.E. Academy | Private H.I.V.E. | Krall | Radiation Creature | I.N.S.T.I.G.A.T.O.R. | Professor Chang | Sammy & Cash | Steamroller | Wrestling Star | Baron Ryang | Punk Rocket | Soto | Space Monster | Katarou | Red X | Trogaar
Video Games
Injustice: Superman | Damian Wayne | Cyborg | Raven | Deathstroke
Films
Teen Titans: Trouble in Tokyo: Uehara Daizo | Brushogun | Nya-Nya
Justice League vs. Teen Titans: Trigon | Legion of Doom (Lex Luthor, Cheetah, Solomon Grundy, Toymaster, & Weather Wizard) | Atomic Skull | Ra's al Ghul
Teen Titans: The Judas Contract: H.I.V.E./Church of Blood (Brother Blood, Mother Mayhem, Deathstroke, & Terra)
Teen Titans Go! To the Movies: Slade Wilson | Lex Luthor
Teen Titans Go! vs. Teen Titans: Hexagon (Trigon (Teen Titans Go!) & Trigon (Teen Titans)) | Master of Games | Gentleman Ghost | Darkseid
Teen Titans Go!
Trigon | Terra | Slade Wilson | Ed | Hurt Bot | Pain Bot | Twin Destroyers of Azarath | Legion of Doom | Death | Perry | Santa Claus | Piglets | Evil Dragon | The Lumberjack

Titans (2018)
Season 1: Trigon | Dr. Adamson | Nuclear Family (Nuclear Dad, Nuclear Stepdad, Nuclear Mom, Nuclear Sis, & Nuclear Biff) | Angela Azarath
Season 2: Deathstroke | Cadmus Laboratories (Mercy Graves & Walter Hawn) | Dr. Light | Wintergreen | Shimmer | Trigon | Angela Azarath | Blackfire
Community content is available under
CC-BY-SA
unless otherwise noted.