This article's content is marked as Mature
The page Mature contains mature content that may include coarse language, sexual references, and/or graphic violent images which may be disturbing to some. Mature pages are recommended for those who are 18 years of age and older.


If you are 18 years or older or are comfortable with graphic material, you are free to view this page. Otherwise, you should close this page and view another page.
The New Founding Fathers of America (also known as the "'NFFA" for an abbreviation) is the main antagonistic faction of The Purge franchise.
Controlled by Caleb Warrens, it has taken over the United States government and established a new regime after an economic collapse and rising social unrest. Their main alleged goals, which often have ultra-nationalist and religious undertones, is to usher the nation into a new phase of prosperity and they achieved this by sanctioning a 12-hour period of lawlessness and rampant crime, including murder, every year, known as The Purge.
History
In 2014, the New Founding Fathers of America have established a new totalitarian government and a police state, following economic collapse and rising social unrest. And a year later, the NFFA devises a plan to help stabilize American society. After being approached by the late psychologist and behavioral science expert Dr. May Updale with the idea for a social experiment, they agree that for one night on Staten Island located in New York to legalize all crime. In 2018, after the successful results of the experiment, which the NFFA manipulated for their own agenda. The 28th Amendment to the U.S Constitution is ratified. This amendment establishes one night a year — a nationwide event called "The Purge", which occurs on March 21 to 22 — in which all crimes (including murder, arson, and theft) are all legal, and all police, fire, and medical emergency services remain unavailable for 12 hours, from 7 P.M. that night until 7 A.M. the next day.
The only rules are that no government officials with authorization levels of 10 or higher can be attacked (that changes in The Purge: Election Year as the NFFA is trying to assassinate Charlene "Charlie" Roan, an anti-Purge political candidate), and all weapons above Class 4 (explosive devices such as grenades, rocket launchers, bazookas, etc, weapons of mass destruction, and viral/biological and chemical agents) are forbidden. Anyone who violates the rules of The Purge would be publicly executed by hanging. The Purge has resulted in crime and unemployment rates plummeting to 1%, and a strong economy. Although it is thought to be used as an act of catharsis for the U.S. populace in order to supposedly lessen the motivation for people to commit crime for the rest of the year, the NFFA purposely sends its own agents to target and kill people living in low socio-economic communities, as a method of artificial population control.
Ideology
The New Founding Fathers established the Purge as an attempted means of catharsis for the American people. On one night a year, from 7 PM to 7 AM, all crime (barring those that directly affect the NFFA themselves, except for the case of Senator Roan in Election Year), including murder, arson, and theft are all legal. As part of their philosophy of the matter, the Purge will help those under the New Founding Fathers of America to free themselves of their sinister and violent urges and tendencies, which, in turn, will allegedly reduce rates of crime and poverty in the process. This is encouraged through NFFA propaganda and strict consequences (including public executions) for those who attempt to go beyond the rules of the Purge, such as directly attacking government officials and using weapons above Class 4-namely.
Most citizens view the NFFA as something that serves their interests by liberating them from the hatred and violence that they keep within themselves. However, the NFFA is extremely hypocritical and despite claiming to usher in a utopia free of crime and unrest, they enforce strict laws upon citizens as shown previously that they impose during the Purge, similar to real life totalitarian regimes. The NFFA also has a neo-Nazi paramilitary force that is led by Earl Danzinger, alluding to their fascist ideology.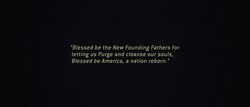 Disturbingly, the ideology of the NFFA has deep religious undertones, which fittingly suits their agenda of ushering in a new phase of prosperity, akin to paradise. Every TV screen in America prior to the Purge shows a prayer announcement, which blesses "NFFA" for allowing citizens to act upon their sinful desires, which retrospectively "cleanses" their souls according to their ideology. In The Purge: Election Year, the NFFA is seen to be inspired by Christian, particularly Catholic, beliefs but the NFFA itself heavily relies on the cult of personality as most of the Purge prayers are centered around the NFFA rather than on a specific deity. High-ranking NFFA members often empty out churches, replace traditional religious icons with NFFA banners and congregate, where they perform human sacrifice upon supposed sinners to "cleanse" society. Throughout the series, the NFFA is shown to be a very influential cult that holds immense power over politics and society in America.
Actions of the NFFA
The NFFA acts most to ensure the Purge through its horrific decision to cut off all emergency services during the event. Assuming control of these services, all police stations, firehouses, and hospitals decline help for the victimized (and thus potential interference) while giving those who partake in the Purge a chance to act out. Ideally, from their position, it is meant to encourage the higher numbers of people who wish to Purge.
In The Purge: Anarchy, however, reveals that there are more people who refuse to participate in the Purge than initially understood and that the killing rates are not as high as they seem. To ensure a "successful" Purge, i.e. one that results in a high body count, the New Founding Fathers of America dispatch military groups consisting of SWAT-level soldiers and tractor-trailers armed with heavy weapons to track down, capture, and execute people from lower-income homes and neighborhoods as a part of ensuring the Purge "cuts down on poverty". This is reflected with agents such as Big Daddy.
Another method of somewhat indirect involvement is through the participation of wealthier individuals who wish to Purge, and thus receive opportunities to bid on victims. Given the status of those connected to or involved with the NFFA, it is very likely that they fund and offer support to such individuals. This is supported in Anarchy by the rich elite being able to summon emergency services even when they are cut off to everyone else for the duration of the Purge.
End of the NFFA and purge
The New Founding Fathers play their biggest (and most direct) role in the series in Election Year. Incensed by Senator Charlie Roan's campaign, which seeks to put an end to The Purge, their leader, Caleb Warrens, calls for an immediate action to terminate her threat to their candidate, Minister Edwidge Owens. To achieve these ends, the NFFA revokes the rule that prevents governmental figures from being targeted and plant double agents among her security entourage. Leo Barnes, the head of Roan's security, saves her from their initial capture and assassination attempt. However, a neo-Nazi paramilitary force that is led by Earl Danzinger, is sent out by the NFFA to track her.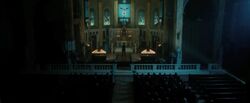 Ultimately, their main scheme involves Minister Owens' ritualistic sacrifice at the cathedral Our Lady of Sorrow on the night of the Purge, before his congregation of the NFFA and like-minded NFFA supporters. Although their efforts are initially thwarted, Danzinger and his surviving men capture Roan and bring her to Owens. Overseen by Warrens himself, Owens has an NFFA assistant, Harmon James, sacrifice a drug addict during the annual midnight Purge Mass, and then set the leaders to kill Roan. However, Barnes and her allies with the resistance, storm Owens' church and save Roan with a timely sniper shot, which kills Warrens. In the ensuing chaos, many of the NFFA members are killed and the rest are ambushed by Bishop and his men outside the church. By the end of the night, Owens is left in disgrace, and Warrens and many members of the NFFA, who were now assassinated, lose much of their power as Roan gains more and more public approval. However, despite this defeat, it is shown that NFFA sympathizers are still active and rioting to prevent the end of the Purge. Whether Roan's plan to terminate it succeeds is left open.
Election Year ends with an ominous shot of the American flag, which implies that Senator Roan, who now won the presidential election, succeeds in abolishing the Purge and is now restoring democracy to the country, ending the NFFA's power and influence over the nation. NFFA supporters are seen violently protesting in the streets as a result of the election at the end of the film, making it a possibility that there will be another revolution that will act as a catalyst for the revival of the Purge. However, due to Roan's landslide electoral victory, this is unlikely to happen as many people in the US and the world have grown sick of the Purge because of its senseless killing. 
Gallery
Trivia
The NFFA is very similar to a real-life state institution known as the Crypteia (or Krypteia) in ancient Sparta. Every autumn, according to Plutarch (Life of Lycurgus, 28, 3–7), the Spartan ephors would pro forma declare war on the helot (the lower ordinary classes in Sparta) population so that any Spartan citizen could kill a helot without fear of punishment. At night, the chosen kryptes (members of the Krypteia) were sent out into the Laconian countryside armed with knives with the instructions to kill any helot they encountered and to take any food they needed. They were specifically told to kill the strongest and best of the helots. This practice was instigated to prevent the threat of a rebellion by the helots and to keep their population in check.
While the New Founding Fathers of America may no longer be the ruling party of America, in reality Roan could not simply abolish a constitutional amendment (the only way the federal government could force the states to comply with something like the Purge and the only way to make sure the Supreme Court could not declare it unconstitutional, similar to how slavery had to be abolished via the Thirteenth (13th) Amendment) via executive action. Even if Roan attempted to pass a constitutional amendment repealing the Twenty-Eighth (28th) Amendment, in addition to Congress's approval she would need the approval of two-thirds of the states but at least 19 out of 48 of the continental states were won by the NFFA, making even that unlikely.

Pictures Villains
Animated Features
Warren T. Rat | Mott Street Maulers (Digit) | Moe | Sharptooth | Cat R. Waul | Cactus Cat Gang (T.R. Chula, One-Eye, & Sweet William) | Professor Screweyes | Ozzy & Strut | Hyp | Mutt and Nod | Steele | Ichy and Dil | Mr. Grasping | Toplofty and O'Bloat | Chief McBrusque | Scuttlebutt | Madame Mousey | Twitch | Rinkus and Sierra | Niju | Nuk, Yak, and Sumac | Farley the Fox | Br'er Fox | Br'er Wolf | Robert the Terrible | Serpent | Botticelli Remorso | 1 | 8 | Fabrication Machine | Machines (Cat Beast, Winged Beast, Seamstress, Steel Behemoths, Seeker Drones, & Spiderbots) | The Chancellor's Party (Chancellor Fredinand) | Danno Wolfe | Felonious Gru | Minions | Dr. Nefario | Victor Perkins | Mr. Perkins | Nightmare Train | Aloysius O'Hare | The Once-Ler | Morty and McGurk | The Once-ler's Mother | Brett and Chet | Aunt Grizelda | Agatha Prenderghast | Judge Hopkins | El Macho | El Pollito | Evil Minions | Norvirus Raccoon | Percy "King" Dimplewade | Knuckles | Archibald Snatcher | Mr. Gristle | Mr. Trout | Mr. Pickles | Scarlet Overkill | Herb Overkill | Villain Con Villains | Snowball | Flushed Pets | Ozone | Raiden the Moon King | Karasu and Washi | Giant Skeleton | Garden of Eyes | Mike | Bears | The Gorillas (Johnny's Father) | Zhong | Dru Gru | Balthazar Bratt | Clive | Mayor Muldoon | Heather Muldoon | Gunther | The Grinch | Grimmel the Grisly | Deathgrippers | Warlords | Lou | Lydia, Kitty, and Tuesday | Sergei | Little Sergei | Circus Wolves | Queen Barb | Rock Trolls | The K-Pop Gang | Reggaeton Trolls | Spiny Mandrilla
Live-Action Films
Count Dracula (1931) | Dr. Henry Frankenstein | Frankenstein's Monster | Imhotep (1932) | Griffin | Wolfman (1941) | The Thing (1951) | Max Cady (1962) | Bob Ewell | Mayella Ewell | The Birds | Great White Sharks | The Car | Dean Vernon Wormer | Thulsa Doom (1982) | The Thing (1982) | Biff Wilcox | Tony Montana | Alejandro Sosa | Frank Lopez | Hector | Alberto | The Skull | Queen Taramis | Bombaata | Nacho Contreras | Biff Tannen | BiffCo (Match, Skinhead, & 3-D) | The Libyans | Griff Tannen | Data, Spike, and Whitey | Buford Tannen | Jacques LaFleur | Chucky | Christopher Sullivan | Damballa | Graboids | Louis Strack Jr. | Robert G. Durant | Cullen Crisp | Eleanor Crisp | Brett C. Shelton | Sergeant Botnick | The Robesons | Max Cady (1991) | Dr. Herman Varnick | Harvey and Vernon | Dennis Nedry | Donald Gennaro | Lewis Dodgson | Cliff Vandercave | Amon Goeth | Miss Sharon Stone | Waldo Aloysius Johnston III | Aaron McComb | Carrigan Crittenden | Paul "Dibs" Plutzker | The Deacon | King Einon | Buddy Love | Peter Ludlow | Dieter Stark | Chip Hazard | Commando Elite (Butch Meathook, Nick Nitro, Brick Bazooka, Link Static, Kip Killigan, & Gwendy Dolls) | Gil Mars | Tiffany Valentine | Warren Kincaid | Officer "Needlenose" Norton | Imhotep (1999) | Beni Gabor | Anck-Su-Namun | Chip Rockefeller | Commodus | Boris Badenov (2000) | Natasha Fatale (2000) | Fearless Leader (2000) | Giant Hamster | The Grinch | Mayor Augustus Maywho | Hannibal Lecter | Rinaldo Pazzi | Paul Krendler | Fiona | Wyatt Frame | Johnny Tran | Lance Nguyen | Kenny Linder | Mathayus the Scorpion King | Cult of Imhotep (Baltus Hafez, Meela Nais, Lock-Nah, & Shafek) | Army of Anubis | Pygmies | "Red" Willits | Jacob Spivey | Jacques Clemons | Anubis | Marty Wolf | Memnon | Takmet | Thorak | Alexander Conklin | Ward Abbott | Professor | Castel | Manheim | Nykwana Wombosi | Carter Verone | Pascal Sauvage | David Banner | Glenn Talbot | Thunderbolt Ross (2003) | Smokey, Sammy, and Lily | Larry Quinn | Captain James Hook | Mr. Smee (2003) | Count Dracula (2004) | Vampires (Aleera, Marishka, & Verona) | Igor | Dwergi | Velkan Valerious | Mr. Hyde (2004) | Grey Werewolf | Zhylaw | Kirill | Yuri Gretkov | Jarda | David Fastidious | Pete | Zombies | Hilary Briss | Geoff Tipps | Herr Lipp | Dr. Erasmus Pea | Edward and Tubbs Tattsyrup | Papa Lazarou | Bernice Woodall | Pauline Campbell-Jones | Sir Nicholas, Lemuel, and Father Halfhearte | Selma Quickly | Sarge | The Infected | Carl Denham | DK Takashi | Uncle Kamata | Clay | Frank Butterman | Neighbourhood Watch Alliance (Simon Skinner & Reverend Philip Shooter) | Chuck Long | Noah Vosen | Albert Hirsch | Paz | Desh Bouksani | Ezra Kramer | Abomination | Strategic Operations Command Center (Thunderbolt Ross (2008) & Kathleen Sparr) | Samuel Sterns | Tough Guy Leader | Prince Nuada | Mr. Wink | Golden Army | Forest God | Tooth Fairies | Wesley Gibson | Sloan | Fox | Emperor Han | General Yang | Colonel Choi | Roger Wilson | Terracotta Warriors | Sargon | Phears | Arturo Braga | Fenix Calderon | Gisele Yashar | Enik | Sleestak (2009) | Grumpy (2009) | The Zarn (2009) | Big Alice | Library of Skulls | Hans Landa | Fredrick Zoller | Joseph Goebbels | Dieter Hellstrom | Adolf Hitler | Werner Rachtman | Wolfman (2010) | Sir John Talbot | Frank D'Amico | Chris D'Amico | Big Joe | Vic Gigante | Rasul | Leroy | Stu | Maya | Tony Romita | Sir Godfrey | Uncle Phil | Gideon Gordon Graves | League of Evil Exes ( Matthew Patel, Lucas Lee, Todd Ingram, Roxanne Richter, & Kyle and Ken Katayanagi) | Envy Adams | Nega Scott | Lynette Guycott | The Big Guy | Agent Haggard | Carlos | Easter Chicks | Hernan Reyes | Zizi | Simon Ambrose | Killer Janitor | Sylvester Smirch | Queen Ravenna | Finn | Donny | Robert | Eric Byer | Grace Ferrin | Polite Leader | Owen Shaw | Vegh | Riley Hicks | Klaus | Adolfson | Toxic-Mega Cunts (Mother Russia, Black Death, Genghis Carnage, Javier, The Tumor, & Goggles) | Brooke | Ralph D'Amico | The Network | Blanks (Oliver Chamberlin, Peter Page & Guy Shepherd) | Barb Pierce | Santana | Clinch Leatherwood | Foy | Mehmed II | Master Vampire | Cootie Kids (Shelley Linker, Patriot, Dink, Angela, Tricycle Girl, & Racer Dopkins) | Big Daddy | Old Elegant Woman | The Bikers | Lorraine | Deckard Shaw | Mose Jakande | Louis Kiet | Kara | Indominus rex | Vic Hoskins | Henry Wu | Krampus | Krampus' Elves | Krampus' Toys | Krampus' Gingerbread Men | Rose Winters | Freya | Gul'dan (2016) | The Horde (Blackhand the Destroyer & Orgrim Doomhammer) | Edwidge Owens | Caleb Warrens | Earl Danzinger | Harmon James | Eric Busmalis | Chief Couper | Kimmy | New Founding Fathers of America | Robert Dewey | The Asset | Craig Jeffers | Christian Dassault | Tom Watson | Tao Tei (Tao Tei Queen) | Order of the Coagula | Armitage Family (Rose Armitage, Roman Armitage, Marianne Armitage, Dean Armitage, Missy Armitage, & Jeremy Armitage) | Jim Hudson | Logan King | Cipher | Connor Rhodes | Ahmanet | Set | Mr. Hyde (2017) | Dr. Foley | Mathias Lund-Helgesen | Bayfield Babyface Killer | Lori Spengler | John Tombs | Lipstick-Face Demon | KeyFace | Gerald Rainier | Rallah | Precursors | Kaiju (Obsidian Fury & Raijin, Hakuja, and Shrikethorn) | Newton Geiszler | Eli Mills | Indoraptor | Ken Wheatley | Gunnar Eversol | Kores Botha | Arlo Sabian | Dr. May Updale | Skeletor | Michael Myers | Dr. Ranbir Sartain | Jason Volta | Dr. Gregory Butler | Stephanie Butler | Red | Tethered (Adelaide, Tethered Tylers, & Tethered Wilsons) | Eteon (Brixton Lore & Eteon Director) | Ma | Ben Hawkins | Shane | Demon Overlord | Lord Thomas Badgley | Dr. Blair Mudfly | Barry the Tiger | Adrian Griffin
See Also
Alfred Hitchcock Villains | Back to the Future Villains | Barbie Villains | Child's Play Villains | Cooties Villains | Cornetto Trilogy Villains | Despicable Me Villains | Doom Villains | DreamWorks Villains | Dr. Seuss Villains | Fast and the Furious Villains | Get Out Villains | Hannibal Villains | House MD Villains | Hulk Villains | Illumination Villains | Jason Bourne Villains | Johnny English Villains | Jurassic Park Villains | Kick-Ass Villains | Laika Villains | League of Gentlemen Villains | 9 Villains | Scarface Villains | Scott Pilgrim Villains | Tarantinoverse Villains | The Mummy Villains | The Purge Villains | Us Villains | Warcraft Villains
Community content is available under
CC-BY-SA
unless otherwise noted.