She-Hulk Trailer Dropped - The Loop
Play Sound
| | | |
| --- | --- | --- |
| " | It's gotten worse. The damage seems to have been caused by a creature kept here by the researchers, who named it... the Nightmare. Apparently, it was a bio-mechanical organism designed for military applications... It possesses uncommon power and can manipulate gravity. We must assume that it's become an X-host. We have no choice. You must find it and defeat it. I can't confirm the location. | " |
| | ~ Adam Malkovich AI on the Nightmare. | |
Nightmare is a creature infected by the X Parasites and is the eighth boss Samus faces aboard the Biologic Space Laboratories research station in Metroid Fusion. It also appears as the seventh boss in Metroid: Other M.
Biography
Samus first encountered Nightmare in Metroid: Other M while on her journey to Sector Zero on the Bottle Ship. The creature fights Samus once when she tries to enter Sector Zero and again after she activates her Gravity Suit in which Nightmare's organic face is visible. After it is defeated, its corpse rests on the ground until the post-credits sequence; this may imply that the Federation moved it to the Biologic Space Laboratories research station for its appearance in Metroid Fusion.
In Fusion, Nightmare is described as a bio-mechanical organism designed for military applications that "possesses uncommon power and can manipulate gravity". When Samus leaves Sector 5 for the first time, she catches glimpses of Nightmare flying around behind the large windows (possibly its containment tank), causing the entire room to shake violently. It also appears when she is entering and leaving Sector 5 while obtaining the Power Bombs, though it is never mentioned by Adam after any of these encounters.
After Samus obtains the Plasma Beam and restores power to the BSL research station after defeating Nettori, Adam detects an explosion in Sector 5 and tells Samus to investigate. When she arrives, Samus finds most of the sector in ruins. Exploring further, she eventually finds the X-infected Nightmare in a uniquely mechanized room. It is interesting to note that the Nightmare appears damaged. The damage adds to its nightmarish appearance, making it look decomposed and rotting.
Metroid Fusion
In Fusion, Nightmare has three phases, not including its Core-X form. It remains mostly the same as in Other M.
Phase 1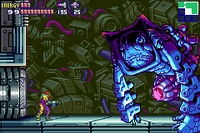 During this phase, Nightmare will stay in front of Samus and shoot bursts of lasers from its arms at regular intervals. These bursts can be difficult for Samus to jump over as it shoots them in a spread. Its weak point is the Gravity Manipulator - the glowing purple protrusion connected to its central body. Normally, its arms will be blocking it, so Samus must lure the Nightmare up by jumping high, then coming down and getting a shot or two at it using the charged Plasma Beam or an Ice Missile. Once it has been sufficiently damaged, the Nightmare enters its second phase.
Phase 2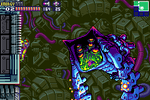 The Nightmare's Gravity Manipulator starts running, lowering the height of Samus' jumps and the distance which her missiles may travel, forcing Samus to rely on her charged Plasma beam. The Nightmare will begin to move slowly back and forth; its eye sockets also begin to emit a slimy, green substance. After taking sufficient damage, the Gravity Manipulator is destroyed, returning gravity to normal. Nightmare's face mask then explodes, revealing its true face, upon which it enters its third and final phase.
Phase 3
The Nightmare will begin to move erratically around the room, becoming difficult to dodge. Its exposed face functions as its weak spot. Samus must utilize the ladder and the Space Jump to effectively avoid attacks and aim counterattacks. When the Nightmare (along with its Core-X) is defeated, Samus's Gravity Suit is restored.
Metroid: Other M
Nightmare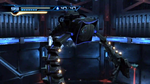 Nightmare floats in the middle of the room firing energy blasts at Samus, and will sometimes spin in one place, firing energy lasers, and may even try to run through the platform to ram Samus. Eventually, Nightmare will manipulate the gravity and slow Samus down. This will allow it to attack Samus more easily. But by blasting the Gravity Manipulator with the Ice Beam, Samus can freeze it and return gravity back to normal, and she will be able to fire at its face. This will destroy the plating, and cause it to fall to the bottom of the room. Believing Nightmare to be dead, Samus ventures off to Sector Zero.
Nightmare Unmasked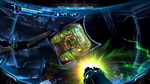 As Samus leaves the area after inspecting Sector Zero, Nightmare's body suddenly rises up and attacks her in its unmasked form. It also gained back all its health. Nightmare has the same attacks as before, but will now fire a laser from its face and also shoot large orbs which suck in all of Samus's shots, including the Power Beam. Occasionally, the unmasked Nightmare will fall to the ground, only to rise up again. When defeated, it will explode, its arms and tail separated from the body as it lies on the ground, officially defeated.
In other media
Super Smash Bros.
Super Smash Bros. for Wii U
Nightmare appears as a Trophy, based on its unmasked from Other M.
Super Smash Bros. Ultimate
Nightmare appears as an ace class attack-type primary spirit, obtainable by enhancing the X Parasite spirit at level 99. When equipped, Nightmare grants the ability "Lifesteal", which steals some of the opponent's health to heal the user whenever they strike an enemy.
Audio
Gallery
Trivia
In Other M, if Samus shoots at Nightmare's corpse with the Wave Beam, the shot will go directly through it, despite the Wave Beam only shooting through transparent objects.
In the official guidebook for Other M, Nightmare's unmasked form is named Nightmare (Death Mask).

Villains
Subspace Army
Ancient Minister | Bowser | Bullet Bills | Duon | False Bowser | False Diddy Kong | False Peach | False Samus | False Zelda | Galleom | Ganondorf | Goombas | Hammer Bros. | King Statue | Koopa Troopas | Master Hand | Petey Piranha | Primids | Rayquaza | Ridley | Porky Minch | Shadow Bugs | Tabuu | Wario
World of Light
Crazy Hand | Dharkon | Dracula | Galeem | Galleom | Ganon | Giga Bowser | Master Hand | Marx
Playable Characters
Bowser | Bowser Jr. | Dark Pit | Dark Samus | Donkey Kong | Enderman | Ganondorf | Incineroar | Kazuya Mishima | King Dedede | King K. Rool | Koopalings (Larry, Roy, Wendy, Iggy, Morton, Lemmy, Ludwig) | Mario | Meta Knight | Mewtwo | Piranha Plant | Ridley | ROB | Sephiroth | Wario | Wolf O'Donnell | Zombie
Bosses
Crazy Hand | Dark Emperor | Dharkon | Dracula | Duon | Galeem | Galleom | Ganon | Giga Bowser | Marx | Master Hand | Master Core | Metal Face | Petey Piranha | Porky Minch | Rayquaza | Ridley | Tabuu | Yellow Devil
Assists Trophies/Poké Ball Pokémon
Andross | Arceus | Black Knight | Burrowing Snagret | Chain Chomps | Chef Kawasaki | Darkrai | Deoxys | Devil | Dr. Wily | Entei | Elec Man | Ghirahim | Giratina | Ghosts | Gray Fox | Hammer Bros. | Klaptrap | Knuckle Joes | Kyurem | Lakitu | Lord Nightmare | Metroid | Meowth | Mimikyu | Mother Brain | Palkia | Phosphora | Shadow the Hedgehog | Skull Kid | Spinies | Starman | Unown | Waluigi
Trophies/Spirits/Stickers
Acro | Affinity | Air Man | Akuma | Alraune | Albert Wesker | Amalthus | Andrew Oikonny | Antasma | Aparoids | Aparoid Queen | Arlon | Ashnard | Axel | Baba | Baby Bowser | Babylon Rogues (Jet the Hawk, Wave the Swallow, Storm the Albatross) | Balrog | Banzai Bills | Bass | Big Boss | Bio Rex | Birdo | Black Shadow | Blood Falcon | Bokoblins | Blippers | Bloopers | Bombers | Bomb Man | Bonkers | Boos | Boom Boom | Boom Stompers | Box Boxer | Boxy | Broom Hatters | Bugzzy | Bumpety Bombs | Bulborbs | Burt the Bashful | Buzzy Beetles Byrne | Cackletta | Calamity Ganon | Camus | Cappys | Captain Syrup | Carmilla | Chandelure | Chaos | Chaos Kin | Chargin' Chucks | Claus | Clubberskulls | Colonel Pluck | Condor | Cragalanche | Crash Man | Creepers | Count Bleck | Count Cannoli | Cranky Kong/Donkey Kong (arcade) | Cut Man | Daphnes | Dark Man 4 | Dark Matter | Dark Mind | Darknuts | Daroach | Deadly Six (Zavok, Master Zik, Zeena, Zomom, Zazz, Zor) | Death | Deathborn | Devil Jin | Demise | Demon King Arzodius | Diggernaut | Dimentio | Dive Man | DJ Octavio | Don Bongo | Donkey Kong Jr. | Dragaux | Dr. Ivo "Eggman" Robotnik | Drill Man | Dry Bones | Eagle | E-123 Omega | Edelgard von Hresvelg | Eggplant Wizard | EggRobos | Emerl | E.M.M.I. | Ender Dragon | Erazor Djinn | Evil Ryu | Father Balder | Fawful | Fiery Blowhog | Fire Man | Flages | Flash Man | Fortitudo | FU | Fynalle | Gangrel | Galacta Knight | Galactic Fiend Kraken | Galaxy Man | Guardians | Garon | Gengar | General Guy | Geese Howard | Gharnef | Ghasts | Ghosts | Gleeok | Goda | Gold Bone | Golems (Kirby) | Golems (Dragon Quest) | Gomorrah | Gooper Blooper | Gordos | Goro Akechi | Gravity Man | Great Reaper | Grief | Gruntilda | Guts Man | Hades | Hard Man | Hawke | Heihachi Mishima | Helmaroc King | Hewdraw | Hooktail | Hoopa Unbound | Hot Heads | Ice Man | Igor | Infinite | Ing | Inspired | Iori Yagami | Iridescent Glint Beetle | Iron Golems | Jade Face | Jeanne | Jin | Jin Kazama | Julius | Juri Han | Kalypso | Kamek | Kammy Koopa | Kanden | Karate Kong | Kass | King Bob-omb | King Boo | King Dice | King Dodongo | King Hippo | King Knight | King Olly | Kip | Kludge | Knight Man | Kracko | Kraid | Kritters | Kuma II | Kyle Merkulov | Leon Powalski | Lethiniums | Liquid Snake | Loptr | Lord Fredrik | Lurchthorns | Lyon | MB | M. Bison | Magnamalo | Magolor | Mahvas | Majora | Malladus | Malos | Master Belch | Master Kohga | Mecha Ridley | Medeus | Medusa | Megontas | Meta-Knights (Axe Knight, Javelin Knight, Mace Knight, Trident Knight, Blade Knight) | Metal Man | Metal Sonic | Metroid Prime | Mimicuties | Moblins | Mockiwis | Moley | Monoeyes | Mouser | Mr. Frosty | Mr. L | Mr. Shine and Mr. Bright | Mugly | Nabbit | Napalm Man | Natah | Necrozma | Nihilego | Nightmare | Nina Williams | Ninja Kong | Nipper Plants | Noxus | Nruffs | Nutskis | O'Chunks | Octoman | Octoroks | Olaf | Ornes | Pandora | Panther Caroso | Paper Bowser | Parasite Queen | Paz Ortega Andrade | Peckish Aristocrabs | Phantom Ganon | Pico | Pidgits Piglins | Pigma Dengar | Pigmasks | Plague Knight | Plasma Wisps | Plasm Wraith | Pom Pom | Pompy | Poppy Bros Jrs. | Princess Shroob | Quaggled Mireclops | Queen Metroid | Queen Sectonia | Quick Man | Rabbid Kong | Rabbids | Raphael the Raven | Reapers | Redd | Rhea | Revolver Ocelot | Riku | Risky Boots | Rockys | Rodin, the Infinite One | Roger the Potted Ghost | Rouge the Bat | Roxas | Rufus Shinra | Ryuichi and Ryuji | Sagat | Scarfies | Scurvy Crew | Shadow Beasts | Shadow Man | Shadow Queen | Shaft | Shake King | Sheegoth | Shield Knight | Shotzos | Shroobs | Shy Guys | Sidesteppers | Sigma | Sir Kibbles | Skeletons | Skull Man | Skuttlers | Slash Man | Slimes (Dragon Quest) | Slimes (Minecraft) | Smoky Prog | Snake Man | Snowmads | Solidus Snake | Space Pirates (Kid Icarus) | Space Pirates (Metroid) | Spark Man | Specknoses | Specter Knight | Spire | Squeakers | Starmans | Stu | Sword Man | Swooping Snitchbug | Sylux | Tacs | Tatanga | Thanatos | The Devil | The Skull | Therion | The Three Mage-Sisters (Francisca, Flamberge, Zan Partizanne) | Tiki Tak Tribe (Kalimba | Gong-Oh | Maraca Gang | Wacky Pipes | Cordian | Banjo Bottom | Xylobone) | Tiki Tong | Top Man | Trace | Travis Touchdown | Turks (Elena, Reno, Rude, Tseng) | Turret Tusk | Twinbellows | Twinrova | Ultimate Chimera | Vaati | Validar | Vega | Viridi | Viruses | Vivian | Vorash | Waddle Dees | Waddle Doos | Walhart | Walkys | Wart | Weavel | Wheelies | Whispy Woods | Whomps | Wigglers | Wind Man | Wollywog | Wood Man | Xord | X-Parasites | Yaldabaoth | Yuga | Yveltal | Zangief | Zant | Zero | Zingers | Zoda | Zurees
Others
Ansem | Billy Kane | Chang Koehan | Choi Bounge | Dr. Coyle | Dragonborn | Master Xehanort | Ryuji Yamazaki | Saïx | Solon | Spiders | Springtron | Team Rocket Grunts | Vanitas | Xemnas | Yiga Foot Soldiers