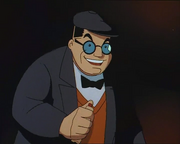 Nitro
was an explosives expert/arsonist for hire from
Batman: The Animated Series
.
History
Appointment in Crime Alley
When Daggett's request to tear down Crime Alley was denied by City Council, he hired Nitro to blow up Crime Alley. Nitro agreed and planned to make it look like the gas line ruptured. Daggett was impressed about the plan and wanted it to happen at nine o'clock, when he gives a speech. Crocker helped Nitro set up the explosives but was interrupted by Leslie Thompkins. They grabbed Leslie and left her behind with the explosives and went to bomb the SRO Hotel, the last building they need to bomb.
When they were done setting up the explosives, Batman showed up. He was curius about Nitro's activities and saw the explosives. He saw the explosives and trapped Nitro and Crocker in the truck. After Batman got rid of the explosives except for the ones in the condemned buildings. Crocker was arrested afterwards with Nitro.
Nitro, along with several other former henchmen, is seen dancing in the nightclub Batman, Nightwing and Harley Quinn walk into.
Community content is available under
CC-BY-SA
unless otherwise noted.