Obi-Wan Finale - The Loop
Play Sound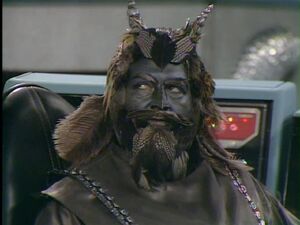 Noma is the secondary antagonist of the Doctor Who story "The Twin Dilemma".
He was portrayed by Barry Stanton.
Biography
Noma was one of the two Jacondans who accompanied the Time Lord Azmael on his mission to kidnap the Sylvest twins for their mathematical skills. He was loyal to Mestor, who had usurped Azmael as their planet's ruler. After Azmael had retrieved the two boys, Noma accompanied him to the safe house on Titan III. He was reluctant to patrol the surface because of lingering radiation, but captured the Doctor and Peri when he found them in the base's tunnels. He and his partner Drak brought the pair to Azmael, who elected to leave them imprisoned in the safe house while the others returned to Jaconda. Instead, on his own initiative, Noma set the safe house to self-detruct as they left, planning to kill the pair.
After returning to Jaconda and seeing Azmael and the twins safely to the laboratory, Noma reported the incident to Mestor, who approved of his decision. However, Noma was made to look a fool when Peri was brought in alive moments later. Noma personally led a squad of guards to arrest the Doctor when he contacted Azmael, ignoring Azmael's protest that the Doctor could help them against Mestor and insisting Mestor was their master. His loyalty caused him to be treated with contempt by the Doctor, Azmael, the twins and even Drak.
When Peri and Hugo Lang attempted to take the twins back to the safety of the TARDIS, Noma was sent by Mestor to intercept them. Although he successfully cornered the escapees, Noma's gun was shot out of his hand by Hugo, who killed the two guards with him. Held prisoner, Noma telepathically sensed the death of Mestor at the hands of the Doctor and Azmael. His fate after that is unclear.