She-Hulk Trailer Dropped - The Loop
Play Sound
Non was a cloned Kandorian soldier who served under Major Zod in the WB/CW Television series Smallville.
He served as the secondary antagonist in the Season Nine episode "Crossfire".
He was portrayed by Amos Stern.
Biography
Past
The clone of Non was created when the original Non donated a sample of his blood that was part of an experiment by Jor-El storing it inside an Orb.
It was a way for the Ruling Council to preserve the Kryptonian race should Rao's prophecy ever come true. Non perished in the battle that destroyed Kandor with many other of his fellow soldiers.
Crossfire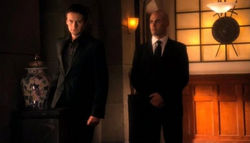 After being freed from the Orb, Non infiltrated Tess Mercer's security team and became a bodyguard to keep a close watch on her.
At the mansion, Tess held a gathering where she announced that LuthorCorp was going green through a partnership with RAO Technology, then unveils a hologram of a solar tower.
The audience applauds and Zod emerged from it towards Tess, clapping.
He made an announcement himself as well that he was CEO of RAO Technology and toasts to Tess. After the gathering, Zod asked her to help him find The "Blur", but she denied any information about knowing who it was.
However, she did ask him for equal partnership, but he told her that no human would ever stand with a Kandorian. Not trusting Tess, Zod tells Non to get the information he wanted from Tess or kill her.
Non confronted; Tess revealing that he was not her bodyguard but a Kandorian soldier working for Zod. He then gave her an ultimatum; tell him who The Blur was or she would die. Instead, Tess killed the soldier and returned his blood-stained medallion to Zod, which impressed him.

Villains
Protagonists