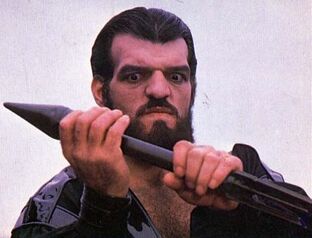 | | | |
| --- | --- | --- |
| " | Non, you are as without thought as you are without voice. | " |
| | ~ Kryptonian Elder to Non before the sentencing. | |
Non is a Kryptonian criminal, and one of Zod's gang and a major antagonist of the Superman universe, most prominently in Superman II.
Of the three, he is the biggest, and also the stupidest. He never talks, only making inhuman groans. He was portrayed by Jack O'Halloran.
Character Biography
Originally a friend of Superman's father Jor-El, Non was a highly intelligent man who served on the Kryptonian council. He and Jor-El discovered Krypton's instability. With this knowledge Non led a separatist movement before being abducted by the science council. The council lobotomized Non, which causes him to lose his ability to speak and become little more than a brute. He soon became an enforcer for General Zod.
Non, Zod, and Ursa were convicted of their crimes of treason in Superman the movie, and were sentenced to eternal imprisonment in the Phantom Zone, drifting into space. However, in Superman II, the explosion of a hydrogen bomb sent into space by Superman shattered the Phantom Zone and released the three criminals. They went to Earth, and during a brief stop at the moon they discovered they had the same powers as Superman, such as super strength, the ability to fly, and eye lasers, which Non at first could not do, but when he got the hang of it, he used them repeatedly.
Superman fought Non first of the gang, and they were evenly matched, but Non took quite a bit of damage during the battle, being knocked into a tower and having it placed on him by Superman. Eventually, Zod and his gang were led to Superman's fortress of solitude by Lex Luthor, who double crossed Superman and told Zod about a device to take away Kryptonians' powers. Zod made Superman enter and had Luthor turn it on, however, Superman had switched the device around so it would take away the power of anyone outside, and not affect those inside. Zod, Ursa, and Non lost all their powers. After Superman threw Zod into a crevice, Non tried to fly at Superman, but without any of his powers he fell into the mist to the ground level. In the extended cut for television Non is shown with other the Krpytonians being arrested along with Luthor by the U.S. Arctic Patrol.
Trivia
In the 2006 Richard Donner cut of Superman II following the showdown at the Fortress of Solitude Superman is shown using heat vision to destroy the fortress, presumably killing the defeated Kryptonians inside. However, later he turned back time to undo the damage the Kryptonian criminals had caused. Non, Ursa, and General Zod were re-imprisoned in the Phantom Zone mirror which continued its journey through space.
O'Halloran did not get along that well with Christopher Reeve during filming of Superman II. He said at one point he had nearly punched Reeve but director Richard Donner had intervened. After the accident that left Reeve paralyzed O'Halloran said his heart went out to Reeve and he praised Reeve for his courage after his accident.
Additionally O'Halloran has said that the reaction he most often gets when meeting fans is, "My God, he can talk!"

Villains
Comics
Amanda Waller | Amazo | Anti-Monitor | Atlas | Atomic Skull | Barbatos | Bernadeth | Bizarro | Black Adam | Black Banshee | Black Zero | Blanque | Blackrock | Bloodsport | Brainiac | Bruno Mannheim | Bug-Eyed Bandit | Captain Boomerang | Captain Cold | Cheetah | Chemo | Circe | Coldcast | Cyborg Superman | Dabney Donovan | Dark Knights | Darkseid | Deathstroke | Dev-Em | The Devastator | Doctor Manhattan | Doctor Polaris | Dominus | Doomsday | Eclipso | Encantadora | Equus | Eradicator | Faora | Funky Flashman | General Zod | Gorilla Grodd | Heat Wave | Hector Hammond | Hellgrammite | Imperiex | Intergang | Jax-Ur | The Joker | Karkull | King Shark | Lex Luthor | Livewire | Lobo | Major Disaster | Manchester Black | Masters of Disaster | Maxwell Lord | Mercy Graves | Metallo | Mongul | Morgaine Le Fey | Morgan Edge | Mxyzptlk | Neron | Neutron | Parasite | Phantom Zoners | Plasmus | Plastique | Prankster | Preus | Prometheon | Prometheus | Preserver | Queen of Fables | Rampage | Reverse-Flash | Royal Flush Gang | Satanus | Secret Society of Super Villains | Shockwaver | Silver Banshee | Sinestro | Solomon Grundy | Suicide Squad | Superboy-Prime | Superman Revenge Squad | Spellbinder | Talia al Ghul | Terra-Man | Titano | Toyman | Ultra-Humanite | Ultraman | Weather Wizard | William Dunn
Theatrical Movies
Superman: Lex Luthor | Otis | Eve Teschmacher | General Zod | Non | Ursa
Superman II: General Zod | Non | Ursa | Lex Luthor | Otis | Eve Teschmacher | Rocky
Superman III: Ross Webster | Corrupted Superman | Vera Webster | Lorelei Ambrosia
Superman IV: The Quest for Peace: Lex Luthor | Nuclear Man
Superman Returns: Lex Luthor
Man of Steel: Sword of Rao (Zod, Faora-Ul, Nam-Ek, Jax-Ur, Tor-An, Car-Vex, Nadira & Dev-Em II)
Batman v Superman: Dawn of Justice: Lex Luthor | Doomsday | Anatoli Knyazev | Mercy Graves | Cesar Santos | Amajagh | Joe Chill | Zod | Steppenwolf
Direct-to-video Movies
Superman: Brainiac Attacks: Brainiac | Lex Luthor | Mercy Graves | Mister Mxyzptlk
Superman: Doomsday: Lex Luthor | Superman Clone | Doomsday | Toyman | Mercy Graves
Superman/Batman: Public Enemies: Lex Luthor | Major Force | Metallo | Amanda Waller | Toyman | Solomon Grundy | Gorilla Grodd | Killer Frost | Lady Shiva | Giganta | Mongul | Captain Cold
Superman/Batman: Apocalypse: Darkseid | Female Furies (Granny Goodness, Gilotina, Mad Harriet, Lashina & Stompa) | Doomsday
All-Star Superman: Lex Luthor | Solaris | Parasite | Bar-El & Lilo-El
Superman vs. The Elite: The Elite (Manchester Black, Coldcast, Menagerie & Hat) | Atomic Skull
Superman: Unbound: Brainiac
The Death Of Superman: Doomsday | Lex Luthor | Intergang (Bruno Mannheim) | Mercy Graves | Cyborg Superman
Reign Of The Supermen: Cyborg Superman | Darkseid | Parademons | Lex Luthor | Mercy Graves
Superman: Red Son: Superman | Brainiac | Lex Luthor | Batman | Joseph Stalin | Superior Man
Superman: Man of Tomorrow: Parasite | Lobo | Lex Luthor
Video Games
Superman Arcade: Emperor Zaas
Community content is available under
CC-BY-SA
unless otherwise noted.