Wiki Targeted (Entertainment)
Play Sound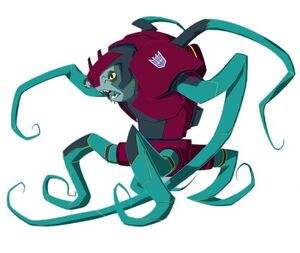 Octopunch is a Alchemor's octopus-like Decepticon prisoner in Transformers: Robots in Disguise.
Role
He is accustomed to the underwater battlefield, he has a tentacle arms and legs which are sensitive to the light, the pressure, the temperature and the energy fluctuations, and he transforms into a submarine.
History
He was sent to Alchemor for looting off of wrecks and causing shipwrecks for the cargoes. When he was at liberty in Earth he discovered by the Cybertronian spaceship, that he was going to go out of the Earth. Team Bee took an underwater mission to snatch him, at first it was difficult in underwater and in ship. But at last Bumblebee and Grimlock defeated him. But when the ship was about to explode Team Bee had to be reached with his out. At last they got out before the explosion and locked his in a Stasis Pod. Octopunch's stasis pod was later taken back to Cybertron by Optimus Prime, Windblade, and Ratchet.
Relationships
Megatronus

- Savior, never met
Bumblebee's team - Enemy
Gallery