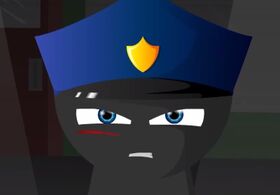 Officer Barry
is the main antagonist in
Sam Green's Killing Spree
series.
Bio
Barry is the Police officer who responded to the sighting of Jase and Jimmy along with his wife, Judey. They chased the car halfway to the city when Jase jumped on the hood of their car, causing the car to flip and roll. Barry escaped with a nasty cut but Judey died.
After Jase made it to the city the SWAT team picked Barry up, after Jase killed the swat team, Barry went after a fleeing Jimmy. Jimmy tried to stop Barry by running over the motorcycle that Barry was driving, but it caused the motorcycle to slice off Jimmys car roof and Barry in the backseat. Barry knocked out Jimmy with his gun, and crashed into a store window when a officer hit the car's hood.
Barry then shot Jimmy in front of Jase and fought with Jase, winning and shooting him.
Barry then met Glenda, the gypsy who gave Jase his power's. Glenda told Barry he was no better than Jase, and Barry shot Glenda, breaking her crystal ball. The magic was absorbed by Jase and Barry was kncoked out.
After waking up, Barry lied to the Police cheif, and went to go find Glenda. However, Jase was still alive and found Barry, after another fight, Barry lost all his sanity and told Jase his new morals "I should really thank you Jase, It's thanks to you I know that the value of life is optional. There's no point to freinds or family, or anything really. Except doing what you please". Barry than shot Jase in the face after throwing him into a small hardware store.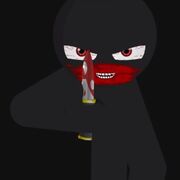 Jase came back to life, grabbing a Chainsaw and the Killer's mask, chasing down Barry to find him holding his knife to glendas throat. Barry then killed Glenda and threw his knife at Jase, however, he blocked it and then cut Barry in half with the chainsaw, going on to fight the nearby army squad.