She-Hulk Trailer Dropped - The Loop
Play Sound
This article's content is marked as Mature
The page Mature contains mature content that may include coarse language, sexual references, and/or graphic violent images which may be disturbing to some. Mature pages are recommended for those who are 18 years of age and older.


If you are 18 years or older or are comfortable with graphic material, you are free to view this page. Otherwise, you should close this page and view another page.

✓
| | |
| --- | --- |
| | This Article Contains Spoilers - WARNING: This article contains major spoilers. If you do not wish to know vital information on plot / character elements in a story, you may not wish to read beyond this warning: We hold no responsibility for any negative effects these facts may have on your enjoyment of said media should you continue. That is all. |
| | | |
| --- | --- | --- |
| " | Our cards are the god of knowledge Thoth, and the god of creation Khnum! We are the Oingo Boingo brothers! | " |
| | ~ Oingo introducing himself and his brother. | |
Oingo, also known as Zenyatta in the English dub of the anime and Oing in JoJo's Bizarre Adventure: Heritage for the Future, is the elder brother of Boingo, an assassin wanting to kill Jotaro, and a minor antagonist in JoJo's Bizarre Adventure: Stardust Crusaders. His Stand, Khnum, represents one of the nine Egyptian gods of prosperity.
In Japanese, he was voiced by Yūji Kishi in the Famicom game adaptation of JoJo's Bizarre Adventure: Stardust Crusaders, Takahiro Fujimoto in JoJo's Bizarre Adventure: All Star Battle, and Makoto Yasumura in the anime. In the anime's English dub, he was voiced by Joe Zieja.
Biography
JoJo's Bizarre Adventure: Stardust Crusaders
When a young man wanted to buy Boingo's book (actually the stand Thoth), Oingo appears and told him off telling him that it is not for sale. Moments later, the man died by being flung from a bus into a pole. In a restaurant in Aswan, following the predictions of Boingo's stand, he and Boingo knock out the owner and Oingo poses as the owner trying to poison Polnareff, Joseph and Jotaro while they are concerned for Kakyoin. Just before the poison could get in, Iggy comes in and the team spits the poisoned tea out and chase him.
While on the move, Oingo sees a ugly man and decides to punch him in the face. The man drops his wallet full of money and runs away. Oingo then makes a bomb that looks like an orange and plants it for Jotaro who was predicted to eat it. Joseph notices Oingo who quickly changes to Jotaro to fool them. After being delayed for too long, Oingo makes a run for it, worried that he will be killed by the bomb. Polnareff throws the orange bomb out and as Oingo thinks that he has won, steps on and sets off the bomb, injuring him. Boingo then finds him and wants to revenge him, with Oingo telling him that he shouldn't do that and being surprised with how much his little brother has grown. However, he and Boingo are found and beaten up badly by the man from before who hired men and are then sent to the hospital.
Oingo is later mentioned by Hol Horse, who convinces Boingo to help him asking if he doesn't want to avenge his brother. Hol Horse stated Oingo had another month in the hospital due to his injuries from the orange bomb.
Crazy Diamond's Demonic Heartbreak
Oingo is set to have some form of appearance in Crazy Diamond's Demonic Heartbreak, with Mariah mentioning that be and Boingo have been saying at a hideout she is in, with the woman wanting them to leave and asking Hol Horse to take them. While it is unknown if Hol Horse took Oingo with him to Morioh with Boingo, it's possible be may show up later in the spin-off.
Powers and Abilities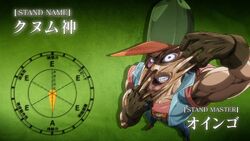 | | | |
| --- | --- | --- |
| " | My Stand Khnum is a transforming Stand! I can alter my height, weight and scent! | " |
| | ~ Oingo | |
Oingo's Stand, Khnum, allows Oingo to change his facial features, as well as mimicking the voice and scent of the person he is imitating.
Gallery
Images
Videos
Trivia
Oingo's and Boingo's dub names in the anime, Zenyatta and Mondatta, are references to The Police album Zenyatta Mondatta.

In pure coincidence, the name "Zenyatta Mondatta" was also used for a racing horse in JoJo's Bizarre Adventure: Steel Ball Run.

During the outro "Akuyaku◇Kyōsōkyoku", Oingo changes his face to resemble Iggy. However, it is unknown if Khnum can make his face resemble the face's of animals as well as people.