The Sandman Will Keep You Awake - The Loop
Play Sound
This article's content is marked as Mature
The page Mature contains mature content that may include coarse language, sexual references, and/or graphic violent images which may be disturbing to some. Mature pages are recommended for those who are 18 years of age and older.


If you are 18 years or older or are comfortable with graphic material, you are free to view this page. Otherwise, you should close this page and view another page.
| | | |
| --- | --- | --- |
| " | These fruits, they originally were for Kira... "Holly"-san. They weren't something for you Higashikatas to have from the start. This is a present from my late friend Kira to me... I really am a guy who's got it! | " |
| | ~ Ojiro Sasame | |
Ojiro Sasame is a recurring antagonist in JoJo's Bizarre Adventure: JoJolion. Being the first enemy that Josuke Higashikata faces, he's a careless surfer that encountered Yoshikage Joestar Kira, and believes that he can get away with anything. He is the boyfriend of Makorin and the Stand User of Fun Fun Fun.
Biography
Past
Living in one of the houses that was affected by the tremor that caused the wall eyes to appear, he developed his Stand Fun Fun Fun at some point in his life, which he would use for inviting women near the beach as a surfer to then torture, which we can see in his flashback when we see a women underneath the water that is affected by his Stand.
Kira's encounter
One day while surfing, he encountered Yoshikage Joestar Kira, who confronted him on his living conditions, questioning if he was a man of the sea or a man of the land. This caused Ojiro to get angry at him, to which Kira just kept asking about his ambiguities, seeing an insecurity on him as a surfer, and as a man. Ojiro, having been struck with a deep depression, started taking drugs and drinking alcohol, that eventually caused him to bit all of his ten fingers. He would then swore revenge to him for the events that he apparently caused.
Soft & Wet
The now combined halves of Kira and Josefumi (named Josuke Higashikata), having forgotten their memories, went to get some clues to Kira's department, which was filled of traps that were made by Ojiro. Ojiro would be encountered on the top of Kira's apartment, planning to kill him when he went to his apartment, that already had a naked woman that was a previous victim of his endeavors and had already marks of his Stand on her hands and feet.
Josuke would then battle and try to escape the trap packed department, using Soft &Wet, that would eventually end on Ojiro falling to their department and ending up on Ojiro telling Josuke and Yasuho Hirose his encounter with Kira. Being satisfied, they left Ojiro on the department to search for more clues.
Ojiro returns
After a few months of not being involved in any fights, we eventually encounter Ojiro on a jacuzzi with his girlfrend Makorin atop the roof of a condo. Makorin would be encountered discussing about Mitsuba, being enraged by the fact that when she talked to her when they were interrogating Tsurugi's apperent murder, she called her hand a forepaw, and that she wouldn't let her negotiate the lands that she lived in.Being initially oblivious, he would then catch on that it could be possible that Tsurugi's dad, Jobin Higashikata, could hold a key on equivalent exchange, and decides to confront the family, encountering Tsurugi on his way.
Taking pictures of the fruit parlor of the Higashikata's, he then confronts Tsurugi near a cliff about Tamaki Damo, and his secret dealings with his father, threatening to make him jump off a cliff and making his dad go to jail if he didn't give him the Locacaca, to which Tsurugi would trick him using his Stand by nearly making him fall over the cliff.
Enraged, Ojiro followed Tsurugi to his house, and begins using the mark he laid on him earlier with Fun Fun Fun to control him and threaten Jobin to make him give the new Locacaca. Trying to fight the Stand, they would end on a window just above Ojiro, making him get near them and giving them an ultimatum on giving him the Locacaca, to which Jobin complies. Having won, Ojiro manipulates Jobin into crushing him and his son with the broken glass of the windows, seemingly killing them. Then, Ojiro ordered a taxi to reunite with Makarin Locaca in hand, when suddenly he felt something hot in his body, that was revealed to be the dollar bills he was carrying around that was causing the heat, which would transport to his brain. With one last scream, he would then drop dead, as it is revealed he didn't kill Jobin nor Tsurugi, making what he saw as a victory to be actually an illusion by Tsurugi's Stand.
Powers and Abilities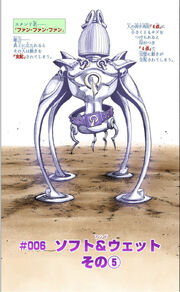 | | | |
| --- | --- | --- |
| " | When they're standing directly above us and you get wounded, a symbol gets attached. If four get taken... there'll be no escape! | " |
| | ~ Ojiro Sasame's kidnapped victim to Josuke Higashikata. | |
Fun Fun Fun is a close-range Stand that possesses four octopus-like limbs, half a torso, and a head resembling a bell. In order for the effect to take place, the user must be above the victim that he wishes to control, and must make it so that the victim is injured on one of his limbs. If the conditions are met, the user would then have almost complete control of that limb, which they can then use however the user likes. This would be marked by the same symbol Fun Fun Fun has on their chest.
Trivia