Jurassic World: Dominion Dominates Fandom Wikis - The Loop
Play Sound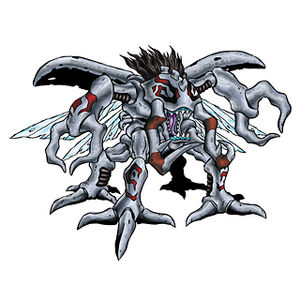 Okuwamon is a minor antagonist in Digimon Adventures 02, and Data Squad. He made his first appearance when he was created by Arukenimon's Spirit Needle, and about 10 Control Spires.
Appearance
Okuwamon is an Ultimate level Digimon, that resembles bigger silver version of Kuwagamon. He has a huge wing spand. He stands on four of his feet and uses three pairs of pincers for attacking, one pair on each arm, and another pair on his face. He also has dark red markings on his body, and brown hair.
Digimon Adventures 02
Okuwamon was made from ten Control Spires by Arukenimon in order to stop the DigiDestined from reaching the reactor in the base of the Digimon Emperor. Okuwamon easily defeated Ankylomon, Aquilamon, Angemon and Nefertimon, but was defeated when ExVeemon and Stingmon DNA digivolved to Paildramon.
Digimon Data Squad
Three Okuwamon worked for Gotsumon while Marcus, Yoshi, Agumon, and Lalamon were escorting Keenan to see his parents that lost him ten years ago. They spotted the DATS and attacked them. Agumon Digivolved to RizeGreymon and Lalamon Digivolved to Lilamon to fight the Okuwamon. The first Okuwamon was destroyed by Lilamon, and the second Okuwamon was destroyed by RizeGreymon, and the third Okuwamon nearly destroyed Keenan, but Marcus came to his rescue, then Gotsumon retreated with the third Okuwamon.
''Digimon Adventure: (2020)''
When Taichi, Koshiro, and Mimi got lost in the Okuwamon's territory, it attacked them. When Tentomon evolved into Kabuterimon, there was no resistance to it at first, but when he evolved into MegaKabuterimon, he did better then and he overcame it.
Attacks
Double Scissor Claw (Scissor Arms Ω): Attacks with an enhanced version of Kuwagamon's attack "Scissor Arms" that can clip through even a diamond with a hardness of 10.
Destructive Impulse (Destructive Impulse): Lets instinct take over and goes on a rampage.
Gallery
Trivia