Jurassic World: Dominion Dominates Fandom Wikis - The Loop
Play Sound



Click To Help Darkseid!

Darkseid has declared that this article requires immediate Cleanup in order to meet a higher standard.
Help improve this article by improving formatting, spelling and general layout - least it fall victim to an Omega Effect


✓

Old Joe is a minor character in the Charles Dickens novel A Christmas Carol.
During Ebenezer Scrooge's vision of the future, Scrooge notices his former maid from his mansion selling his belongings to a fence (someone who buys stolen goods to sell later) named Old Joe. It turns out that she had been stealing items beonging to the recently deceased Scrooge. As Old Joe and the maid shared some banter about a mysterious death on Christmas Day and somehow both would profit from this death.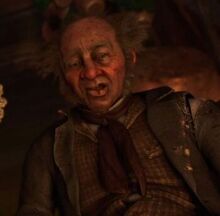 In The Muppet Christmas Carol, he is a very large, multi-limbed spider who acts as a fence, dividing up Scrooge's belongings, in The Muppet Christmas Carol. In this adaptation, he was performed by David Rudman but was voiced by David Shaw-Parker.
In the 2009 adaptation a shrunken Scrooge ends up in a bag full of stolen items after a phantom hearse chase.
In this adaptation while Scrooge recognized the stolen items as his, Old Joe started to slowly reach for a fire poker, seamingly to attack Scrooge. It turns out that he was actually aiming for a nearby rat and this ensues a three way chase between the shrunken Scrooge, the rat and Old Joe. Scrooge is sent flying after Old Joe hits a loose floorboard with the fire poker. Old Joe isn't seen again for the rest of the story.
Gallery

Villains
Villains
The Muppet Show
Mean Mama | Luncheon Counter Monster | Gorgon Heap | Beautiful Day Monster | Frackles | Vile Bunch
The Muppets
Doc Hopper | Max | Snake Walker | Nicky Holiday | Murray Plotsky | Central Park Thief | Jacob & Robert Marley | Old Joe | Long John Silver | Blind Pew | Captain Flint | K. Edgar Singer | Hugo Krassman | Rachel Bitterman | Tex Richman | Uncle Deadly | Moopets | Constantine | Dominic Badguy
Sesame Street
Sam & Sid Sleaze | Ronald Grump | Huxley | Bill the Bug | Pesties | Humongous Chicken | Museum Guard | Chewie the Cookie | Darth Baker | Davy Jones | Bon Bon | Cookiesaurus | Crumbies | Macaroni the Merciless | Zester and Shredder
Creature Shop
Skeksis (SkekSo, SkekZok, SkekUng, SkekSil, SkekTek, SkekAyuk, SkekNa, SkekShod, SkekOk, SkekEkt, SkekMal, SkekVar, & SkekLach) | Tolyn | Seladon | Gruenaks | Darkened Creatures | Jareth | Goblin Army | WESAYSO Corporation (B.P. Richfield & Mr. Ashland)
Commercials
Wilkins | Wheel-Stealer | Flute-Snatcher | Crown-Grabber
The Happytime Murders
Jenny Peterson | Sandra Jakoby
See Also
Disney Villains | Farscape Villains | Metro-Goldwyn-Mayer Villains | Sesame Street Villains | Sony Pictures Villains | The Dark Crystal Villains