She-Hulk Trailer Dropped - The Loop
Play Sound
The Omega Gang is a recurring antagonist faction of the X-Men comic series.
Comic Book History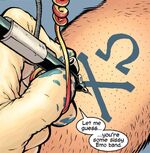 The Omega Gang is a terrorist group, founded by the rogue Kid Omega. They were once students of Charles Xavier and aspiring X-Men but betrayed their own team and opted for a violent, anti-human philosophy not dissimilar to Fascism: with the increasingly destable Kid Omega fuelling a potential race war; even allying themselves with the Brotherhood of Evil Mutants (led by Magneto) to even the odds against the X-Men.
Technicallya ll of the gang are pawns of Sublime, who was responsible for causing Kid Omega's mental instability due to being the true source of the "drug" known as Kick.
Members
Movie History
The Omega Gang (also known as the Omega Muties) were a group of mutant outcasts, led by the mutant Callisto. The Omegas' base was an underground network in the United States.
Known members included Callisto, Quill, Arclight, and Others. However, it is possible that there were many more, such as Lizard Man, Spike, Phat, and Glob Herman. The Omegas greatly disliked humans, who had made them outcasts.
After the mutant cure was created, the Omega Muties allied themselves with the Brotherhood of Mutants. Several Omegas were either killed or cured on Alcatraz Island while Callisto was killed by Storm, and the rest were killed by Dark Phoenix's disintegration wave. It is unknown if any of the Omegas has survived afterwards.
Known Members

Movie Villains
Movies
X-Men: Brotherhood of Mutants (Magneto, Mystique, Sabretooth & Toad) | Pyro
X2: William Stryker Jr. | Lady Deathstrike | Jason Stryker | Brotherhood of Mutants (Magneto, Mystique, & Pyro)
X-Men: The Last Stand: Brotherhood of Mutants (Magneto, Dark Phoenix, Pyro, Juggernaut, Multiple Man & Mystique) | Omega Gang (Callisto, Psylocke, Quill, Arclight, Avalanche, Spike, Glob Herman & Phat) | Archangel
X-Men Origins: Wolverine: William Stryker Jr. | Sabretooth | Deadpool | Agent Zero | Blob
X-Men: First Class: Hellfire Club (Sebastian Shaw, Emma Frost, Azazel, Angel Salvadore & Riptide) | William Stryker Sr. | Magneto | Mystique
The Wolverine: Silver Samurai | Madam Viper | Shingen Yashida | Noburo Mori | Magneto
X-Men: Days of Future Past: Trask Industries (Bolivar Trask, William Stryker Jr. & Sentinels) | Magneto | Mystique | Toad | Horsemen of Apocalypse (Apocalypse)
Deadpool: Deadpool | Dopinder | Ajax | Angel Dust | Agent Smith
X-Men: Apocalypse: Ashir En Sabah Nur/Horsemen of Apocalypse (Apocalypse, Magneto, Psylocke & Archangel) | Dark Phoenix | Mystique | William Stryker Jr. | Blob
Logan: Essex Corp (Zander Rice, Donald Pierce, X-24 & Reavers)
Deadpool 2: Deadpool | Cable | Firefist | Dopinder | Juggernaut | Essex Corp (Headmaster) | Black Tom Cassidy | Sergei Valishnikov | Omega Red
X-Men: Dark Phoenix: Dark Phoenix | D'Bari (Vuk & Jones) | Brotherhood of Mutants (Magneto & Selene Gallio) | Mystique
The New Mutants: Essex Corp (Cecilia Reyes) | Demon Bear | Reverend Craig | Smiley Men
See Also
20th Century Studios Villains | Deadpool Villains | New Mutants Villains | Wolverine Villains | X-Men Villains

Villains
Comics
0101 | Abomination | Absorbing Man | Absalom | Acolytes | Adversary | Ahab | A.I.M. | Akhenaten | Alan Lewis | Amanda Sefton | Ani-Mator | Annihilus | Apocalypse | Arcade | Archangel | Arclight | Arnim Zola | Avalanche | Awesome Android | Azazel | Badoon | Barbarus | Bastion | Baron Karza | Baron Wolfgang von Strucker | Batroc | Beef | Beetle | Black Tom Cassidy | Belasco | Beyonder | Black Box | Blastaar | Blockbuster | Blood Brothers | Bolivar Trask | Blob | Bogeyman | Boomerang | Brood | Brotherhood of Evil Mutants | Brainchild | Bulldozer | Bullseye | Burner | Cameron Hodge | Carnage | Cassandra Nova | Children of the Vault | Chimera | Clan Akkaba | Coach | Computo | Constrictor | Count Nefaria | Creeps | Crossbones | Dark Avengers | Dark Beast | Dark Phoenix | Dark X-Men | Deadpool | Demon Bear | Doctor Doom | Doctor Rice | Dracula | Egghead | Emma Frost | Erik Killmonger | Exodus | Fenris | Freedom Force | Friends of Humanity | Frightful Four | Frost Giants | Galactus | Gamesmaster | Graydon Creed | Hand | Hela | Hellfire Club | Henry Peter Gyrich | High Evolutionary | Hobgoblin | Holocaust | Horsemen of Apocalypse | HYDRA | Impossible Man | Jackal | Juggernaut | Kang | Kid Omega | Kingpin | Klaw | Knull | Krakoa | Kraven | Lord Deathstrike | Lady Deathstrike | Legion | Leper Queen | Lilith | Living Monolith | Lizard | Loki | Mad Thinker | Madame Viper | Madelyne Pryor | Magneto | Magus | Malekith the Accursed | Mandarin | Marrow | Masters of Evil | Master Mold | Medusa | Maximus | Mesmero | Mikhail Rasputin | Mister Jip | Mister Negative | Mister Sinister | M.O.D.O.K. | Mojo | Mole Man | Morlocks | Moses Magnum | Mutant Response Division | Mystique | Mysterio | N'Astirh | Namor | Nanny | Nekra | Neo | Nightmare | Nimrod | Nitro | Norman Osborn | Obnoxio the Clown | Omega Gang | Omega Red | Onslaught | Orphan-Maker | Ozymandias | Pandemonia | Phalanx | Piledriver | Pilgrimm | Predator X | Proteus | Psycho-Man | Punisher (Earth-95216) | Purifiers | Pyro | Quicksilver | Reavers | Red Ghost | Red Skull | Reverend Craig | Rhino | Right | Rogue | Ronan | Sabretooth | Sandman | Sat-Yr-9 | Sauron | Savage Land Mutates | Scarlet Witch | Scorpion | Sebastian Shaw | Selene Gallio | Sentinels | Serpent Society | Shadow King | Shadow Xavier | Shocker | Silver Sable | Silver Samurai | Simon Trask | Skrulls | Spiral | Stranger | Stinger | Stryfe | Stephen Lang | Sublime | Sugarman | Super-Adaptoid | Super-Apes | Supreme Intelligence | Thanos | Thunderball | Thunderbolt Ross | Tiger Shark | Tinkerer | Toad | Trevor Fitzroy | Typhoid Mary | Tyrannus | Unus | Venom | Vulcan | Vulture | Wendigo | Whiplash | Whirlwind | White Rabbit | William Stryker | Wizard | Wrecker | X-Man | Xemnu | Xorn | Ymir | Zaladane
Movies
X-Men: Brotherhood of Mutants (Magneto, Mystique, Sabretooth & Toad) | Pyro
X2: William Stryker Jr. | Lady Deathstrike | Jason Stryker | Brotherhood of Mutants (Magneto, Mystique & Pyro)
X-Men: The Last Stand: Brotherhood of Mutants (Magneto, Dark Phoenix, Pyro, Juggernaut, Multiple Man & Mystique) | Omega Gang (Callisto, Psylocke, Quill, Arclight, Avalanche, Spike, Glob Herman & Phat) | Archangel
X-Men: First Class: Hellfire Club (Sebastian Shaw, Emma Frost, Azazel, Angel Salvadore & Riptide) | William Stryker Sr. | Magneto | Mystique
X-Men: Days of Future Past: Trask Industries (Bolivar Trask, William Stryker Jr. & Sentinels) | Magneto | Mystique | Toad | Horsemen of Apocalypse (Apocalypse)
X-Men: Apocalypse: Ashir En Sabah Nur/Horsemen of Apocalypse (Apocalypse, Magneto, Psylocke & Archangel) | Dark Phoenix | Mystique | William Stryker Jr. | Blob
X-Men: Dark Phoenix: Dark Phoenix | D'Bari (Vuk & Jones) | Brotherhood of Mutants (Magneto & Selene Gallio) | Mystique
The New Mutants: Essex Corp (Cecilia Reyes) | Demon Bear | Reverend Craig | Smiley Men
Television
X-Men (1992): Magneto | Sentinels | Sabretooth | Juggernaut | Apocalypse | Mesmero | Horsemen of Apocalypse | Mister Sinister | Omega Red | Brotherhood of Mutants (Mystique, Avalanche, Blob & Pyro) | Dark Phoenix | Master Mold | Bolivar Trask | Silver Samurai | Hellfire Club (Sebastian Shaw, Harry Leland, Jason Wyngarde, Donald Pierce & Emma Frost) | Reavers (Bonebreaker & Lady Deathstrike) | Supreme Intelligence | D'Ken | Deathbird | Graydon Creed | Red Skull | Toad | Sauron | High Evolutionary | Phalanx | Brood | Skrulls | Super-Adaptoid | Awesome Android | Mojo
X-Men: Evolution: Magneto | Brotherhood of Mutants (Mystique, Avalanche, Toad, Blob, Quicksilver & Scarlet Witch) | Pyro | Mastermind | HYDRA (Madame Viper & Omega Red) | David Haller | Juggernaut | Bolivar Trask | Sentinels | Apocalypse | Horsemen of Apocalypse | Mesmero | Sabretooth | Destiny | Arcade
Wolverine and the X-Men: Brotherhood of Mutants (Magneto, Mystique, Scarlet Witch, Juggernaut, Quicksilver, Avalanche, Blob, Pyro & Toad) | Dark Phoenix | Bolivar Trask | Sentinels | Sabretooth | Mutant Response Division (Colonel Moss) | Shadow King | Hellfire Club (Sebastian Shaw, Donald Pierce, Harry Leland, Selene Gallio, Emma Frost & Stepford Cuckoos) | Master Mold | Silver Samurai | Nitro | Mojo | Mister Sinister | Apocalypse
Marvel Anime: X-Men: Hellfire Club (Emma Frost, Martermind) | U-Men (Sublime)
Legion: Legion | Shadow King | Oliver Bird | Time Eaters
The Gifted: Sentinel Services (Jace Turner, Ed Weeks) | Trask Industries (Roderick Champell) | Ted Wilson | Hellfire Club (Fenris, Reeva Paype, Frost Sisters) | Benedict Ryan

Video Games
The Uncanny X-Men: Magneto | White Queen | Juggernaut | Sabretooth | Boomerang
X-Men: Madness in Murderworld: Arcade | Magneto | Juggernaut | Blob | White Queen | Mystique | Pyro | Wendigo | Silver Samurai
X-Men II: The Fall of the Mutants: Mystique | Avalanche | Blob | Pyro | Spiral
Spider-Man & X-men: Arcade's Revenge: Arcade | Carnage | Rhino | Apocalypse | Juggernaut | Selene Gallio | Sentinels | Master Mold
X-Men (1992): Brotherhood of Mutant Terrorists (Magneto, Mystique, White Queen, Juggernaut, Blob, Pyro, Wendigo & Living Monolith) | Sentinels
X-Men (1993): Magneto | Apocalypse | Sabretooth | Juggernaut | Sentinels | Ahab | Mojo
X-Men 2: Clone Wars: Apocalypse | Phalanx | The Brood | Magneto
X-Men: Children of the Atom: Magneto | Juggernaut | Omega Red | Silver Samurai | Sentinel | Spiral | Mojo
X-Men (1994): Magneto | Sebastian Shaw | Callisto | Sauron | Brood Queen | Omega Red
X-Men 2: Game Master's Legacy: Gamesmaster | Apocalypse | Mister Sinster | Exodus
X-Men: Mutant Apocalypse: Apocalypse | Juggernaut | Omega Red | Brood Queen | Sentinels | Acolytes | Exodus | Magneto
X-Men vs. Street Fighter: Apocalypse | Acolytes | Magneto | Juggernaut | Sabretooth | Rogue | Angel
X-Men 3: Mojo World: Mojo | Magneto | Master Mold | Trevor Fitzroy | Spiral
X-Men: The Ravages of Apocalypse: Apocalypse | Mister Sinister | Magneto
X-Men: Mutant Academy: Magneto | Mystique | Sabretooth | Toad
X-Men: Mutant Wars: Magneto | Mystique | Sabretooth | Apocalypse
X-Men: Wolverine's Rage: Lady Deathstrike | Sabretooth | Deadpool
X-Men: Mutant Academy 2: Magneto | Mystique | Sabretooth | Juggernaut | Toad
X-Men: Reign of Apocalypse: Apocalypse | Archangel | Magneto | Dark Phoenix | Juggernaut | Sabretooth | Silver Samurai | Sauron | Blob | Pyro
X-Men: Next Dimension: Brotherhood of Evil Mutants (Magneto, Sabretooth, Toad, Mystique, Juggernaut, Blob, Lady Deathstrike & Pyro) | Bastion | Sentinels
X2: Wolverine's Revenge: Magneto | Sabretooth | Wendigo | Lady Deathstrike | Juggernaut | Omega Red | Apocalypse | Mr. Sinister
X-Men Legends: Brotherhood of Evil Mutants/Acolytes (Magneto, Mystique, Blob, Pyro, Avalanche, Sabretooth & Toad) | Marrow | Juggernaut | Shadow King | Apocalypse | Master Mold
X-Men Legends II: Rise of Apocalypse: Apocalypse | The Brood | Lady Deathstrike | Sauron | Omega Red | Stepford Cuckoos | Deadpool | Mister Sinister | Dark Beast | Living Monolith | Mystique | Destiny | Blob | Emma Frost | Sebastian Shaw | Archangel | Selene Gallio | Quicksilver
X-Men The Official Game: Brotherhood of Mutants (Magneto, Sabretooth & Pyro) HYDRA (Silver Samurai & Deathstike) | Multiple Man | Jason Stryker | Master Mold | Mystique | Toad
See Also
Alpha Flight Villains | Deadpool Villains | Excalibur Villains | New Mutants Villains | Wolverine Villains | X-Factor Villains | X-Force Villains | X-Men Movie Villains