The Omega Gang is a recurring antagonist faction of the X-Men comic series.
Comic Book History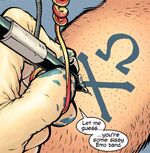 The Omega Gang is a terrorist group, founded by the rogue
Kid Omega
. They were once students of Charles Xavier and aspiring X-Men but betrayed their own team and opted for a violent, anti-human philosophy not dissimilar to Fascism: with the increasingly destable Kid Omega fuelling a potential race war; even allying themselves with the
Brotherhood of Evil Mutants
(led by
Magneto
) to even the odds against the X-Men.
Members
Movie History
The Omega Gang (also known as the Omega Muties) were a group of mutant outcasts, led by the mutant Callisto. The Omegas' base was an underground network in the United States.
Known members included Callisto, Quill, Arclight, and Psylocke. However, it is possible that there were many more, such as Lizard Man, Spike, Phat, and Glob Herman. The Omegas greatly disliked humans, who had made them outcasts.
After the mutant cure was created, the Omega Muties allied themselves with the Brotherhood of Mutants. Several Omegas were either killed or cured on Alcatraz Island while Callisto was killed by Storm, and the rest were killed by Dark Phoenix's disintegration wave. It is unknown if any of the Omegas has survived afterwards.
Known Members

Movie Villains
Weapon X
Yashida Corporation
Other
Community content is available under
CC-BY-SA
unless otherwise noted.