Jurassic World: Dominion Dominates Fandom Wikis - The Loop
Play Sound
| | | |
| --- | --- | --- |
| " | You are afraid, otherworlder. Onslaught knows you for exactly what you are. You and I have faced a common foe, Holocaust. We both share an interest in his limited future. Bring me the boy named Nate Grey, and you shall know power beyond your wildest dreams. I offer only the merest taste of what's to come to whet your appetite for more. | " |
| | ~ Onslaught as he forms an alliance with Holocaust. | |
Onslaught is the name of an extremely powerful and malevolent mutant thought-form created by the combined consciousness of Professor Xavier and Magneto.
He served as the main villain of the crossover of the same name, Heroes Reborn and the Marvel vs Capcom game, as well as the Onslaught Reborn and Axis storylines, making him a major villain in the Marvel universe. He is also Franklin Richard's archenemy.
Biography
When Onslaught was created, he wanted to follow the mindset of Magneto and have mutants rule the world, yet after he saw a vision of the Age of Apocalypse timeline from the mind of Dark Beast, he became convinced that neither human nor mutant could rule the world and set upon exterminating both races, in effect wiping out pretty much all life on Earth.
To achieve this end, he kidnapped Franklin Richards and Nate Grey in order to add their formidable psychic abilities to his own, making himself all but a god -this new, immensely powerful Onslaught would fight with the Avengers, X-Men, Hulk and Fantastic Four.
After much fighting Hulk was able to break Onslaught's armor, destroying the monster's physical form but exposing his raw psychic energy in the process, in order to defeat him many of the non-mutant heroes sacrificed their lives by entering Onslaught's exposed form (the mutant heroes could not do so as he would have fed off them and become even more powerful), weakening him enough for the X-Men to finish him off.
This battle led to the Heroes Reborn story arc and made Onslaught one of Marvel's "love or hate" villains, with some fans liking him and others seeing him as little more than an elaborate tool for needless reshaping of the Marvel universe.
Regardless of this Onslaught was, for better or worse, one of Marvel's most powerful villains and his actions would have profound changes on the universe as a whole.
Onslaught Reborn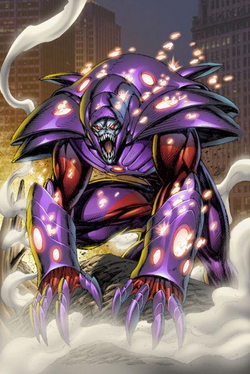 Following the Scarlet Witch's proclamation of "No more mutants" and the subsequent depowering of most of the Earth's mutants, a large mass of energy was released into space. After awakening Vulcan and Darwin and being controlled by Shen Xorn (who returned to Earth, fused with Michael Pointer and was then defeated by the combined efforts of the New Avengers), the ball of energy returned to Earth a second time and gained physical form as a recombined Onslaught. Immediately seeking out Franklin Richards (and failing to kill him through a mind-controlled Human Torch and Reed Richards), Onslaught quickly cornered the child in his bedroom, where Franklin once more used a toy ball as a focus to escape into a world that was, for the most part, an exact copy of the Counter-Earth he had created.
There, with the help of recreated versions of the Fantastic Four, Avengers and their allies and foes, Franklin would do battle with Onslaught. The fight would take them to the Baxter Building where Bucky would sacrifice her life knocking Onslaught into the Negative Zone. Bucky would find herself transported to Earth-616 while Onslaught would remain trapped in the Zone. He was last seen floating near Wonderland curious of its purpose. Onslaughts future plans remain unknown at this time.
Red Onslaught
Main article: Red Onslaught
During World War Hate, the Red Skull would finally cross a line so heinous that Magneto took it upon himself to personally murder the madman, yet in the process, he unleashed a merged version of Onslaught and Red Skull. This became known as Red Onslaught.
Powers and Abilities
Onslaught possessed all of the mutant abilities of his progenitors Professor X and Magneto. He later added the powers of Franklin Richards and Nate Grey to his, making him even more powerful.
Astral Plane Tap: Ability to Tap into the enormous psychic resources of the astral plane in order to manipulate matter and energy.
Astral Travel: Capable of forging psi-links to travel in astral form.
Material Astral Projection: Give substance to astral energy to solidify psychic forms or forge protective psi-armor and even pull the astral projections of other telepaths into the physical world.
Psychometry: Can read residual thought imprints left on objects touched by people.
Dimensional Sense: Capable of sensing dimensional rifts or anomalies.
Telepathy: Onslaught is able to read minds and project his own thoughts into the minds of others in vast distances from him with little to no resistance from even the most powerful telepaths.
Telepathic Illusion: Ability to create realistic telepathic illusions and cause people to experience events which are not actually occurring.
Telepathic Camouflage: Ability to mask himself, and other peoples' presence from those around him. Can telepathically disguise himself, making his appearance to those around him quite different (changing the appearance of clothing, as well as more involved disguising).
Mind Blast: Ability to place large amounts of information in another mind.
Mind Control: Ability to control the minds of others upon mere concentration. This power can allow him to completely shut down several peoples' minds, making it appear as if time has stopped.
Mind Possession: Ability to possess the mind of another, and use that being's body as his own.
Mind Alteration: Ability to alter the minds of others by force of will.
Mental Amnesia: Ability to cause loss of particular memories, and amnesia in another person or even in a group of people. Powerful enough to make a person have total mental paralysis.
Psionic Shield: Ability to erect a psychic shield for protection of himself and of others minds and is sufficient to protect himself from other psychics on the Omega-level.
Psionic Blasts: Can project psionic force bolts which have no physical effects but which can affect a victim's mind so as to cause the victim pain or unconsciousness and can even kill an adversary.
Astral Projection: Ability to Astral Travel and communicate with others astrally through his own will, or through contact with the thoughts and memories of others. In the astral realm, he can use his powers to create "ectoplasmic" objects. He cannot engage in long range astral projection on the earthly plane.
Mental Detection: Can sense the presence of another superhuman mutant within a small but as yet undefined radius of himself by perceiving the distinctive mental radiations emitted by such a being.
Telekinesis: Telekinetically, Onslaught is capable of very fine control over objects; he can disassemble complex devices explosively (separating every last component, such as screws, nuts, circuit boards, etc.), and just as quickly and easily assemble complex devices. This also has enabled him to even attain awareness and control over objects as small as individual electrons in an atom. For instance, Onslaught could detect if a seal was hermetic, or not, by checking for the presence of penetrating oxygen molecules. He could even detect and discern individual oxygen molecules, and determine the atomic weight of molecules, by the number of atoms present. On larger levels, Onslaught can levitate great weights, into the tons, but his upper limit has remained undisclosed.
Psionic Spikes: Ability to create destructive psionic spikes that destroy the physical objects that the spikes come into contact with.
Force-Fields: Ability to create protective force shields that could detect even the most powerful of attacks (even filter bacteria from the air). The upper limits of this ability remain unknown, but it is believed that he could probably protect himself from harm at the ground zero detonation of a 1 kiloton nuclear warhead (4.18 terajoules of energy from the heat, concussion, and radiation effects) with ease. Onslaught has also displayed such control over the fields to shape them precisely, even to conform very closely to his body's form. There does not appear to be any correlation between field strength and the thickness of the telekinetic fields.
Concussive Blasts: Can project his telekinetic energies as powerful blast beams directed from his brain that could apparently affect matter with concussive force.
Flight: By levitating himself, he can fly at incredible speeds.
Intangibility: Can phase through solid matter by mentally shifting his molecules around another object's as he moves forward.
Telekinetic Holograms: His mental fine motor skills are so acute that he can mentally manipulate dust particles and water vapour to refract lightwaves and create holograms.
Electromagnetic Spectrum Manipulation: Onslaught has some ability to project or manipulate any form of energy that is related to the electromagnetic spectrum. He can fire and absorb bolts of electricity and magnetic force, reverse lasers and other forms of radiation or energy, create enough intense heat as infrared radiation to level a city, and become invisible by deflecting visible light around his body. Heat or infrared radiation is part of the electromagnetic spectrum, which also includes visible light, radio waves, ultraviolet light, gamma rays, and x-rays. Onslaught can project any of these. Onslaught can maintain total control of an entire planet's electromagnetic field and can manipulate it accordingly. He has also dispersed a "flame cage" created by the Human Torch, but whether he had simply expanded his personal force field or employed something else entirely is unclear. Onslaught once used his powers to create a traversable wormhole between two points in space.
Electromagnetic Sight: Onslaught can perceive the world around himself as patterns of magnetic and electrical energy. He can perceive the natural magnetic auras surrounding living beings.
Electromagnetic Pulses: He also has creative uses of his powers such as using his telekinesis to channel the Earth's magnetic field through the electro-current of his brain and generate devastating electromagnetic pulses.
Magnetokinesis: Onslaught has the power to shape and manipulate magnetic fields that exist naturally or artificially. He can draw magnetic force from outside himself, or can also generate magnetic force within himself. Onslaught's power is psionic and physiological in nature. He can lift, move, and alter objects. Onslaught can project metal at an unparalleled velocity and place tremendous pressure on metallic substances to liquefy and reshape them, manipulate the iron-enriched blood-flow to one's brain to induce aneurysms or unconsciousness, redirect the flow of blood through one's brain to alter thoughts and perceptions or blank a person's mind completely, levitate a person or control a person's actions by manipulating the iron in their bloodstream, remove the iron from the bloodstream entirely through a person's skin, control ferrous particles in the atmosphere, alter the Earth's magnetic field which extends into space as the Onslaught sphere, prodigiously increase his own strength to superhuman levels, and achieve a wide range of other effects.

Magnetic Force-Fields: Onslaught usually protects himself with a personal force field that he can quickly expand to protect large areas. His forcefield has withstood the effects of multiple nuclear weapons, volcanic eruption, the depths of space and attacks from multiple Avengers or X-Men, including Phoenix, Thor, and even Galactus.
Organic Iron Manipulation: Onslaught can control the iron within any organic matter which allows him to have full control over an opponent's body. Onslaught has also demonstrated the ability to control the blood flow within one's body thus causing them to die a painful or even quick death.

Superhuman Strength: Onslaught possesses the vast superhuman strength of unknown limits. However, he is able to lift at least far beyond 1000 tons with ease without using his psionic or magnetic powers to increase his strength. While using those powers to enhance his strength, the upper limits of his strength are unimaginable. He demonstrated sufficient strength to overpower a fully powered Juggernaut and punch him with enough force to sending flying through the air from Canada to New Jersey with a single blow and was able to pin down and casually restrain an enraged Banner-less Hulk with ease.
Impervious Armor: Onslaught's armour is nigh-invulnerable and nearly impossible to crack. The only exception was blown from an enraged/Banner-less Hulk and Thor (even then, he only allowed this to happen so that he could go into the next step of his evolution).
Telepathic Immunity: His mind is immune to all traces of telepathy, due to his armour, his mind cannot be manipulated nor can it be read. Although, his telepathy is capable of exiting his armour, allowing his telepathy to be used on others.
Mutant Absorption: As a psychic entity, Onslaught had the ability to absorb any mutant into his being and thus permanently gain their powers for himself. X-Man and Franklin Richards were two mutants that he consumed to further his vast power.
Reality Manipulation: Ability to manipulate reality itself. Nigh-omnipotent reality warping powers on a potentially infinite level, and perhaps even up to a cosmic scale. His abilities are so great that he can create "pocket" universes in alternate realities (A pocket universe is a cosmos that does not equal our own in size).
Other Media
Video games
Onslaught is a boss character and the main antagonist of Marvel vs. Capcom: Clash of Super Heroes voiced by Maurice Dean Wint. In this game, he appears as the final boss, and he has two forms the player must defeat: the first form which is that of a normal-sized character, and the second and final form which is that of a floating giant. He is then revealed to be Xavier upon defeat.
Onslaught appears as an antagonist in Marvel Super Hero Squad Online.
Toys
Toy Biz has released two action figures of the character, the first in the "X-Men Onslaught" series, which came with attachable armour to emulate his final transformation; the second was the Build-A-Figure in the 13th series of the "Marvel Legends" series, and bore more of a resemblance to his final form.
Miniature gaming
An Onslaught miniature is part of the Heroclix Giant-Size X-Men set. This miniature is randomly found in the newly created "Super Booster" which contains larger size figure.
Quotes
| | | |
| --- | --- | --- |
| " | At last... FREEDOM! Now behold my mighty hand! | " |
| | ~ Onslaught. | |
| | | |
| --- | --- | --- |
| " | Know my name and fear it; I am Onslaught. | " |
| | ~ Onslaught's intro in Marvel Vs. Capcom. | |
| | | |
| --- | --- | --- |
| " | No one is safe. | " |
| | ~ Onslaught's second phase quote. | |
| | | |
| --- | --- | --- |
| " | The dream is dead. | " |
| | ~ Onslaught's victory quote. | |
| | | |
| --- | --- | --- |
| " | Behold my mighty hand. The world will tremble! | " |
| | ~ Onslaught's attack in Marvel Vs. Capcom. | |
| | | |
| --- | --- | --- |
| " | Free will is a privilege, not a "right." | " |
| | ~ Onslaught | |
| | | |
| --- | --- | --- |
| " | I was forged within the crucibles of fear! | " |
| | ~ Onslaught | |
| | | |
| --- | --- | --- |
| " | Judgment has been passed! No one is worthy! | " |
| | ~ Onslaught | |
| | | |
| --- | --- | --- |
| " | My will is absolute; imposed upon all. | " |
| | ~ Onslaught | |
| | | |
| --- | --- | --- |
| " | Now and forever, I am Onslaught! | " |
| | ~ Onslaught | |
| | | |
| --- | --- | --- |
| " | Witness the might of Onslaught unleashed! | " |
| | ~ Onslaught | |
| | | |
| --- | --- | --- |
| " | You are beaten. Join the ranks of the fallen! | " |
| | ~ Onslaught | |
Gallery
Images
Videos

Villains
Comics
0101 | Abomination | Absorbing Man | Absalom | Acolytes | Adversary | Ahab | A.I.M. | Akhenaten | Alan Lewis | Amanda Sefton | Ani-Mator | Annihilus | Apocalypse | Arcade | Archangel | Arclight | Arnim Zola | Avalanche | Awesome Android | Azazel | Badoon | Barbarus | Bastion | Baron Karza | Baron Wolfgang von Strucker | Batroc | Beef | Beetle | Black Tom Cassidy | Belasco | Beyonder | Black Box | Blastaar | Blockbuster | Blood Brothers | Bolivar Trask | Blob | Bogeyman | Boomerang | Brood | Brotherhood of Evil Mutants | Brainchild | Bulldozer | Bullseye | Burner | Cameron Hodge | Carnage | Cassandra Nova | Chameleon | Children of the Vault | Chimera | Clan Akkaba | Coach | Computo | Constrictor | Count Nefaria | Creeps | Crossbones | Dark Avengers | Dark Beast | Dark Phoenix | Dark X-Men | Deadpool | Demon Bear | Demogoblin | Doctor Doom | Doctor Octopus | Doctor Rice | Dracula | Egghead | Electro | Emma Frost | Erik Killmonger | Exodus | Fenris | Freedom Force | Friends of Humanity | Frightful Four | Frost Giants | Galactus | Gamesmaster | Graydon Creed | Green Goblin | Grizzly | Hammerhead | Hand | Hela | Hellfire Club | Henry Peter Gyrich | High Evolutionary | Hobgoblin | Holocaust | Horsemen of Apocalypse | HYDRA | Impossible Man | Jackal | Jack O' Lantern | J. Jonah Jameson | Juggernaut | Kang | Kid Omega | Kingpin | Killer Shrike | Klaw | Knull | Krakoa | Kraven | Lord Deathstrike | Lady Deathstrike | Legion | Leper Queen | Lilith | Living Monolith | Lizard | Loki | Mad Thinker | Madame Viper | Madelyne Pryor | Magneto | Magus | Malekith the Accursed | Mandarin | Marrow | Masters of Evil | Master Mold | Medusa | Maximus | Mesmero | Mikhail Rasputin | Mister Jip | Mister Negative | Mister Sinister | M.O.D.O.K. | Mojo | Mole Man | Moonstone | Morbius | Morlocks | Moses Magnum | Mutant Response Division | Mystique | Mysterio | N'Astirh | Namor | Nanny | Nekra | Neo | Nightmare | Nimrod | Nitro | Norman Osborn | Obnoxio the Clown | Omega Gang | Omega Red | Onslaught | Orphan-Maker | Ozymandias | Pandemonia | Phalanx | Piledriver | Pilgrimm | Predator X | Proteus | Psycho-Man | Puma | Punisher (Earth-95216) | Purifiers | Pyro | Quicksilver | Reavers | Red Ghost | Red Skull | Reverend Craig | Rhino | Right | Rogue | Ronan | Sabretooth | Sandman | Sat-Yr-9 | Sauron | Savage Land Mutates | Scarlet Witch | Scorpion | Sebastian Shaw | Selene Gallio | Sentinels | Serpent Society | Shadow King | Shadow Xavier | Shocker | Silver Sable | Silver Samurai | Simon Trask | Sinister Six | Skrulls | Spiral | Stranger | Stinger | Stryfe | Stephen Lang | Sublime | Sugarman | Super-Adaptoid | Super-Apes | Supreme Intelligence | Swarm | Thanos | Thunderball | Thunderbolt Ross | Tiger Shark | Tinkerer | Toad | Trevor Fitzroy | Typhoid Mary | Tyrannus | Unus | Vampires | Venom | Vulcan | Vulture | Wendigo | Whiplash | Whirlwind | White Rabbit | William Stryker | Wizard | Wrecker | X-Man | Xemnu | Xorn | Ymir | Zaladane
Movies
X-Men: Brotherhood of Mutants (Magneto, Mystique, Sabretooth & Toad) | Pyro
X2: William Stryker Jr. | Lady Deathstrike | Jason Stryker | Brotherhood of Mutants (Magneto, Mystique & Pyro)
X-Men: The Last Stand: Brotherhood of Mutants (Magneto, Dark Phoenix, Pyro, Juggernaut, Multiple Man & Mystique) | Omega Gang (Callisto, Psylocke, Quill, Arclight, Avalanche, Spike, Glob Herman & Phat) | Archangel
X-Men: First Class: Hellfire Club (Sebastian Shaw, Emma Frost, Azazel, Angel Salvadore & Riptide) | William Stryker Sr. | Magneto | Mystique
X-Men: Days of Future Past: Trask Industries (Bolivar Trask, William Stryker Jr. & Sentinels) | Magneto | Mystique | Toad | Horsemen of Apocalypse (Apocalypse)
X-Men: Apocalypse: Ashir En Sabah Nur/Horsemen of Apocalypse (Apocalypse, Magneto, Psylocke & Archangel) | Dark Phoenix | Mystique | William Stryker Jr. | Blob
X-Men: Dark Phoenix: Dark Phoenix | D'Bari (Vuk & Jones) | Brotherhood of Mutants (Magneto & Selene Gallio) | Mystique
The New Mutants: Essex Corp (Cecilia Reyes) | Demon Bear | Reverend Craig | Smiley Men
Television
X-Men (1992): Magneto | Sentinels | Sabretooth | Juggernaut | Apocalypse | Mesmero | Horsemen of Apocalypse | Mister Sinister | Omega Red | Brotherhood of Mutants (Mystique, Avalanche, Blob & Pyro) | Dark Phoenix | Master Mold | Bolivar Trask | Silver Samurai | Hellfire Club (Sebastian Shaw, Harry Leland, Jason Wyngarde, Donald Pierce & Emma Frost) | Reavers (Bonebreaker & Lady Deathstrike) | Supreme Intelligence | D'Ken | Deathbird | Graydon Creed | Red Skull | Toad | Sauron | High Evolutionary | Phalanx | Brood | Skrulls | Super-Adaptoid | Awesome Android | Mojo
X-Men: Evolution: Magneto | Brotherhood of Mutants (Mystique, Avalanche, Toad, Blob, Quicksilver & Scarlet Witch) | Pyro | Mastermind | HYDRA (Madame Viper & Omega Red) | David Haller | Juggernaut | Bolivar Trask | Sentinels | Apocalypse | Horsemen of Apocalypse | Mesmero | Sabretooth | Destiny | Arcade
Wolverine and the X-Men: Brotherhood of Mutants (Magneto, Mystique, Scarlet Witch, Juggernaut, Quicksilver, Avalanche, Blob, Pyro & Toad) | Dark Phoenix | Bolivar Trask | Sentinels | Sabretooth | Mutant Response Division (Colonel Moss) | Shadow King | Hellfire Club (Sebastian Shaw, Donald Pierce, Harry Leland, Selene Gallio, Emma Frost & Stepford Cuckoos) | Master Mold | Silver Samurai | Nitro | Mojo | Mister Sinister | Apocalypse
Marvel Anime: X-Men: Hellfire Club (Emma Frost, Martermind) | U-Men (Sublime)
Legion: Legion | Shadow King | Oliver Bird | Time Eaters
The Gifted: Sentinel Services (Jace Turner, Ed Weeks) | Trask Industries (Roderick Champell) | Ted Wilson | Hellfire Club (Fenris, Reeva Paype, Frost Sisters) | Benedict Ryan

Video Games
The Uncanny X-Men: Magneto | White Queen | Juggernaut | Sabretooth | Boomerang
X-Men: Madness in Murderworld: Arcade | Magneto | Juggernaut | Blob | White Queen | Mystique | Pyro | Wendigo | Silver Samurai
X-Men II: The Fall of the Mutants: Mystique | Avalanche | Blob | Pyro | Spiral
Spider-Man & X-men: Arcade's Revenge: Arcade | Carnage | Rhino | Apocalypse | Juggernaut | Selene Gallio | Sentinels | Master Mold
X-Men (1992): Brotherhood of Mutant Terrorists (Magneto, Mystique, White Queen, Juggernaut, Blob, Pyro, Wendigo & Living Monolith) | Sentinels
X-Men (1993): Magneto | Apocalypse | Sabretooth | Juggernaut | Sentinels | Ahab | Mojo
X-Men 2: Clone Wars: Apocalypse | Phalanx | The Brood | Magneto
X-Men: Children of the Atom: Magneto | Juggernaut | Omega Red | Silver Samurai | Sentinel | Spiral | Mojo
X-Men (1994): Magneto | Sebastian Shaw | Callisto | Sauron | Brood Queen | Omega Red
X-Men 2: Game Master's Legacy: Gamesmaster | Apocalypse | Mister Sinster | Exodus
X-Men: Mutant Apocalypse: Apocalypse | Juggernaut | Omega Red | Brood Queen | Sentinels | Acolytes | Exodus | Magneto
X-Men vs. Street Fighter: Apocalypse | Acolytes | Magneto | Juggernaut | Sabretooth | Rogue | Angel
X-Men 3: Mojo World: Mojo | Magneto | Master Mold | Trevor Fitzroy | Spiral
X-Men: The Ravages of Apocalypse: Apocalypse | Mister Sinister | Magneto
X-Men: Mutant Academy: Magneto | Mystique | Sabretooth | Toad
X-Men: Mutant Wars: Magneto | Mystique | Sabretooth | Apocalypse
X-Men: Wolverine's Rage: Lady Deathstrike | Sabretooth | Deadpool
X-Men: Mutant Academy 2: Magneto | Mystique | Sabretooth | Juggernaut | Toad
X-Men: Reign of Apocalypse: Apocalypse | Archangel | Magneto | Dark Phoenix | Juggernaut | Sabretooth | Silver Samurai | Sauron | Blob | Pyro
X-Men: Next Dimension: Brotherhood of Evil Mutants (Magneto, Sabretooth, Toad, Mystique, Juggernaut, Blob, Lady Deathstrike & Pyro) | Bastion | Sentinels
X2: Wolverine's Revenge: Magneto | Sabretooth | Wendigo | Lady Deathstrike | Juggernaut | Omega Red | Apocalypse | Mr. Sinister
X-Men Legends: Brotherhood of Evil Mutants/Acolytes (Magneto, Mystique, Blob, Pyro, Avalanche, Sabretooth & Toad) | Marrow | Juggernaut | Shadow King | Apocalypse | Master Mold
X-Men Legends II: Rise of Apocalypse: Apocalypse | The Brood | Lady Deathstrike | Sauron | Omega Red | Stepford Cuckoos | Deadpool | Mister Sinister | Dark Beast | Living Monolith | Mystique | Destiny | Blob | Emma Frost | Sebastian Shaw | Archangel | Selene Gallio | Quicksilver
X-Men The Official Game: Brotherhood of Mutants (Magneto, Sabretooth & Pyro) HYDRA (Silver Samurai & Deathstike) | Multiple Man | Jason Stryker | Master Mold | Mystique | Toad
See Also
Alpha Flight Villains | Deadpool Villains | Excalibur Villains | New Mutants Villains | Wolverine Villains | X-Factor Villains | X-Force Villains | X-Men Movie Villains

Villains
Comics
Abomination | Abominatrix | Absorbing Man | Adolf Hitler | Agony | A.I.M. | Air-Walker | Alkhema | Aleksander Lukin | Alistair Smythe | Amatsu-Mikaboshi | Amora | Anaconda | Annihilus | Ani-Men | Answer | Apocalypse | Arcade | Ares | Arnim Zola | Atlas | Attuma | Avalanche | Awesome Android | Badoon | Barracuda | Baron Blood | Baron Mordo | Baron Wolfgang von Strucker | Baron Zemo | Basilisk | Batroc | Beetle | Beyonder | Bi-Beast | Black Knight | Blackout | Black Order | Black Cat | Black Mamba | Black Talon | Black Widow | Blackie Drago | Blastaar | Blitzkrieg | Blizzard | Blob | Blood Brothers | Bombshell | Boomerang | Brothers Grimm | Brotherhood of Evil Mutants | Bulldozer | Bullseye | Burglar | Bushmaster | Bushwacker | Cache | Cannibals (Marvel Universe Vs) | Carnage | Carrion | Calypso | Celestials | Centurion | Chameleon | Chance | Chemistro | Chester Goudal | Chitauri | Collector | Colonel Ross Whittaker | Commander Kraken | Constrictor | Corruptor | Cottonmouth | Count Nefaria | Cowled Commander | Crime-Master | Crimson Dynamo | Crimson Widow | Cristu Bulat | Crossbones | Crossfire | D'Spayre | Daken | Damage | Daniel Whitehall | Dark Avengers | Dark Elves | Deadpool | Deathbird | Deathurge | Death Adder | Deke Wainscroft | Demogoblin | Diablo | Diamondback | Doctor Doom | Doctor Faustus | Doctor Octopus | Doctor Spectrum | Dormammu | Dracula | Dreadknight | Druig | Eddie Brock | Eel | Egghead | Ego the Living Planet | Electro | Elementals | Elements of Doom | Enclave | Enforcers | Equinox | Exodus | Ezekiel Stane | Fabian Cortez | Famine | Fin Fang Foom | Finn Cooley | Firelord | Fixer | Fold | Frost | Frost Giants | Frightful Four | Galactus | Gargantus | Garthan Saal | Ghost | Giganto | Goliath | Gladiator | Godzilla | Grand Director | Grandmaster | Grant Ward | Graviton | Green Goblin (Norman Osborn, Harry Osborn) | Grey Gargoyle | Grey Goblin | Griffin | Grim Reaper | Grizzly | Growing Man | Grotesk | Hammerhead | Hand | Hazmat | Hela | Hera | Herr Kleiser | Heinz Kruger | High Evolutionary | Hitman | Hive | Horsemen of Apocalypse | Hobgoblin | Hood | Hydro-Man | HYDRA | Immortus | Impossible Man | Inner Demons | Ironclad | Iron Monger | Jackal | J. Jonah Jameson | Jack O' Lantern | Jester | Jigsaw | Johnny Ohm | Jonas Hambleton | Jormungandr | Juggernaut | Justin Hammer | Kaine | Kang the Conqueror | Killer Shrike | King Cobra | Kingpin | Klaw | Knull | Korath the Pursuer | Korvac | Kraven the Hunter | Kree | Kristoff Vernard | Lady Deathstrike | The Leader | Lightmaster | Living Brain | Living Laser | Living Monolith | Lizard | Loki Laufeyson | Lucia Von Bardas | Ma Gnucci | Machinesmith | Mad Pharaoh | Mad Thinker | Madame Masque | Madame Viper | Madcap | Madelyne Pryor | Maelstrom | Maestro | Maginty | Magneto | Magus | The Maker | Malekith the Accursed | Man-Ape | Mandarin | Mandrill | Man-Spider | Man-Wolf | Master Man | Master Pandemonium | Masters of Evil | Masked Marauder | Maximus the Mad | Medusa | Melter | Menace | Mentallo | Mercurio the 4-D Man | Mesmero | Mephisto | Mister Fear | Mister Hyde | Mister Negative | Mister Payback | Mister Sinister | M.O.D.A.M. | M.O.D.O.K. | Mojo | Molecule Man | Mole Man | Molten Man | Monica Rappaccinni | Moonstone | Morbius the Living Vampire | Morgan le Fay | Moses Magnum | Mystique | Mysterio | Namor | Nebula | Nekra | Nicky Cavella | Nightmare | Nightshade | Niles Van Roekel | Nicky Cavella | Omega Red | Onslaught | Orka | Overdrive | Owl | Paladin | Phalanx | Phil Urich | Piledriver | Pluto | Presence | Princess Python | Proctor | Psycho-Man | Punisher | Puppet Master | Puma | Purple Man | Quasimodo | Quicksand | Quicksilver | Radioactive Man | Ragnarok | Ramrod | Rattler | Reavers | Red Ghost | Red Skull | Reverend Samuel Smith | Rhino | Rhino II | The Rose | Ringer | Ringmaster | Riot | Ronan the Accuser | Roxxon | Sabretooth | Sandman | Säurespritze | Sauron | Savage Land Mutates | Scarecrow | Scarlet Witch | Scorcher | Scorpion | Screaming Mimi | Sebastian Shaw | Secret Empire | Selene Gallio | Sentinels | Sentry 459 | Serpent Society | Shriek | Shocker | Shockwave | Sidewinder | Silver Sable | Sin | Sinister Six | Skaar | Skeleton Crew | Skrulls | Skurge | Slug | Space Phantom | Spider-Man Revenge Squad | Spider-Slayers | Spot | Squadron Sinister | Stranger | Street | Sunstroke | Superia | Super-Adaptoid | Super-Apes | Super Patriot | Super-Skrull | Supreme Intelligence | Superia | Surtur | Swarm | Swordsman | Symbiotes | Tarantula | Taskmaster | Technovore | Temugin | Ten Rings | Terminus | Thanos | Thorr Odinson | Thunderball | Thunderbolts | Thunderbolt Ross | Thundersword | Tiger Shark | Tinkerer | Titania | Titanium Man | Toad | Tombstone | Trapster | Trick Shot | Terrax the Tamer | Typhoid Mary | Tyrannus | U-Foes | Ulik | Ultimus | Ultron | Unicorn | Universal Church of Truth | Uranos | Vapor | Vector | Venom | Vermin | Vulture | Walrus | Warlord Krang | Whiplash | Whirlwind | White Rabbit | Will-O'-The-Wisp | Winter Soldier | Wizard | Wonder Man | Wrecker | Worthy | X-Ray | Yellow Claw | Ymir | Yon-Rogg | Zahnmörder | Zodiac | Zombie Giant-Man | Zombie Sentry | Zzzax
Movies
Ultimate Avengers 1 & 2: Herr Kleiser | Chitauri
Next Avengers: Heroes of Tomorrow: Ultron
The Avengers: Loki Laufeyson | Chitauri (The Other & Leviathans) | HYDRA (Gideon Malick & Jasper Sitwell) | Georgi Luchkov | Thanos
Avengers: Age of Ultron: Ultron | Ultron Sentinels | HYDRA (Wolfgang von Strucker, List, Scarlet Witch & Quicksilver) | Ulysses Klaue | Madame B | Chitauri (Leviathans) | Thanos
Avengers: Infinity War: Black Order (Thanos, Ebony Maw, Proxima Midnight, Corvus Glaive, Cull Obsidian, Nebula, Outriders, Chitauri & Leviathans) | Red Skull | The Collector | Loki Laufeyson | Winter Soldier | M'Baku | Scarlet Witch | Thunderbolt Ross
Avengers: Endgame: Black Order (Thanos, Ebony Maw, Proxima Midnight, Corvus Glaive, Cull Obsidian, Nebula, Outriders, Sakaaran Mercenaries, Chitauri, Leviathans & Chitauri Gorillas) | HYDRA/STRIKE (Red Skull, Alexander Pierce, Crossbones, Jasper Sitwell & Jack Rollins) | Loki Laufeyson (Variant L1130) | Winter Soldier | M'Baku | Scarlet Witch | Kraglin Obfonteri | Dark Elves | Thunderbolt Ross | Akihiko
Television
The Avengers: United They Stand
Ultron | Kang the Conqueror | Swordsman | Ringmaster | Masters of Evil (Baron Zemo, Absorbing Man, Boomerang, Moonstone, Tiger Shark & Whirlwind) | Attuma | Zodiac (Taurus & Scorpio) | Egghead | Scarlet Witch | Grim Reaper | Quicksilver | Namor | Doctor Doom | Baron Strucker | HYDRA | A.I.M. | Black Knight | The Collector
The Super Hero Squad Show
Doctor Doom | Mole Man | Fin Fang Foom | Abomination | Wrecker | Thunderball | Piledriver | Bulldozer | M.O.D.O.K | Klaw | Toad | Melter | Dormammu | Sabretooth | Juggernaut | Pyro | Whirlwind | Zzzax | Enchantress | Baron Mordo | Punisher | Egghead | Ringmaster | Skrulls (Super-Skrull) | Trapster | Mystique | Impossible Man | The Leader | Mad Thinker | Skurge | Crimson Dynamo | Batroc the Leaper | Loki Laufeyson | Magneto | Quicksilver | Scarlet Witch | HYDRA (Red Skull , Arnim Zola & Baron Wolfgang von Strucker) | Galactus | Terrax the Tamer | Firelord | Stardust | Thanos | Kree | Ego the Living Planet | Grandmaster | Annihilus | Nebula | Ronan the Accuser | Nightmare | Ultron | Dark Surfer | Sentinels | Dracula | High Evolutionary | Screaming Mimi

Avengers: Earth's Mightiest Heroes
HYDRA (Red Skull, Baron Von Strucker, Grim Reaper, Arnim Zola, Doughboy & Madame Viper) | Masters of Evil (Baron Zemo, Enchantress, Skurge, Chemistro, Abomination, Crimson Dynamo & Grey Gargoyle) | A.I.M. (M.O.D.O.K) | Kree Empire (Supreme Intelligence, Colonel Yon-Rogg & Ronan the Accuser) | Absorbing Man | Klaw | Ultron | Wrecker | Thunderball | Piledriver | Bulldozer | Red Hulk | Frost Giants (Loki Laufeyson & Ymir) | Technovore | Bi-Beast | The Leader | Whirlwind | Kang the Conqueror | Man-Ape | Malice | Mad Thinker | Mandrill | Graviton | Fenris Wolf | Lucia Von Bardas | Zzzax | Blizzard | Constrictor | Griffin | Living Laser | Whiplash | King Cobra | Magneto | Wendigo | Skrulls (Super-Skrull) | Ulik | Malekith the Accursed | Hela | Doctor Doom | Surtur | Glenn Talbot | Winter Soldier | J. Jonah Jameson | Destroyer | Annihilus | Purple Man | Galactus | Firelord | Stardust | Terrax the Tamer | Red Ghost | Super-Apes | Mandarin | Bushmaster | U-Foes (Vector, Vapor, X-Ray & Ironclad) | Crossfire | Serpent Society | Rattler | Death Adder | Anaconda | Air-Walker

Avengers Assemble
HYDRA/A.I.M. (Red Skull, M.O.D.O.K, Blood Brothers, Grim Reaper, Crossbones & Baron Wolfgang von Strucker) | J. Jonah Jameson | Doctor Doom | Ulik | Impossible Man | Dracula | Attuma | Hyperion | Wrecker | Thunderball | Piledriver | Bulldozer | Destroyer | Loki Laufeyson | Chitauri | Justin Hammer | Mojo | Galactus | Ringmaster | Black Order (Thanos) | Hela | Winter Soldier | Nighthawk | Zarda | Crimson Dynamo | Radioactive Man | Zzzax | Dormammu | Ultron | U-Foes (Vector, Vapor, X-Ray & Ironclad) | Roxxon Energy Corporation | Absorbing Man | Titania | Whirlwind | Fin Fang Foom | Maximus | Medusa | Masters of Evil/Thunderbolts (Baron Zemo, Beetle, Screaming Mimi, Moonstone, Fixer & Goliath) | Klaw | Ghost | A.I.M. (Kang the Conqueror, Whiplash & Spymaster) | Abomination | Kree Empire | Egghead | The Leader | Crimson Widow | Arnim Zola | Enchantress | Skurge | Typhoid Mary | Ares | Taskmaster | Doughboy | Ulik | Beyonder | Baron Mordo | Symbiotes | Morgan le Fey | Tiger Shark | Erik Killmonger | Princess Zanda | Man-Ape | Madame Masque | Kraven the Hunter | Vulture | Orka

Marvel Disk Wars: The Avengers
Loki Laufeyson | A.I.M. (M.O.D.O.K.) | Abomination | Baron Zemo | HYDRA (Red Skull, Crossbones) | King Cobra | Whirlwind | Tiger Shark | Whiplash | Diamondback | Crimson Dynamo | Dormammu | Sabretooth | Diablo | Graviton | Juggernaut | Lizard | Absorbing Man | Wrecking Crew (Bulldozer, Piledriver, Thunderball, Wrecker) | Silver Samurai | Green Goblin (Norman Osborn) | Venom | Ultron | Cottonmouth | Doctor Octopus | Mandarin | Ronan | Fin Fang Foom | Baron Blood | Vampires | Bi-Beast | Obadiah Stane | Predator X | Mystique | Taskmaster | Blizzard

Marvel Future Avengers
Masters of Evil (Ares, Enchantress, Leader, Winter Soldier) | Loki Laufeyson | Kang the Conqueror | Maximus | HYDRA/A.I.M. (Red Skull, M.O.D.O.K., Arnim Zola) | Green Goblin (Norman Osborn) | Super-Adaptoid | Deadpool | Morgan le Fay | Klaw | Crossbones | Blizzard | Diamondback | The Hood | Ezekiel Stane

Marvel's M.O.D.O.K.
M.O.D.O.K. | A.I.M. | Monica Rappaccini | The Anomaly | Hexus | Super-Adaptoid | Austin Van Der Sleet | Mister Sinister | Madame Masque | Whirlwind | Mandrill | The Leader | Arcade | Fin Fang Foom | The Brood | Frost Giants

What If...?
Infinity Ultron | Yellowjacket | Loki Laufeyson | The Destroyer | Brock Rumlow | Jack Rollins | Thunderbolt Ross | Whiplash | Arnim Zola | Prince Killmonger | Strange Supreme | Georges Batroc | Ego | Zombies (Scarlet Witch)
Video Games
Captain America and The Avengers: Red Skull | Crossbones | Klaw | Living Laser | Whirlwind | Sentinel | Wizard | Grim Reaper | Mandarin | Juggernaut | Ultron
Avengers in Galactic Storm: Kree (Ronan, Korath & Supreme Intelligence)
Marvel Avengers: Battle for Earth: Skrulls
Marvel Disk Wars: The Avengers - Ultimate Heroes: Red Skull | Loki Laufeyson | Baron Zemo | A.I.M. (M.O.D.O.K.) | Abomination | Graviton | Tiger Shark
LEGO Marvel's Avengers: Loki Laufeyson | Malekith the Accursed | Kurse | Various Villains
Marvel's Avengers: M.O.D.O.K. | Monica Rappaccinni | Abomination | Taskmaster | Super-Adaptoid | Lyle Getz | Maestro | Klaw | Crossbones
See Also
Avengers Academy Villains | Marvel Avengers Alliance Villains | Young Avengers Villains