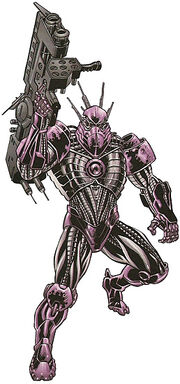 Orphan-Maker
is the partner-in-crime of
Nanny
in the X-Men universe, and much like her, is a misguided villain who thinks he is liberating young mutants via forcibly taking them from their parents and often killing these parents. Needless to say Orphan-Maker's violent methods and madness have made him an enemy of many of
Marvel
's heroes.
History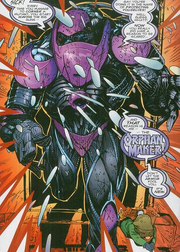 The Orphan-Maker, whose real name appears to be Peter, was rescued by the cyborg known as Nanny from captivity by Mr. Sinister. Sinister had apparently been planning to exploit Peter's abilities for his own ends, but instead decided that he couldn't control him and decided to kill him. Peter has commented that Nanny found a way to keep him from growing into what he would have become, but it is not clear what he meant by this.
Nanny believed it was up to her to protect mutant children from the dangers of the world around them. She made Peter her accomplice in this task, outfitting him with an armored battlesuit and weaponry. Their modus operandi was to abduct mutant children and battle anyone who got in their way, including killing the children's parents. For this reason, Peter became known as the Orphan-Maker.
Along with Nanny, the Orphan -Maker has battled members of the X-Men, X-Factor, the Avengers, Generation X, and the Fantastic Four.

Villains
Comics
Abomination | Adversary | Ahab | A.I.M. | Apocalypse | Arcade | Archangel | Arkon | Avalanche | Azazel | Badoon | Bastion | Batroc | Belasco | Beyonder | Blastaar | Blood Brothers | Bolivar Trask | Blob | Brotherhood of Evil Mutants | Bullseye | Cameron Hodge | Cassandra Nova | Children of the Vault | Clan Akkaba | Count Nefaria | Crossbones | Dark Beast | Dark Phoenix | Dark X-Men | Deadpool | Demon Bear | Doctor Doom | Doctor Octopus | Dracula | Emma Frost | Exodus | Fenris | Freedom Force | Friends of Humanity | Galactus | Graydon Creed | Hand | Hela | Hellfire Club | High Evolutionary | Holocaust | Horsemen of Apocalypse | HYDRA | Impossible Man | Juggernaut | Kang | Kid Omega | Kingpin | Krakoa | Kraven | Lady Deathstrike | Legion | Leper Queen | Lilith | Living Monolith | Lizard | Loki | Madelyne Pryor | Magneto | Magus | Mandarin | Marrow | Masters of Evil | Master Mold | Maximus | Mesmero | Mikhail Rasputin | Mister Jip | Mister Sinister | Mojo | Mole Man | Morlocks | Moses Magnum | Mutant Response Division | Mystique | N'Astirh | Nanny | Nekra | Neo | Nimrod | Nitro | Obnoxio the Clown | Omega Gang | Omega Red | Onslaught | Orphan-Maker | Ozymandias | Pandemonia | Phalanx | Pilgrimm | Predator X | Proteus | Psycho-Man | Purifiers | Pyro | Quicksilver | Reavers | Red Ghost | Red Skull | Rhino | Right | Rogue | Sabretooth | Sat-Yr-9 | Sauron | Savage Land Mutates | Scarlet Witch | Sebastian Shaw | Selene Gallio | Sentinels | Serpent Society | Shadow King | Shadow Xavier | Shocker | Silver Sable | Silver Samurai | Simon Trask | Skrulls | Spiral | Stranger | Stryfe | Stephen Lang | Sublime | Sugarman | Super-Adaptoid | Supreme Intelligence | Toad | Trevor Fitzroy | Typhoid Mary | Tyrannus | Unus | Vulcan | Wendigo | William Stryker | Xemnu | Xorn
Movies
X-Men: Brotherhood of Mutants (Magneto, Mystique, Sabretooth & Toad) | Pyro
X2: William Stryker Jr. | Lady Deathstrike | Jason Stryker | Brotherhood of Mutants (Magneto, Mystique & Pyro)
X-Men: The Last Stand: Brotherhood of Mutants (Magneto, Dark Phoenix, Pyro, Juggernaut, Multiple Man & Mystique) | Omega Gang (Callisto, Psylocke, Quill, Arclight, Avalanche, Spike, Glob Herman & Phat) | Archangel
X-Men: First Class: Hellfire Club (Sebastian Shaw, Emma Frost, Azazel, Angel Salvadore & Riptide) | William Stryker Sr. | Magneto | Mystique
X-Men: Days of Future Past: Trask Industries (Bolivar Trask, William Stryker Jr. & Sentinels) | Magneto | Mystique | Toad | Horsemen of Apocalypse (Apocalypse)
X-Men: Apocalypse: Ashir En Sabah Nur/Horsemen of Apocalypse (Apocalypse, Magneto, Psylocke & Archangel) | Dark Phoenix | Mystique | William Stryker Jr.
Dark Phoenix: Dark Phoenix | D'Bari (Vuk & Jones) | Brotherhood of Mutants (Magneto & Selene Gallio) | Mystique
Television
X-Men (1992): Magneto | Sentinels | Sabretooth | Juggernaut | Apocalypse | Mesmero | Horsemen of Apocalypse | Mister Sinister | Omega Red | Brotherhood of Mutants (Mystique, Avalanche, Blob & Pyro) | Dark Phoenix | Master Mold | Bolivar Trask | Silver Samurai | Hellfire Club (Sebastian Shaw, Harry Leland, Jason Wyngarde, Donald Pierce & Emma Frost) | Reavers (Bonebreaker & Lady Deathstrike) | Supreme Intelligence | D'Ken Neramani | Deathbird | Graydon Creed | Red Skull | Silver Samurai | High Evolutionary | Phalanx
X-Men: Evolution: Magneto | Brotherhood of Mutants (Mystique, Avalanche, Toad, Blob, Quicksilver & Scarlet Witch) | Pyro | Mastermind | HYDRA (Madame Viper & Omega Red) | David Haller | Juggernaut | Bolivar Trask | Sentinels | Apocalypse | Horsemen of Apocalypse | Mesmero | Destiny
Wolverine and the X-Men: Brotherhood of Mutants (Magneto, Mystique, Scarlet Witch, Juggernaut, Quicksilver, Avalanche, Blob, Pyro & Toad) | Dark Phoenix | Bolivar Trask | Sentinels | Sabretooth | Mutant Response Division (Colonel Moss) | Shadow King | Hellfire Club (Sebastian Shaw, Donald Pierce, Harry Leland, Selene Gallio, Emma Frost & Stepford Cuckoos) | Master Mold | Silver Samurai