Obi-Wan Finale - The Loop
Play Sound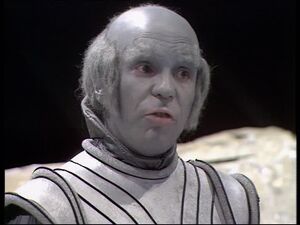 Orum is the secondary antagonist of the Doctor Who story "Carnival of Monsters".
He was portrayed by Terence Lodge.
Biography
Orum was a commissioner with the Inter Minoran immigration office. He was a close associate of Kalik, who he tended to defer to. Both of them had a conservative and xenophobic attitude towards both the lower classes and offworlders. They voted together to reject the immigration application of the Lurman entertainers Vorg and Shirna. When it was discovered that the pair's Miniscope contained miniaturised lifeforms, the Minorans attempted to destroy it with their Eradicator, with Orum's suggestion that it would kill the organic beings inside proving incorrect.
After Kalik convinced Vorg to save the Doctor and Jo from the Drashigs, after they had wandered around the interior of the scope and found their way into the Drashigs' environment, Orum quickly deduced Kalik's true motivation. Kalik had deduced that the Drashigs would follow the Doctor and Jo's scent out of their environment. He was intending to lead a revolution against the liberal President Zarb and intended the escape of the Drashigs from the scope to be the catalyst, since the relaxing of immigration rules would be blamed. Orum agreed to assist Kalik, although he expressed doubts about the personal danger. Kalik assured him that they would be the ones prepared to flee the scene. Orum sabotaged the Eradicator so it couldn't be used against the Drashigs, with Kalik hiding the missing component in Vorg's baggage.
Orum and Kalik encountered the Doctor when he was freed from the scope and voted against having him immediately eradicated, so their sabotage would not be discovered. With the Scope about to be sent off planet, Orum kept his superior, Chairman Pletrac, busy while Kalik opened the outer panels of the Scope so the Drashigs could escape. Despite Kalik's assurances, Orum was promptly attacked and presumably killed by one of the Drashigs.