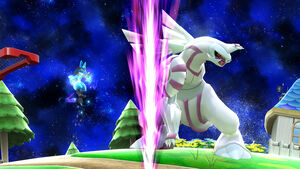 Palkia is a Water-Dragon type from the Pokémon franchise and the mascot of Pokémon Pearl. It does not evolve into or from another Pokémon. It has a signature move called Spatial Rend. It has had various antagonistic roles, primarily in the tenth Pokémon movie The Rise of Darkrai, appearing as the main antagonist.
Appearance
Palkia is a white, reptilian Legendary Pokémon with one orange gem on each shoulder. It has an underbite, with two daggerlike appendages protruding from its chin.
Super Smash Bros
Palkia appears in Super Smash Bros Brawl as a stage hazard in the Spear Pillar stage alongside Dialga and Cresselia. It also appears in Super Smash Bros Wii U/3DS as a Pokémon that can be summoned via a Pokéball or Masterball. When he appears, it slices whoever is near it with the Spacial Rend and then proceeds to flipping the camera upside down.
Community content is available under
CC-BY-SA
unless otherwise noted.