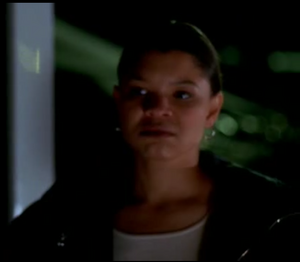 Patricia McClain
 is the secondary villainess from "Split Decision," the antepenultimate episode of 
NCIS
' first season. 
She was played by Erin Wiley.
Patricia McClain is a Corporal in the US Marine Corps, as well as a participant in the covert sale of illegal weapons. She colluded with Staff Sergeants Rafael and Thomas Grimm, with villainous ATF Agent Melinda Stone as their leader. During one job, Grimm engaged in an argument with McClain over his cut in the operation, which led to McClain killing Grimm with a rocket launcher.
After Rafael was taken in and interrogated by Kate Todd, McClain's role was revealed as Todd and McGee checked her alibi, which had McClain claim to Todd that she checked into a motel with her boyfriend; a claim that was revealed to be false after McGee phoned them and was told that the woman didn't fit McClain's description. Meanwhile, in the episode's climax, the evil McClain drove up to an abandoned factory and was shown unloading weapons from a nearby trailer, only to be stopped by Todd and McGee. McClain denied murdering Grimm, right before she was arrested by the duo.