Jurassic World: Dominion Dominates Fandom Wikis - The Loop
Play Sound
Dr. Paul Brenner was a Checkmate operative working at Metropolis General Hospital and a recurring antagonist in the Ninth Season of the CW Television series Smallville.
He was portrayed by Jonathan Lloyd Walker.
Biography
Checkmate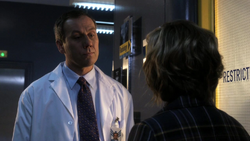 Dr. Brenner was approached by Chloe Sullivan at Met Gen who was trying to get information about missing patients who were meant to check in over at the mental institution Belle Reve, but instead ended up at Checkmate.
At first Brenner was evasive in her questioning and initially hostile towards her.
He then saw that Chloe was trying to copy his PDA and initiated a counter-scan while trying to buy some time offers to show Chloe the documents she wants which were down in the basement. Dr. Brenner realized Chloe was the target Checkmate was looking for and had her taken to the agency's headquarters.
Brenner and Checkmate agents drag a bound and gagged Chloe into a secret room. He held Chloe at gunpoint at Amanda Waller's orders.
When Checkmate's headquarters lost power, he took a shot but Clark took out the room of Checkmate agents before stopping a speeding bullet aimed for Chloe and took Brenner out. After the fight, he took her back to Watchtower. Brenner accompanied Waller back to her office when she spotted a Red Queen chess piece on her chessboard.
She asks who's been in her office and Brenner states no one has since they're secured. Waller then said that Checkmate has been blocked by a new player and, sweeping the queen aside, said that it's time for a new game.
Sacrifice
Agent Brenner later returned alongside Agent Campbell to hunt down Tess Mercer. They were working on getting information they had received from Watchtower and were trying to find its location. With Campbell's help, they successfully hacked Watchtower of all of the information on the aliens on Earth.
Later Waller tells Campbell to stop looking for Tess since they found the Kandorians, but he refuses to stop and orders Brenner to continue his search. They managed to track Tess to Metropolis General who was in the process of removing her tracker.
Brenner and his team could not manage to find Tess and Campbell ordered them to move out.

Villains
Protagonists