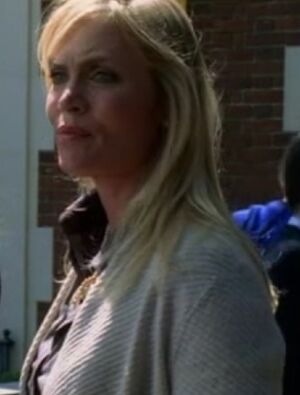 Paula Wechsler is the secondary villainess from "True/False," episode 7.04 of Without a Trace.
She was played by Daphne Ashbrook.
Paula Wechsler is the mother of high school student Darby Wechsler, who was the best friend of Will Duncan. It was revealed later on that Darby killed Will when he refused to give her the answers to an English Literature test that she was desperately studying for, doing so by shoving him down a flight a stairs.
After the murder, Paula arrived at the scene and after seeing Will's body, she helped Darby cover up the murder. She grabbed a rug and covered Will's body with it, and both she and Darby took the body and placed it in a dumpster.
Photos of Darby following Will to the apartment building (where the murder occurred) led to Darby revealed as the killer. However, the evil Paula continued covering for Darby; falsely claiming that she was with her that night. Darby confessed to the murder, and also revealed Paula's villainous role in the cover-up. Paula was later arrested (off-screen) for covering up Will's murder.