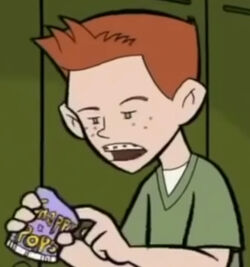 Paulie is the secondary antagonist of the Fillmore! episode "The Currency of Doubt". He is a delinquent student who is known for his greed of smoits in X Middle School.
He was voiced by Aaron Fors.
Role
When word got out that a stash of smoits (belonging to dancers Toby and Tina) was stolen, Fillmore and Third went over to Paulie for advice. Paulie explained to the duo about the value of smoits and that Toby has a debt that he needed to pay with a smoit-collecting casino. He also stated that he is moving out with his family next week, and that anyone would be willing to collect enough smoits to buy anything they want in the school. Fillmore and Third thanked Paulie for the advice.
Eventually, Fillmore and Third found out that Larry and Natasha were the ones behind the theft of the stash and managed to stop them from escaping during the school's chili cook-off. However, Paulie grabbed the stash as he intends to use it for himself while taunting Fillmore. Eventually, Tina, who overheard about what just happened, manages to intercept Paulie and throws the stash away, much to Paulie's distraught.
It can be implied that Paulie was taken into custody alongside Larry and Natasha for stealing the smoit stash, but Paulie would be released as he still had to move away with his family. Despite this, Paulie is upset that he lost his chance of being rich.
Community content is available under
CC-BY-SA
unless otherwise noted.