| | | |
| --- | --- | --- |
| " | So you die, Keptin. And we all move up in rank. No one will question the assassination of a Keptin who has disobeyed Prime Orders of the Empire. | " |
| | ~ Chekov, trying to assassinate Captain Kirk | |
Pavel Chekov is an antagonist in the Mirror Universe of Star Trek. He was introduced in the Star Trek episode "Mirror, Mirror".
Like his prime reality counterpart, he was portrayed by Walter Koenig.
Biography
By 2267, Chekov was serving on the ISS Enterprise under the command of Captain James T. Kirk. In that year Kirk, Scotty, McCoy, and Uhura of that universe switched places with their prime reality counterparts after a fruitless attempt by Kirk to force the Halkans to provide them with dilithium.
Chekov was ordered by Spock to commence with preparations to issue the standard response, so he and Sulu began entering calculations to destroy Halka. When the prime universe James T. Kirk arrived on the bridge Chekov sensed right away that something was off about Kirk, which was confirmed when Kirk ordered the Enterprise not to fire on Halka.
Signalling his men Chekov followed Kirk into the turbolift. After arriving at their destination Kirk found Chekov's men waiting for him, and Chekov about ready to deliver the coup de grace. Before Chekov could vaporize Kirk, one of Chekov's men turned against him and knocked him out and vaporized the remainder of Chekov's men with his own phaser. The remainder of Kirk's men soon arrived and asked Kirk if Chekov should be put in the booth. Not realizing what that meant, Kirk gave his assent.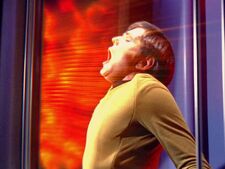 A short time later Kirk learned what his men had meant when they asked about putting Chekov in the booth, when Kirk happened to walk past the booth while talking to mirror Spock. After finishing his conversation with Spock, he ordered Chekov be removed from the booth and confined to quarters.
This act of mercy raised Spock's suspicions even more, and Spock quickly figured out that a transposition had taken place. Soon after with assistance from the respective Spocks of both universes, the transposed people returned to their home universes.
Dark Victory
After the Mirror Universe version of Kirk returned to his home universe, he had learned what Chekov had done. He ordered that Chekov be returned to the Agony Booth, but the power be turned down on the booth. 13 days later, the desiccated corpse of Chekov was removed from the booth. A photograph of Chekov's corpse was taken by Kirk, which was framed. After becoming Emperor Tiberius hung a copy of this photo at his hideout in Iowa.
Shattered Universe
In the game Shattered Universe, Chekov was still alive in 2293. By then he held the rank of Commander and was in command of the ISS Enterprise-A.

Villains
Movies
Star Trek: The Motion Picture: V'Ger
Star Trek II: The Wrath of Khan: Augments (Khan & Joachim)
Star Trek III: The Search for Spock: Klingons (Kruge, Torg, Maltz) | Valkris
Star Trek IV: The Voyage Home: Whale Probe | Kamarag
Star Trek V: The Final Frontier: The One | Klingons (Klaa & Vixis) | Sybok
Star Trek VI: The Undiscovered Country: Khitomer Conspiracy (General Chang, Nanclus, Valeris, Admiral Cartwright, Patrick West, Harlan Burke, Thomas Samno)
Star Trek Generations: Tolian Soran | Klingons (Lursa & B'Etor)
Star Trek: First Contact: The Borg (Borg Queen)
Star Trek: Insurrection: Son'a (Ahdar Ru'afo & Gallatin) | Matthew Dougherty
Star Trek: Nemesis: Remans (Shinzon, Viceroy, Tal'aura, Suran & Donatra)
Star Trek (2009): Romulans (Nero & Ayel)
Star Trek Into Darkness: Khan | Alexander Marcus
Star Trek Beyond: Krall | Manas | Kalara
Television
Apollo | Arctus Baran | Ardra | Arik Soong | Armus | Arthur Coleman | Khan | Ba'ul | Balok | Basso Tromac | Ben Finney | Benjamin Maxwell | Beta XII-A entity | Bok | The Borg | Broca | Brunt | Cardassian Union (Dukat, Damar & Cardassians) | Charlie Evans | Chu'lak | Clown | Colonel Phillip Green | Crell Moset | Crystalline Entity | Culluh | Cyrus Redblock | D'Ghor | D'Nesh | Danby Connor (MU) | Doctor Chaotica | Dolim | Dr. Janice Lester | Dular Garos | Duras | Ekosian SS (Melakon) | Elim Garak (Mirror Universe) | Ellen Landry | Equinox EMH | Erik Pressman | Evil Kirk | Gabriel Lorca (MU) | Garth of Izar | Gary Mitchell | Gorgan | Gorn | Female Changeling | Gowron | Hagath | Harry Mudd | Henoch | Hikaru Sulu (MU) | Hoshi Sato (Mirror Universe) | Ibudan | Ilon Tandro | Imperial Starfleet | J'Dan | Jabin | James Leyton | James T. Kirk | Jaro Essa | Jem'Hadar | Jev | John Frederick Paxton | John Gill | Jonathan Archer (Mirror Universe) | Joran Dax | Julian Bashir (Changeling) | Karnas | Kathryn Janeway (Kyrian Recreation) | Kazon | Kennelly | Kieran MacDuff | Kila Marr | Kira Nerys (Mirror Universe) | Kivas Fajo | Kodos the Executioner | Kol | Kol-Sha | Koloth | Konmel | Kor | Korris | Kras | Krax | Kunivas | L'Rell | Landru | Lazarus | Leland | Lenore Karidian | Letek | Locutus | Locutus | Lon Suder | Lore | Lutan | Luther Sloan | M-113 Creature | Maab | Madred | Malcolm Reed (MU) | Malon | Maras | Marla McGivers | Martok (Changeling) | Matthew Harris | Matthew Ryan | Maxwell Burke | Michael Eddington | Michael Jonas | Miles O'Brien (Changeling) | Morag (Klingon) | Na'kuhl | Nagilum | Navaar | Neela | Neural Parasites | Nomad | Norah Satie | Nyota Uhura | Oracle of the People | Patar | Paul Stamets (MU) | Pavel Chekov (Mirror) | Pe'Nar Makull | Philippa Georgiou (MU) | Q | Rao Vantika | Redjac | Regent of Palamar | Dr. Roger Korby | Romulan Commander (Balance of Terror) | Ron Tracey | Rota Sevrin | Rudolph Ransom | Sabin Genestra | Sela | Seska | Seven of Nine (KR) | Shran | Silaran Prin | Silik | Sobi | Spawnmother (2364) | Spawnmother (2376) | Sphere-Builders | Spock (Mirror Universe) | Surata IV Vine | Sylvia Tilly | T'Kuvma | T'Paal | Tahna Los | Talosian Keeper | Talosians | Tarah | Tedran | Terra Prime | The Albino | The Doctor (Kyrian Recreation) | Thot Gor | Thot Pran | Tomalak | Toral | Trabe | Travis Mayweather (MU) | Trekal Darhe'el | Trelane | Tret | Tristan Adams | Ux-Mal Entity | V'Las | V'latak | Valdore | Verad Kalon | Ves Alkar | Voq | Wesley Crusher | Weyoun | William Ross | Winn Adami | Worf (Mirror Universe) | Zorn
Community content is available under
CC-BY-SA
unless otherwise noted.