Jurassic World: Dominion Dominates Fandom Wikis - The Loop
Play Sound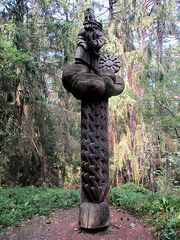 Perkūnas is the the Baltic god of sky, thunder, lightning, storms, rain, fire, war, law, order, fertility, mountains, and oak trees He was the also the Chief deity of the pantheon, who commanded all other deities. He could be seen as the main villain in the story of in the classic Lithuanian fairy tale called Jūratė and Kastytis.
Biography
Perkūnas was a warrior-god of the sky, who was originally married to Saulė, the solar goddess, who cheated on him with Mėnulis, the moon god. In anger, Perkūnas strikes at Mėnulis, causing the other to spilt in half. The moon god regenerates, but does still not learn from this and continues to have affairs with other deities, such as Aušrinė, the morning star, and thus Perkunas continues to strike the moon every month explaining the lunar cycle. In some other myths, he is married to the goddess/earth fairy Lauma, who is kidnapped by Velnias, a Baltic demon of the underworld, which causes a rivalry between the two, though his most common consort is the Earth-goddess Žemyna. He is also said to have four sons, who are the cardinal directions of east, west, south and north.
Perkūnas in his chariot would be identified with the constellation of Ursa Major.
Fight with Velnias
Perkūnas has also a rivalry with the before mentioned Velnias, who either a demon or god of the underworld, which either stems from the kidnapping of Lauma or the theft of cattle. The thunder-god is often described in chasing his enemy, who hides among the trees and the rocks of the Earth, in a fiery chariot or riding a fiery horse. This rivalry always ends in a battle in the form of a thunderstorm.
Jūratė and Kastytis
Perkūnas plays the main antagonist in the Lithuanian fairy tale Jūratė and Kastytis.
Jūratė, the goddess of the sea, lived in a mansion under the surface of the Baltic Sea. One day she noticed a young man named Kastysis over-fishing and she wanted to punish him, but instead fell in love with him on the basis of how handsome he was. She took approached him which led to him falling in love with her as well, and the moved to the goddesses' under the sea.
Perkūnas discovered this and who was angered greatly by the relationship between a mortal human and an immortal goddess. He decided to strike Jurate's mansion with a thunder-bolt, which shattered it millions of pieces and killed Kastysis. Jurate herself was chained by the thunder-god to the bottom of the sea, where she started weeping, her tears becoming the pieces of amber that are still discovered at shores of the Baltic Sea to this very day.
Trivia
Perkūnas, alongside

Peckols

and Potrimpo, the gods of the underworld and the sea, were reclassified as demons by the Catholic Church in the thirteenth Century.