Click to help Cruella!

This scum Perrikus is driving Cruella insane!
IT MUST BE REWRITTEN OR ADDED TO!!
So sayeth the great Lord of Darkness Sauron, or he will send Darth Vader to terminate you.

Help improve this article by rewriting, expanding, updating the poorly written text of the article. ✓



Click To Help Darkseid!

Darkseid has declared that this article requires immediate Cleanup in order to meet a higher standard.
Help improve this article by improving formatting, spelling and general layout - least it fall victim to an Omega Effect


✓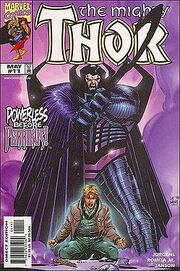 The Dark Gods are as the evil opposites to the Asgardians. Perrikus is the god of power unlimited and energy infinite and the son of Majeston Zelia, the leader of the Dark Gods.
Story
He was first discovered when Odin sent a scout named Lonkarr, a long time ago, to explore the universe. Lonkarr happened upon Narcisson, the city of the Dark Gods. He battled and killed Perrikus's wife, Tserron, and was allowed to escape so Perrikus would have means to follow him. The Dark Gods then warred and eventually defeated the Asgardians. Odin refused to be a consort to Majeston Zelia, and was about to be killed by Perrikus, until a child Thor urged Odin on and threw him a broken spear. Odin then banished the Dark Gods to a remote corner of the universe. Thor and all other Asgardians had his memories of this event blocked by Odin, due to the trauma caused by it caused , and Perrikus remained in a special cell known only to Odin for many many years.
Perrikus was inadvertently freed, and his Dark Gods overtook Asgard. They had a brief reign.