Jurassic World: Dominion Dominates Fandom Wikis - The Loop
Play Sound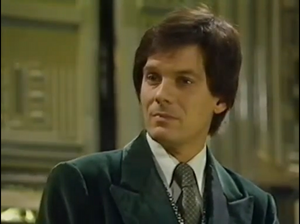 Persuasion (full title Minister of Persuasion) is one of the two secondary antagonists of the Doctor Who story "Four to Doomsday".
He was portrayed by Paul Shelley, who also played Provine in Blake's 7.
Biography
Persuasion was one of the Urbankan leader Monarch's two chief ministers, along with Enlightenment. Like the rest of the Urbankans, he had had his mind transferred to silicon chips which could be either stored or placed in android bodies. With Urbanka having been rendered uninhabitable by Monarch's experiments, the trio planned to wipe out Earth's population and take over the planet.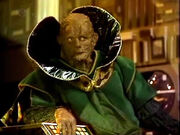 When the TARDIS arrived aboard Monarch's ship four days travel from Earth, the Doctor and his companions encountered Monarch and the other Urbankans. At the time, Persuasion was in a body resembling his Urbankan form, but he and Enlightenment were transferred into human-looking bodies based on sketches done by Tegan. They supervised the humans aboard who had been placed in android bodies and kept an eye on the Doctor and his companions.
After Tegan moved the TARDIS, making it clear that anyone could operate it, Monarch ordered Persuasion to kill the Doctor. He was stopped by Adric, who Monarch hoped to win over to his cause. Persuasion had the Greek philosopher Bigon, who had tried to assist the Doctor, "de-circuited", with his circuits stored in a drawer and his body left inert. When the Doctor and Adric tried to reach the TARDIS using a cable from an airlock, Persuasion was sent to stop them. During the ensuing struggle, the Doctor ripped Persuasion's circuits from his android body and threw them into space, effectively killing him.