Jafar says: Read my lips and come to grips with the reality!


This article is a stub and is in need of expansion. You can help Villains Wiki by expanding it.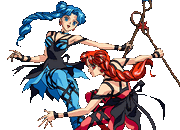 Petirol is the other half of Cyprin, the fifth of the Witches 5 who serve Doctor Tomoe.
History
While Cyprin was extracting Pure Hearts, the Sailor Scouts fought her and Petirol, who were unstoppable together. However, Sailor Mars and Sailor Jupiter separated them, and Petirol chased after Sailor Mars. And so, she shot an energy wave at her, which hit Cyprin instead and destroyed her. At the same time, Cyprin shot an energy wave at Sailor Jupiter, but hit Petirol instead, destroying her.
Petirol then attacks with a red energy wave from her staff.
Trivia
Cyprin and Petirol are similar to Twinrova, as two witches, one red and one blue, whose attacks are turned upon each other, and who are considered one witch (Koume and Kotake transform together into Twinrova during the battle).
Community content is available under
CC-BY-SA
unless otherwise noted.