Jurassic World: Dominion Dominates Fandom Wikis - The Loop
Play Sound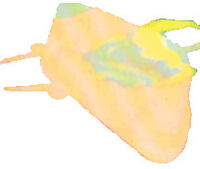 The Phantamanta (or simply known as the Manta) is an antagonist of the GameCube game Super Mario Sunshine. It is a strange pale silhouette made by Bowser Jr. that is shaped like a manta ray that leaves electric goop trails wherever it goes. It serves as the boss of the first episode of Sirena Beach, "The Manta Storm".
Biography
Prior to Mario's arrival, Phantamanta had already covered an majority of the beach in electric goop, and is responsible for the disappearance of Hotel Defino. It was already gone when Mario arrived, but suddenly returned when Mario talked with the Hotel Manager.
Phantamanta can only be harmed by spraying it with F.L.U.D.D.'s water. As mentioned before, Phantamanta leaves behind at trail of electric goop wherever it goes, which is capable of hurting Mario upon contact. Mario must be cautious when battling Phantamanta, as the smallest drop can zap Mario. If Mario touches Phantamanta, it'll deal damage to him as he's being swung back.
When it becomes damaged enough by F.L.U.D.D., the manta will divide into two smaller mantas which each of them dividing into four more smaller mantas, which in turn can divide into four even more smaller mantas. In total, there are 64 mantas that must be defeated.
At first, the smallest mantas will not pursue Mario and appear to run away, although the bigger mantas will. However, once the bigger mantas are fully divided, all small mantas turn purple and begin to chase after Mario. At this point, there will be a lot of tiny mantas chasing Mario, but these mantas only take one squirt of water to defeat.
Once the last manta is vanquished, Phantamanta is defeated for good. The hotel will then rise from the ground, and a Shine Spirit will appear, ending the episode.
Trivia
Phantamanta is a pun on "phantom" and "manta".
One of the default scoreboard names in Mario Golf: Toadstool Tour and Mario Golf: Advance Tour can be Phantamanta.
The Phantamanta may be inspired by the ending of Steven King's The Shining, in which Wendy Torrance sees a giant paper-thin figure come from the ocean resembling a manta, only to be cut by the wind and its fragments dissolve into smoke.