| | | |
| --- | --- | --- |
| " | The late Mickey Mouse. Ohh, I like the sound of that. | " |
| | ~ Phantom Blot threatening Mickey Mouse. | |
The Phantom Blot is a recurring antagonist from Disney. He is arguably one of Mickey Mouse's most dangerous recurring foes next to Peg Leg Pete himself, and The Phantom Blot is also one of the most dangerous villains in the Disney universe (at least the part in which Mickey Mouse resides in).
This was not always the case, however, and originally The Phantom Blot was simply a hooded thief whom Mickey helped capture, it was not until later that The Phantom Blot would evolve into a criminal mastermind and a much bigger threat to the security of the world - adding such sinister abilities as hypnotism, manipulation, great knowledge of psychology, blackmailing and a mastery of escape into his arsenal: making him more formidable and sinister.
He was voiced by Frank Welker in the original DuckTales series and Epic Mickey, and by John O'Hurley in Mickey Mouse Works and House of Mouse. The Phantom Blot also appears in the DuckTales reboot as an agent of FOWLpretending to be the mascot of Funzo's Fun Zone. The mascot was voiced by Jason Marsden in season 1 and Eric Bauza in season 2, while the character's true form is played by actor Giancarlo Esposito, who has had a history of villain portrayals, including Gustavo Fring in Breaking Bad, Sidney Glass in Once Upon a Time, The Dentist in Payday 2, Stan Edgar in The Boys, Anton Castillo in Far Cry 6, and Moff Gideon in The Mandalorian.
Publication History
The Phantom Blot, or simply "The Blot", made his first appearance in Mickey Mouse Outwits The Phantom Blot. In this story, Chief O'Hara hires Mickey to capture this new criminal who calls himself The Blot. According to O'Hara, he is the smartest thief they've ever met. Detective Casey, however, calls this new criminal a loony. The only thing he steals is cameras of a special type and he smashes them open on the spot. The strange crime and the motive behind it resemble closely the Sherlock Holmes story The Adventure of the Six Napoleons. In the end, Blot is captured and unmasked. Most later stories featuring the villain don't unmask him, in order to give him a more mysterious character.
Many artists and writers have furthered the Phantom Blot throughout the years. The first re-appearance was in the Italian story Topolino e il doppio segreto di Macchia Nera, written by Guido Martina and drawn by Romano Scarpa, published in 1955 in issues 116-119 of Topolino, the main Italian Disney magazine. In that story, the Phantom Blot tries to get revenge on Mickey and O'Hara by manipulating Mickeys TV to hypnotize him into killing O'Hara. He lures both of them to an empty mansion, but O'Hara is suspicion before the Phantoms plan takes action and is able to escape from the hypnotized Mickey, whose innocence is later proven by Mickeys friend Eega Beeva.
In the United States, after a long absence, he was revived in the serial "The Return of The Phantom Blot" (drawn by Paul Murry) that ran in issues 284-287 (May–August 1964) of Walt Disney's Comics and Stories. This was followed by a comic book series of seven issues (1964 to 1966) devoted to the Blot and his crimes. He next turned up in the mid-1970s in two issues of Super Goof written by Mark Evanier and drawn by Roger Armstrong. Comic book historian Joe Torcivia notes Armstrong was the first to draw the character with a mouth, making him look like a shadow instead of someone under a black cloak. This convention has since been followed by many artists, including Murry.
The Phantom Blot was unmasked at the end of Mickey Mouse Outwits The Phantom Blot. The Phantom Blot's gaunt face and thin mustaches, as revealed at the end of Mickey Mouse Outwits The Phantom Blot, were reportedly based on the features of Walt Disney himself. While still being a criminal, he usually operates as the mastermind behind gangs rather than as a common crook. He prefers pulling strings rather than being directly involved.
During his career, he steals large amounts of money and invests them in business. His relative wealth allows him to finance his ambitious plans. He is a skillful hypnotist and occasionally uses this skill to force others to do his bidding. He has even ordered Mickey himself to act as a criminal in order to frame him. He has quite a talent for acting. The Blot often operates in disguise and has acted under various aliases and identities, adopting many different personalities to suit his parts. He has some scientific knowledge (mainly in physics, mechanics, and biology), and has often used this in his plans. He has invented various devices he uses as weapons. He claims to have an artistic nature and has considerable skill in painting, which he uses to create forgeries of famous works of art. He later proceeds in stealing the original and leaving his copy behind.
He seems to have ways to get information about everything that is going on in the city and even from the police headquarters. His ways of persuading others to follow him include using their own greed, promising them means of revenge or blackmailing them. He enjoys seducing citizens with no criminal records to act as his agents. He has a fairly good knowledge of psychology and is very skilled in spreading fear to his victims, causing them to doubt their relationships and (in some cases) even their own sanity. He often uses their vanity to turn them into pawns.
He is a master of escape. Even if the police do manage to capture and imprison him (which rarely happens), he is soon out again. Other times, he takes advantage of the terrain or weather. In one issue, where he is attempting a robbery on a winter night, he is seen in his normal black outfit. Goofy, who has taken a job as a night watchman, is patrolling the businesses when the Blot realizes he must abort his plans and says "I always come prepared", where he removes his black robes and replaces them with white ones, allowing himself to camouflage with the snowy streets. Though he desires money and power, his greatest lust is for fame. Some of his plans have no monetary gain for him, but their purpose is to spread fear to the public, adding to his reputation. The Blot is, himself, very vain and his desire for money and power is only surpassed by his desire to immortalize his name in "the annals of crime".
Along with Mickey Mouse, Donald Duck, Goofy, Scrooge McDuck, Gyro Gearloose, Super Goof, Eega Beeva, Minnie Mouse, and Chief O'Hara have all encountered the Blot, and thus successfully tried to stop him. The Blot sometimes teams up with other bad guys like the Beagle Boys and Mad Madam Mim, who is madly in love with him (while he considers her a lunatic). At the height of the villain's popularity, he was given his own comic book, The New Adventures of the Phantom Blot, which lasted for seven issues. Recently, the Phantom Blot has appeared as a major antagonist in the Ducktales and Darkwing Duck comics published by Boom! Studios, uniting various villains from both series.
Biography
The Blot's Daughter
The Blot has a daughter: she appeared for the first time in the last panel of "The Big Fall" in Mickey Mouse Adventures #7, and then soon after in "A Phantom Blot Bedtime Story" in #8. Apparently, there was a plan to make her a regular character, but that never happened. She was called "Phantom Brat" on the editorial page of issue 8, although with quotation marks around her name, so it is unclear whether that was her actual name.
Comic Books
His depiction in Disney comics has varied with the artists using him: in stories published by Egmont, as well as French stories, he is always shown wearing his hood, while in Italian ones, he frequently appears unmasked, sometimes not wearing his cloak at all. In these, he wears everyday clothes and is unmasked, though he is still up to criminal schemes ranging from robbery and smuggling to espionage, sabotage, and extortion.
French translators often took liberties with Italian material and apparently decided that the Phantom Blot's appearances without his cloak and mask should be classified as depicting a completely different character. In the French translations of the Italian stories where the Blot appeared unmasked, he was frequently given the name Jo Crisse (a term usually used as a form of insult), while he retained his Italian name Macchia Nera in the original Italian versions. In European stories, he is often presented as a more dangerous figure than the American version. While still trying to kill Mickey and his allies, he has other agendas as well. He has also frequently clashed with Super Goof.
The Phantom Blot, under his new name "Lord of Deception", appeared as the main villain in the Italian comic book saga Wizards of Mickey, unmasked, though he still operates by pulling strings. Depicted as a powerful evil sorcerer, the Phantom Blot seeks to reconfigure the Diamagics (also dubbed "Crystals"), special gemstones that are actually fragmented pieces of the Great Crown (also sometimes known as the "Supreme Sorcerer's Crown" or "Sorcerer Supreme's Crown"), a magical golden relic that will enable anyone who wears it to become the Supreme Sorcerer (often referred to as "Sorcerer Supreme") and rule over the magical world of Dolmen. He formed the evil band of magicians called Black Phantom (also commonly known as "Team Black Phantom") comprising Pete and the Beagle Boys, and he employed them to help him recover the missing pieces. At the end of the first arc in a battle with Mickey Mouse, he is defeated and trapped in a shadowy form resembling an inky version of his cloaked appearance. In the second arc, he succeeds in manipulating Mickey into dabbling more in dark magic and also manages to bring Minnie Mouse under his control leading to a battle between the two. He was defeated at the end of the comic book saga and Mickey later became the Supreme Sorcerer of Dolmen.
In the Italian comic series Darkenblot, he and Mickey are put into a futuristic world, where he is given a slightly altered design.
Animation
The Phantom Blot's first appearance in animation was in the DuckTales episode "All Ducks on Deck", voiced by Frank Welker. In that episode, he steals a secret bomber (which can turn invisible) from the Navy aircraft carrier on which Donald Duck serves, planning to make more invisible planes so that he can take over the world. He works with the assistance of "Agent X," who is really Ensign Plummer, a traitorous naval officer hoping to become a general. Their plot is foiled, however, when they are defeated by Scrooge McDuck, Launchpad McQuack, and many kidnapped fishermen who work together to catch them.
The Phantom Blot later appeared in a short featured on Mickey Mouse Works, based on the comic strips in which he first appeared in, titled "Mickey Foils the Phantom Blot" and originally broadcast on November 7, 1999. In this short, he steals a "radium card" from Ludwig Von Drake and uses it to rob every bank in the world. As the title suggests, Mickey, Donald, and Goofy manage to foil his plans. The short was double the length of most of the shorts featured on the series and is considered by many Disney fans to be the best of the Mickey Mouse Works shorts.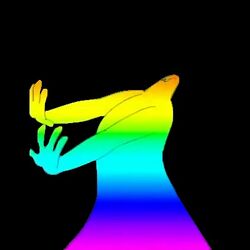 The Blot reappeared in another Mouse Works short titled "Mickey and the Color Caper". This one featured in Disney's House of Mouse episode "Where's Minnie?". In this short, the Blot is now stealing colors from everything in the world, including Minnie Mouse. As Mickey Mouse, Donald Duck, and Goofy went on an investigation, they bumped into the Phantom Blot's vehicle, who appears from it with a ray gun that drains the trio of their colors. He then drove away to his secret hideout. There, he went up to a picture of his parents and complained about how he's bored with his inky black cloth. He then triggers a device that pours the colors all over his body, turning him into the "Phantom Rainbow". Just then, Mickey, Donald, and Goofy appeared before him, telling him that they're returning the colors to their rightful owners. The Phantom Rainbow shot a beam from his finger at Donald, turning his body pink. Mickey grabs a rope and swings around the room with Phantom Blot repeatedly shooting several colorful beams at him. Mickey knocked him over, but the Phantom Blot shot him that time, turning his body blue and causing him to fall right by the machine. As Goofy was worried that they're losing, he began to run around, wondering what to do, until he fell down onto a lever, causing the machine to reverse. As the Phantom Rainbow corners Mickey, he was about to turn him black and white again with his ray gun until the contraption he was standing under begins to drains him of his colors and reverts him back to black ink-like state. Mickey, Donald, and Goofy escaped his lair before it exploded, due to his machine overloading, causing the world to be colorful again.
The Blot made one more appearance so far in the House of Mouse episode "House of Crime", which was wrapped around his first Mouseworks short. Here, he is stealing things from all over the house and then kidnaps various characters both good and evil. Unbeknownst to everyone, the Blot was hiding in a device that Ludwig Von Drake has invented to give out clues to find the criminal, so he continually makes the machine give out clues that don't lead the good guys anywhere. After everybody but him disappears, Mickey soon figures out that the Blot is behind this and corners him. In his attempt to escape on his newly-repaired blimp from his first Mickey Mouse Works appearance (shown as the featured cartoon earlier), it pops and the Blot is foiled once again. In both Mickey Mouse Works and House of Mouse, the Blot was voiced by John O'Hurley.
DuckTales reboot
Main article: Phantom Blot (DuckTales 2017)
The Phantom Blot makes another appearance in the 2017 DuckTales reboot series. In this incarnation, he is portrayed as one of FOWL's operatives, who, throughout the first and second seasons, had been disguised as the mascot of Funzo's Fun Land. In "Moonvasion!", following General Lunaris' defeat, the Blot, along with Gandra Dee, John D. Rockerduck, Jeeves, Steelbeak and Black Heron, are summoned by The High Command (McDuck Enterprises' Board of Directors), who inform them that the McDuck family, having nearly cost them the world, must be destroyed before they can endanger their operations again.
He then appears as the main antagonist in the episode, "The Phantom and the Sorceress!", where it is revealed that he has a deep hatred for all forms of magic due to his grudge against Magica De Spell for enslaving and destroying his home village. He posseses a gauntlet that can absorb magic and use it as a weapon to destroy Magica.
Epic Mickey
Main article: Shadow Blot
Reception
The character (known as "Mancha Negra" in Disney's Brazilian comics - Portuguese for "Black Stain") is used as a symbol by various Brazilian associations of soccer fans (or torcidas organizadas), in order to feature their team colors, like Palmeiras' Mancha Alviverde (one of most famous Brazilian fans' associations, that features a totally green Phantom Blot), Cruzeiro's Mancha Azul (a blue one) and Vasco da Gama's Mancha Negra (where Phantom Blot keeps his original black color). There's also a samba school named "Mancha Verde", also associated with Palmeiras, that uses also a Green Phantom Blot as its symbol. An altered version of the Phantom Blot appears in the video game Epic Mickey as the primary villain, known as the "Shadow Blot".
Gallery
Trivia
When unmasked, the Phantom Blot looks like Walt Disney himself.
He is unable to kill someone, so he creates torture machines or plans that will lead his foes to kill themselves.
In today's European comic books, he often appears to be bloodthirsty when it comes to killing Mickey Mouse.
In an Italian comic book gag series "Topomiti", placing the Mouscatown inhabitants in the ancient Greek mythology, he played the role of Hades.
The Phantom Blot is also one of the many Disney Villains who is added by many fans in many Kingdom Hearts fan-fiction. It is even notable that he is even turned into a half-Heartless throughout the series.
The Blot's kidnapping of the entire audience of the House of Mouse (which included almost every major and minor Disney character from movies and shorts that existed prior to the series such as Maleficent, Jafar, The Genie, Yen Sid, Ursula, Neptune, Horned King, Chernabog and even Hades and Zeus) may cement the Phantom Blot as one of the most powerful characters in the Disney universe.
In the Wizards of Mickey series, he always carries a gold medallion with the letter "M" on it and intentionally as part of his evil plan, temporarily etched on the front gate of the Fang Castle before his defeat by Mickey Mouse's hands. Meaning that probably his real name is "Mancha" (a reference to his Italian name Mancha Negra), which is a play on his alias "Bob".
AniMat refers the Phantom Blot as the Disney version of Sideshow Bob.
In Epic Mickey, the Blot bears a resemblance to Oogie Boogie and Maleficent.
Although the Phantom Blot did not physically appear in Mickey's House of Villains, it is likely possible that he did take part with the other Disney Villains taking over the House of Mouse.

Villains
Animated Features
Queen Grimhilde | Magic Mirror | Honest John | Gideon | Stromboli | Coachman | Coachman's Minions | Monstro | Chernabog | Zeus | Vulcan | Boreas | Man | Ronno | Aconcagua | Toy Bull | The Wolf | Tetti-Tatti | Lumpjaw | Willie | Rustlers | Mr. Winkie | Weasels | Brom Bones | Headless Horseman | Lady Tremaine | Anastasia Tremaine | Drizella Tremaine | Lucifer | Queen of Hearts | Card Soldiers | Cheshire Cat | Walrus & Carpenter | James Hook | Neverland Pirates (Mr. Smee) | Tick Tock | Rat | Si & Am | Maleficent | Diablo the Raven | Maleficent's Goons | Cruella De Vil | Jasper & Horace | Madam Mim | Shere Khan | Kaa | Bandar Log (King Louie) | Edgar Balthazar | Prince John | Sheriff of Notthingham | Sir Hiss | Captain Crocodile | Rhino Guards | Wolf Arrowmen | Trigger & Nutsy | Heffalumps and Woozles | Madame Medusa | Mr. Snoops | Brutus & Nero | Amos Slade | Chief | Mr. Digger | The Bear | Horned King | Horned King's Army (Creeper & Gwythaints) | Cauldron Born | Orddu, Orwen & Orgoch | Arawn | Professor Ratigan | Thugs (Fidget, Felicia & Bartholomew) | Bill Sykes | Roscoe & DeSoto | Ursula | Flotsam & Jetsam | Percival C. McLeach | Joanna | Beast | Gaston LeGume | LeFou | Asylum D'Loons (Monsieur D'Arque) | Tom, Dick, Stanley & Walter | Wolves | Jafar | Iago | Razoul | Prince Achmed | Gazeem | Cave of Wonders | Scar | Hyena Clan (Shenzi, Banzai & Ed) | John Ratcliffe | Claude Frollo | Frollo's Soldiers (Captain Phoebus, Brutish Captain, Oafish Guard, Pierrat Torturue & Henriet Cousin) | Hades | Pain & Panic | Fates | Cerberus | Titans (Lythos, Hydros, Pyros, Stratos & Cyclops) | Nessus | Hydra | Nemean Lion | Shan Yu | Hun Army (Hayabusa & Elite Hun Soldiers) | Cecil Clayton | Sabor | Clayton's Pirates | Firebird | Black Triangles | Jack-in-the-Box | Kron | Bruton | Kuzco | Yzma | Kronk | Lyle Tiberius Rourke | Rourke's Mercenaries (Helga Sinclair) | Leviathan | Vikings | Gantu | John Silver | Pirates (Scroop, Onus, Hands, Turnbuckle, Blinko, Longbourne, Fayvoon, Grewnge, Krailoni, Hedley, Torrance, Mertock, Verne, Crex & Zoff) | Nathaniel Flint | Alameda Slim | Rico | Willie Brothers | Mr. Wesley | DOR-15 | Bowler Hat Guy | Dr. Calico | Dr. Facilier | Lawrence | Facilier's Shadow | Shadow Demons | Ian the Gator | Marlon the Gator | Reggie, Darnell & Two Fingers | Friends on the Other Side | Mother Gothel | Stabbington Brothers | Zhan Tiri | Turbo | Cy-Bugs | Sour Bill | Wynnchel & Duncan | Prince Hans | Duke of Weselton | Erik & Francis | Wolves | Yokai | Alistair Krei | Mr. Yama | Dawn Bellwether | Doug Ramses | Woolter | Jesse | Sheep Cops | Ram Thug | Duke Weaselton | Mr. Big | Polar Bear Thugs (Koslov, Raymond & Kevin) | Te Kā | Tamatoa | Kakamora | Arthur | King Runeard | Namaari | Druun
Live-Action Movies
Captain Nemo | Pony Sugrue | Prince John (1952) | Red Stick | Bigfoot Mason | Chato | Samuel Mason | Harpe Brothers | The Marten | Wilse Owens | Kuala | Vicky Robinson | Ute Chief | Jacques Lebeau | Makoos | Durante | Barnaby | James Haggin | Cattlemen | Alonzo Hawk | Comanche Chief | Apaches | Mr. Dawes Sr. | Tanamashu | Judge Huggins | Mountain Ox | Peter Thorndyke | Havershaw | Vince Heber | Mrs. Satterfield | A.J. Arno | Chillie Walsh | Colonel Pierson | Ab Cross | Colonel Heller | King Leonidas | Bookman | Swinburne | Mr. Eben | Mark Pierson | Hugh McRae | Sam Eagle Speaker | Kerwood Krinkle | Frank Sitwell | Hnup Wan | Dr. Terminus | Gogans | Charles Olympus | Wooly Bill Hitchcock | Big Mac | Hans Reinhardt | The Watcher | George McKinzie | Alec Frost | Bluto | Vermithrax Pejorative | Master Control Program | Sark | Ed Dillinger Sr. | Program Guards | Mark Jennings | Kelly | Mr. Dark | Mike | Rosie Little | Hunters | Nome King | Princess Mombi | Connie | Bullwhip | Parker | Buzz | Wolf's Owner | Timber Wolf | Hunter | Eagle | Alistair Patton | Patton Sr. | Judge Doom | Toon Patrol (Smartass, Greasy, Psycho, Wheezy & Stupid) | Abdullah | Mr. Patel | Nigel | John Merrick | Beauty Smith | Luke & Tinker | Sykes | Cherokee | Lip-Lip | Fritz | Neville Sinclair | Lothar | Nigel Snyder | Joseph Pulitizer | Delancy Brothers | Charles Hendrickson | Terrence Wheeler | Winifred Sanderson | Mary Sanderson | Sarah Sanderson | John Ricketts | The King and the Duke | Pap Finn | Cardinal Richelieu | Comte de Rochefort | Milady de Winter | Borg Guillarson | Leland Drury | Heath | Miners | Lloyd Halverson | William Boone | Buldeo | John Wilkins | Tabaqui (1994) | Sergeant Harley | Bandits | Sergeant Clairbourne | Shere Khan (1994) | Bandar Log (1994) (King Louie (1994) & Kaa (1994)) | Gilbert Sipes | Juice | Ranch Wilder | Injun Joe | Emmett | Tony Perkis | Agent Woods | Jack and Ralph | Ashcan and Pete | Aunt Sponge | Aunt Spiker | Rhino | Skeleton Pirates | Shark | Cruella De Vil (1996) | Jasper and Horace Badun (1996) | Mr. Skinner | Jean-Pierre Le Pelt | Alonzo | Norman Snively | Ricky King | Charlotte | Lyle Van de Groot | Max & Thor | Lion | Beatrice Stanhope | Stepmother | Calliope | |Minerva | Chester Hoenicker | Wilson Croft | Smith & Wesson | Bennett Hoenicker | Luanne LeSeur | Meredith Blake | Natalya | Popov | Frank Slater | Shere Khan (1998) | Tabaqui (1998) | Bandar Log (1998) | Eddie Taffet | Andrei Strasser | Elliot Coleye | Dr. Claw | Kramer | RoboGadget | PAT | Malcolm | Snerbert | Lana Thomas | Elliot T. Jindraike | Professor Siles | Jennifer Stone | Toy Santa | Louise Walker | Mr. Sir | Charles "Trout" Walker | Kissin' Kate Barlow | Linda Walker | Sheriff | Doug & Gordon | Hector Barbossa | Crew of the Black Pearl (Bo'sun, Scratch, Pintel & Ragetti) | Master Gracey | Madame Leota | Ramsley | Zombies | Werecat Lady | Carla Santini | Lord Kelvin | Black Scorpions (General Fang) | Inspector Fix | Viscount Mabrey | Ian Howe | Bill Fawcett | Zaphod Beeblebrox | Frankie & Benjy | Prostetnic Vogon Jeltz | Vogons | Humma Kavula | Gag Halfrunt | Royal Pain | Stitches | Lash | Speed | Penny Lent | Jadis the White Witch | Jadis' Secret Police (Maugrim & Vardan) | Ginarrbrik | General Otmin | Thantos DuBaer | Dr. Kozak | Jack Frost | Davy Jones | Crew of the Flying Dutchman (Maccus & Kraken) | Cutler Beckett | East India Trading Company | Janice Avery | Queen Narissa | Mitch Wilkinson | Sinon Bar Sinister | Cad Lackey | El Diablo | Henry Burke | Miraz | Telmarines (Glozelle & Sopespian) | Nikabrik | Hag & Werewolf | Kendall Duncan | Tess Tyler | Speckles | Lucinda | Oswald Granger | Red Queen | Knave of Hearts | Card Soldiers | Jabberwock | Jubjub Bird | Hamish Ascot | Morgana le Fay | Morganians (Maxim Horvath, Abigail Williams, Sun Lok, Drake Stone & Marrok) | Nizam | Ms. Stout | CLU 2 | Rinzler | Gem | Black Guards | Blackbeard | Angelica Teach | The Spaniard | King Ferdinand VI | King George ll | San Than | Matai Shang | Tal Hajus | Jenny | Latham Cole | Butch Cavendish | Jay Fuller | Evanora | Theodora | Maleficent (2014) | Diaval | King Stefan (2014) | King Henry | The Witch | The Wolf | Lady Tremaine (2015) | Grand Duke (2015) | Anastasia Tremaine (2015) | Drizella Tremaine (2015) | Lucifer (2015) | David Nix | Shere Khan (2016) | Bandar Log (2016) (King Louie (2016)) | Kaa (2016) | Fleshlumpeater | Giants (Bloodbottler & Bonecruncher) | Pramod Kadam | Beast (2017) | Gaston LeGume (2017) | LeFou (2017) | Asylum D'Loons (Monsieur D'Arque (2017)) | Tom, Dick & Stanley (2017) | Wolves (2017) | The King (2017) | Armando Salazar | Crew of the Silent Mary (Lesaro) | Scarfield | It | Sugar Plum Fairy | Tin Soldiers | William Weatherall Wilkins | V.A. Vandevere | Neils Skellig | Rufus Sorghum | Jafar (2019) | Iago (2019) | Cave of Wonders (2019) | Scar (2019) | Hyena Clan (2019) (Shenzi, Kamari & Azizi) | Queen Ingrith | Gerda | Borra | Rat (2019) | Devon & Rex | Isaac | Artemis Fowl | Opal Koboi | Briar Cudgeon | Troll | Alexander Hamilton | Aaron Burr | Thomas Jefferson | James Madison | Maria Reynolds | James Reynolds | King George III | Bori Khan | Hun Army (Xian Lang)
Other Animated Movies
Br'er Fox & Br'er Bear | Giant Magnet | Evil Clown | Merlock | Dijon | Oogie Boogie | Lock, Shock & Barrel | Bill Bluff | BluffCo Industries (Guy Graham, Bob & Bluff Agents) | Gloomius Maximus | Ivan Krank | Von Talon | Cufflingk and Underlingk | Kazar | Wildebeests (Blag) | Scab and Scraw | Vidia | Jacob Marley | Old Joe | Supervisor | Mr. Whiskers | Shelley | Were-Rat | Sea Monkeys | Mr. Burgermeister | Ripslinger | Zed | Ned | Zarina
Direct-to-video/Disneytoon Studios Sequels
Abis Mal | Sa'Luk | Forty Thieves | Maestro Forte | Jesters | Zira | Outsiders (Nuka & Vitani) | Mack McCro | Jim Bob | Supreme Commander | Morgana | Undertow | Cloak & Dagger | Bradley Uppercrust III | The Gammas | Buster | Sarousch | Pom-Pom | Tad White | Jacques von Hamsterviel | Reuben | Sparky | Leroy | Erik Hellstorm | Ashton Carnaby | Edgar Volgud | Krakken | Lil Lightning | Bandits | Mama Gunda | Uto & Kago | Marina Del Rey | Cad Spinner
Shorts, Television, Comics and Video Games
Peg Leg Pete | Old Man Tree | Phantom Blot | Skeletons | Grim Reaper | Mad Doctor | Demon Cats | Gustav the Giant | Lonesome Ghosts | Doctor Vulter | Solego the Chaos God | Arpine Lusene | Eli Squinch | Sylvester Shyster | Fantomius | Inquinator | Spectrus | Zafire | H. U. Hennessy | Jolly Roger | Witch | Pluto's Devil | Zeke Midas Wolf | Boogeymen | Captain Katt | Mortimer Mouse | Butch the Bulldog | Beagle Boys | Foxy Loxy | Ajax Gorilla | Witch Hazel | Adolf Hitler | Nazi School Teacher | Little Hans | Fat Cat | Norton Nimnul | Aldrin Klordane | Baby Thaddeus | Ratso Ratzkiwatzki | Julius | Dr. Frankenollie | Mizrabel | Miss Hendra | Huntsman | Huntsgirl | Dark Dragon | Al Roker | Chuckles | Princess Irmaplotz | Grace Goodwin | Molly | Shadow Blot | False Shadow Blot | Foxy Loxy | Goosey Loosey | Oswald Gardner | Commander Heist | Lazlo | Jordan Buttsquat | Suzi | Chip Whistler
Disney Parks
Alien | Lava Monster | Mad Hatter | Nebula Ghosts | Professor J.T. Wu | S.I.R. | Yeti (Expedition Everest) | Yeti (Matterhorn Bobsleds)
See Also
101 Dalmatians Villains | 2010 Marvel Animated Universe Villains | 20th Century Studios Villains | A Twisted Tale Villains | Air Bud Villains | Aladdin Villains | Alice in Wonderland Villains | Amphibia Villains | Artemis Fowl Villains | Atlantis Villains | Beauty and the Beast Villains | Big Hero 6 Villains | Buena Vista International Villains | Buzz Lightyear of Star Command Villains | Cars Villains | Cinderella Villains | Club Penguin Villains | Darkwing Duck Villains | Descendants Villains | DuckTales Villains | Fantasia Villains | Fillmore! Villains | Frozen Villains | Gargoyles Villains | Gravity Falls Villains | Hamilton Villains | Haunted Mansion Villains | Hercules Villains | Incredibles Villains | Kim Possible Villains | Kingdom Hearts Villains | Lilo & Stitch Villains | Little Einsteins Villains | Marvel Animated Movie Universe Villains | Marvel Cinematic Universe Villains | Medfield College Villains | Mighty Ducks Villains | Milo Murphy's Law Villains | Mulan Villains | Muppet Villains | Narnia Villains | Peter Pan Villains | Phineas and Ferb Villains | Pinocchio Villains | Pirates of the Caribbean Villains | Pixar Villains | Recess Villains | Robin Hood Villains | Sleeping Beauty Villains | Snow White Villains | Sofia the First Villains | Star Wars Villains | Star vs. the Forces of Evil Villains | Super Robot Monkey Team Hyperforce Go! Villains | Tangled Villains | Tarzan Villains | The Hunchback of Notre Dame Villains | The Jungle Book Villains | The Lion King Villains | The Little Mermaid Villains | The Owl House Villains | The Princess and the Frog Villains | The Proud Family Villains | Toy Story Villains | Treasure Planet Villains | Wander Over Yonder Villains | Winnie the Pooh Villains | Wreck-It Ralph Villains | X-Men Movie Villains | Zootopia Villains

Villains
Television
DuckTales (1987): Flintheart Glomgold | Magica De Spell | Beagle Boys (Ma Beagle, Grandpa Beagle, Beagle Babes, Canadian Beagle Boys, Beagle Brats, Blueblood Beagle Boys, Frontier Beagle Boys , Bombshell Beagle, Brainstorm Beagle, Bankroll Beagle, Boomboom and Banzai Beagle, Buckaroo, Beanball and Blitzkrieg Beagle, Bifocal Beagle, Bumpkin Beagle, Butterball Beagle, Bullseye Beagle & Medievel Beagle) | El Capitan | Armstrong | Cinnamon Teal | Millionara Vanderbucks | Boll Weevil | John D. Rockerduck | Jeeves | Peg Leg Pete | Dijon | Phantom Blot | F.O.W.L. (Dr. Nogood) | Circe | Harpies | El Capitán | Beauregard DuBark | Jack the Tripper | Captain Pietro | Charles Upstart III | Mung Ho | Commander Gander | Cookie and Tiny Blurf | Dirty Harriet | Fritter O'Way | Robot Butler | Ratbags | Duke Duggan | Oddluck | Overlord Bulovan | Old Man Ribbit | M.E.L. | Lesdred | Ka-hoo-fu | Joaquin Slowly | Horatio Bluebottle | Happy Jack | Griselda | Goldfeather

Ducktales (2017): Flintheart Glomgold | Gabby McStabberson | Beagle Boys (Ma Beagle, Black Arts Beagle The Glam Yankees, The Déjà Vus, The 6th Avenue Meanies, The 6th Avenue Friendlies, The Longboard Taquitos, The Tumblebums, The Ugly Failures, Grandpappy's Boys, Hockey Beagles, Medieval Beagles, Individual Beagles & Grandpappy Beagle) | Magica De Spell | Lena De Spell | Captain Peghook | Mark Beaks | Falcon Graves | Briar & Bramble | Zeus | Toad Liu Hai | Air Pirates (Don Karnage) | Pixiu | Toth-Ra | Sabaf | George Mallard | Doofus Drake | Dijon | NegaDuck | Atmoz Fear | Tootsie | The Bombie | Wendigo | General Lunaris | F.O.W.L. (The High Command (Bradford Buzzard, Bentley Buzzard and Buford Buzzard), Black Heron, John D. Rockerduck, Jeeves, Phantom Blot, Gandra Dee, Steelbeak, Taurus Bulba, May and June) | Dr. Akita | Fearsome Four (Quackerjack, Megavolt, Bushroot & Liquidator) | Paddywhack | Jormungandr | Poe De Spell | Captain Yellow Beak | Ponce de Leon | Crownus
Legend of the Three Caballeros: Felldrake Sheldgoose | Baron Von Sheldgoose | Leopold the Terrible
Movie
Merlock the Magician | Dijon
Video Games
Flintheart Glomgold | Magica De Spell | Beagle Boys | Count Dracula Duck
Community content is available under
CC-BY-SA
unless otherwise noted.