Jurassic World: Dominion Dominates Fandom Wikis - The Loop
Play Sound
Phantom Ganon is a recurring antagonist in The Legend of Zelda series, often serving as a boss in later stages.
He is an evil clone created by Ganondorf himself that acts a loyal enforcer to his commands. While he is nowhere near powerful as the original, he still retains power enough to make him a deadly foe.
Biography
Unified Timeline
Ocarina of Time
Phantom Ganon is the boss of the Forest Temple. As Link enters the boss' room, he sees many identical paintings on the wall of a road leading to a dark castle; Phantom Ganon jumps into one of them with his horse. After disappearing, two Phantom Ganons ride to the front of the painting, and a purple hole appears in one of them, which is the one the real Phantom Ganon will jump out of. As he jumps out, Link's got to shoot him with an arrow from the Fairy Bow. After taking sufficient damage, he will leave his horse.
He will now start to attack by shooting an energy star at Link. He, in turn, has to bounce the star back at him with the Master Sword. He will retaliate but Link must not give up; after enough times, Phantom Ganon will eventually be hit and fall to the ground, paralyzed. The hero now has to slice at him with the Master Sword. After enough hits, he will be defeated. Link then gains a Heart Container and the Forest Medallion. As for Phantom Ganon, Ganondorf banishes him to the area between dimensions.
Child Timeline
Four Swords Adventures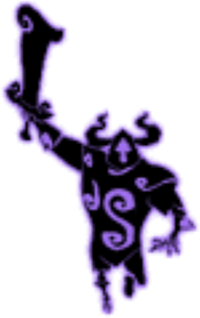 Phantom Ganon appears again as a dungeon boss. He confronts Link twice, first early in the game at Hyrule Castle, and again in the Temple of Darkness. He fights similarly to Ocarina of Time, where he throws an energy orb at the Links, and they must hit it back. Failure to strike the orb causes fragments to fly out. Once Phantom Ganon is struck by the orb, the Links must run up to him and slash at him to damage him. In the rematch at the Temple of Darkness, Phantom Ganon can create clones of himself. The real Phantom Ganon will throw green energy orbs, while his copies throw white orbs that break when a Link strikes his sword at it.
Adult Timeline
The Wind Waker
After withdrawing the Master Sword from its pedestal, Link travels back to the Forsaken Fortress to confront Ganondorf and the Helmaroc King to rescue his sister Aryll. Upon arrival, however, his path is blocked by Phantom Ganon. The pair engage in "Dead Man's Volley" during the ensuing battle and Link manages to defeat him. Phantom Ganon vanishes and leaves behind a Treasure Chest containing the Skull Hammer.
Later, after restoring the Triforce of Courage, Link traverses to the submerged Ganon's Tower after Princess Zelda is kidnapped by Ganondorf, where he is again confronted by Phantom Ganon. This time, however, Link must fight him several times in a large maze with many doors. After each defeat, Phantom Ganon drops his sword. By going through the door that the hilt of the sword points at, Link is eventually rewarded with the Light Arrows. After traveling to the next room, Link is confronted a final time and permanently defeats him solely with the use of his new Light Arrows.
Decline Timeline
Phantom Ganon was never created in the timeline, they have a counterpart named Agahnim who takes their place as Ganon's clone.
Other Games
Super Smash Bros. Brawl
The Phantom Ganon from Ocarina of Time appears in this game as a sticker. When equipped during the Subspace Emissary, it boosts Ganondorf's darkness elemental attacks by 40.
Hyrule Warriors Legends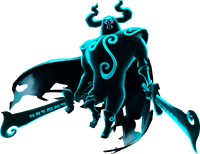 Phantom Ganon appears in Hyrule Warriors Legends, where he serves as the main antagonist of the Great Sea Saga, sporting his design from Wind Waker. This time around, he carries two swords instead of one, likely referencing how his master wielded two swords in the game.
Following the defeat of his master, he takes over his army then gains control of both Cia's powers and the Triforce of Power, using them to open a rift into the Wind Waker era. He is eventually defeated by Link, Lana, and their allies. Together, the team was able to undo his actions on Hyrule.
Gallery
Images
Videos
Trivia
Phantom Ganon has only appeared in four games of The Legend of Zelda series: Ocarina of Time, The Wind Waker, Four Swords Adventures, and Hyrule Warriors Legends.
It is possible that the Phantom Ganon in The Wind Waker is not the same one that appears in Ocarina of Time as the one that preceded him was banished into the Gap Between Dimensions, deemed as a "worthless creation". Though it is also possible that he was eventually released from his master and made more powerful.

Villains
Subspace Army
Ancient Minister | Bowser | Bullet Bills | Duon | False Bowser | False Diddy Kong | False Peach | False Samus | False Zelda | Galleom | Ganondorf | Goombas | Hammer Bros. | King Statue | Koopa Troopas | Master Hand | Petey Piranha | Primids | Rayquaza | Ridley | Porky Minch | Shadow Bugs | Tabuu | Wario
World of Light
Crazy Hand | Dharkon | Dracula | Galeem | Galleom | Ganon | Giga Bowser | Master Hand | Marx
Playable Characters
Bowser | Bowser Jr. | Dark Pit | Dark Samus | Donkey Kong | Enderman | Ganondorf | Incineroar | Kazuya Mishima | King Dedede | King K. Rool | Koopalings (Larry, Roy, Wendy, Iggy, Morton, Lemmy, Ludwig) | Mario | Meta Knight | Mewtwo | Piranha Plant | Ridley | ROB | Sephiroth | Wario | Wolf O'Donnell | Zombie
Bosses
Crazy Hand | Dark Emperor | Dharkon | Dracula | Duon | Galeem | Galleom | Ganon | Giga Bowser | Marx | Master Hand | Master Core | Metal Face | Petey Piranha | Porky Minch | Rayquaza | Ridley | Tabuu | Yellow Devil
Assists Trophies/Poké Ball Pokémon
Andross | Arceus | Black Knight | Burrowing Snagret | Chain Chomps | Chef Kawasaki | Darkrai | Deoxys | Devil | Dr. Wily | Entei | Elec Man | Ghirahim | Giratina | Ghosts | Gray Fox | Hammer Bros. | Klaptrap | Knuckle Joes | Kyurem | Lakitu | Lord Nightmare | Metroid | Meowth | Mimikyu | Mother Brain | Palkia | Phosphora | Shadow the Hedgehog | Skull Kid | Spinies | Starman | Unown | Waluigi
Trophies/Spirits/Stickers
Acro | Affinity | Air Man | Akuma | Alraune | Albert Wesker | Amalthus | Andrew Oikonny | Antasma | Aparoids | Aparoid Queen | Arlon | Ashnard | Axel | Baba | Baby Bowser | Babylon Rogues (Jet the Hawk, Wave the Swallow, Storm the Albatross) | Balrog | Banzai Bills | Bass | Big Boss | Bio Rex | Birdo | Black Shadow | Blood Falcon | Bokoblins | Blippers | Bloopers | Bombers | Bomb Man | Bonkers | Boos | Boom Boom | Boom Stompers | Box Boxer | Boxy | Broom Hatters | Bugzzy | Bumpety Bombs | Bulborbs | Burt the Bashful | Buzzy Beetles Byrne | Cackletta | Calamity Ganon | Camus | Cappys | Captain Syrup | Carmilla | Chandelure | Chaos | Chaos Kin | Chargin' Chucks | Claus | Clubberskulls | Colonel Pluck | Condor | Cragalanche | Crash Man | Creepers | Count Bleck | Count Cannoli | Cranky Kong/Donkey Kong (arcade) | Cut Man | Daphnes | Dark Man 4 | Dark Matter | Dark Mind | Darknuts | Daroach | Deadly Six (Zavok, Master Zik, Zeena, Zomom, Zazz, Zor) | Death | Deathborn | Devil Jin | Demise | Demon King Arzodius | Diggernaut | Dimentio | Dive Man | DJ Octavio | Don Bongo | Donkey Kong Jr. | Dragaux | Dr. Ivo "Eggman" Robotnik | Drill Man | Dry Bones | Eagle | E-123 Omega | Edelgard von Hresvelg | Eggplant Wizard | EggRobos | Emerl | E.M.M.I. | Ender Dragon | Erazor Djinn | Evil Ryu | Father Balder | Fawful | Fiery Blowhog | Fire Man | Flages | Flash Man | Fortitudo | FU | Fynalle | Gangrel | Galacta Knight | Galactic Fiend Kraken | Galaxy Man | Guardians | Garon | Gengar | General Guy | Geese Howard | Gharnef | Ghasts | Ghosts | Gleeok | Goda | Gold Bone | Golems (Kirby) | Golems (Dragon Quest) | Gomorrah | Gooper Blooper | Gordos | Goro Akechi | Gravity Man | Great Reaper | Grief | Gruntilda | Guts Man | Hades | Hard Man | Hawke | Heihachi Mishima | Helmaroc King | Hewdraw | Hooktail | Hoopa Unbound | Hot Heads | Ice Man | Igor | Infinite | Ing | Inspired | Iori Yagami | Iridescent Glint Beetle | Iron Golems | Jade Face | Jeanne | Jin | Jin Kazama | Julius | Juri Han | Kalypso | Kamek | Kammy Koopa | Kanden | Karate Kong | Kass | King Bob-omb | King Boo | King Dice | King Dodongo | King Hippo | King Knight | King Olly | Kip | Kludge | Knight Man | Kracko | Kraid | Kritters | Kuma II | Kyle Merkulov | Leon Powalski | Lethiniums | Liquid Snake | Loptr | Lord Fredrik | Lurchthorns | Lyon | MB | M. Bison | Magnamalo | Magolor | Mahvas | Majora | Malladus | Malos | Master Belch | Master Kohga | Mecha Ridley | Medeus | Medusa | Megontas | Meta-Knights (Axe Knight, Javelin Knight, Mace Knight, Trident Knight, Blade Knight) | Metal Man | Metal Sonic | Metroid Prime | Mimicuties | Moblins | Mockiwis | Moley | Monoeyes | Mouser | Mr. Frosty | Mr. L | Mr. Shine and Mr. Bright | Mugly | Nabbit | Napalm Man | Natah | Necrozma | Nihilego | Nightmare | Nina Williams | Ninja Kong | Nipper Plants | Noxus | Nruffs | Nutskis | O'Chunks | Octoman | Octoroks | Olaf | Ornes | Pandora | Panther Caroso | Paper Bowser | Parasite Queen | Paz Ortega Andrade | Peckish Aristocrabs | Phantom Ganon | Pico | Pidgits Piglins | Pigma Dengar | Pigmasks | Plague Knight | Plasma Wisps | Plasm Wraith | Pom Pom | Pompy | Poppy Bros Jrs. | Princess Shroob | Quaggled Mireclops | Queen Metroid | Queen Sectonia | Quick Man | Rabbid Kong | Rabbids | Raphael the Raven | Reapers | Redd | Rhea | Revolver Ocelot | Riku | Risky Boots | Rockys | Rodin, the Infinite One | Roger the Potted Ghost | Rouge the Bat | Roxas | Rufus Shinra | Ryuichi and Ryuji | Sagat | Scarfies | Scurvy Crew | Shadow Beasts | Shadow Man | Shadow Queen | Shaft | Shake King | Sheegoth | Shield Knight | Shotzos | Shroobs | Shy Guys | Sidesteppers | Sigma | Sir Kibbles | Skeletons | Skull Man | Skuttlers | Slash Man | Slimes (Dragon Quest) | Slimes (Minecraft) | Smoky Prog | Snake Man | Snowmads | Solidus Snake | Space Pirates (Kid Icarus) | Space Pirates (Metroid) | Spark Man | Specknoses | Specter Knight | Spire | Squeakers | Starmans | Stu | Sword Man | Swooping Snitchbug | Sylux | Tacs | Tatanga | Thanatos | The Devil | The Skull | Therion | The Three Mage-Sisters (Francisca, Flamberge, Zan Partizanne) | Tiki Tak Tribe (Kalimba | Gong-Oh | Maraca Gang | Wacky Pipes | Cordian | Banjo Bottom | Xylobone) | Tiki Tong | Top Man | Trace | Travis Touchdown | Turks (Elena, Reno, Rude, Tseng) | Turret Tusk | Twinbellows | Twinrova | Ultimate Chimera | Vaati | Validar | Vega | Viridi | Viruses | Vivian | Vorash | Waddle Dees | Waddle Doos | Walhart | Walkys | Wart | Weavel | Wheelies | Whispy Woods | Whomps | Wigglers | Wind Man | Wollywog | Wood Man | Xord | X-Parasites | Yaldabaoth | Yuga | Yveltal | Zangief | Zant | Zero | Zingers | Zoda | Zurees
Others
Ansem | Billy Kane | Chang Koehan | Choi Bounge | Dr. Coyle | Dragonborn | Master Xehanort | Ryuji Yamazaki | Saïx | Solon | Spiders | Springtron | Team Rocket Grunts | Vanitas | Xemnas | Yiga Foot Soldiers