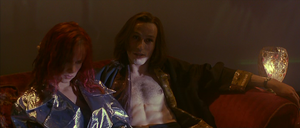 | | | |
| --- | --- | --- |
| " | The only time a whore should open her mouth... is when she's giving head. | " |
| | ~ Philo Gant to Faith Justin | |
Philo Gant is the secondary antagonist in the 1995 live action film, Strange Days.
He was portrayed by Michael Wincott, who also played Top Dollar in The Crow, Michael Korda in Metro, Guy of Gisbourne in Robin Hood: Prince of Thieves, in Robin Hood: Prince of Thieves, Gary Soneji in Along Came a Spider, and Scroop in Treasure Planet.
Biography
Philo is a corrupt music industrialist whose girlfriend, Faith Justin, was once in a relationship with Lenny Nero, a former LAPD officer and now a seller of special "SQUID" recordings (Superconductive Quantum Interference Device). When Philo learns that one of his female associates, named Iris, had witnessed the murder of an influential rapper named Jeriko One at the hands of two corrupt LAPD officers, he becomes fearful that the police will trace her back to him and his illegal assets would be in jeopardy. Philo therefore sends Iris away and hires Lenny's friend Max Peltier, a private investigator, to keep a close eye on Faith after Iris tells her about the murder. Her knowledge of the conspiracy and the danger this could pose to him eventually leads Philo to hire Max to assassinate her. However, during the time Max is working for Philo, he and Faith become very close (since Max had previously known her through Lenny) and he plans to kill his hated employer for wanting Faith dead.
After Iris is murdered, Lenny comes to suspect that Philo is responsible after he receives several SQUID recordings from an unknown killer, all relating to the cover-up of Jeriko One's murder. His suspicions are strengthened further when he deduces that Philo was aware of Iris' whereabouts the night she was killed, as he had given her money and picked out the hotel for her to stay at before sending her away. However, Lenny later discovers Philo in a vegetative state in a hotel suite, having been exposed to highly amplified SQUID signals by Max. Revealing himself as the killer, Max enters the room and shoots Philo in the head, planning to frame Lenny for his murder and the many others he had previously committed.
Community content is available under
CC-BY-SA
unless otherwise noted.