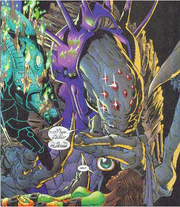 Pilgrimm
is a demonic creature from Marvel and an enemy of the X-Men, he is also one of the
Ru'Tai
- a demonic race of alien beings from another dimension.
Pilgrimm seeks to destroy the N'Garai race and hates them with a passion, willing to do absolutely anything if he believes it will deal a deathblow to his hated foes - in regards to humanity however Pilgrimm takes a more sinister viewpoint: to Pilgrimm humans exist for three purposes, to be studied and experimented on as lab-experiments, to be reared as suitable food-source (much as humans raise cattle) or to be put to work as slaves.
Community content is available under
CC-BY-SA
unless otherwise noted.