Click to help Cruella!

This scum Poison Lizard Man is driving Cruella insane!
IT MUST BE REWRITTEN OR ADDED TO!!
So sayeth the great Lord of Darkness Sauron, or he will send Darth Vader to terminate you.

Help improve this article by rewriting, expanding, updating the poorly written text of the article. ✓



Click To Help DIO!

DIO has declared that this article has stopped in time, and any and all information on it may be outdated.
Help improve this article by checking and updating it's info wherever necessary
And now time resumes!

✓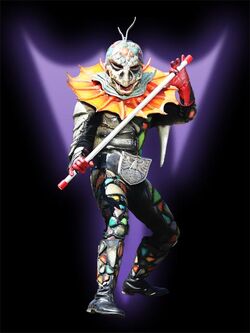 Poison Lizard Man is a frilled lizard monster. Destroyed by Kamen Rider #1's Rider Head Crusher.
History
Movie War 2010
Years later, Poison Lizard Man would appear in yet another Kamen Rider movie, Movie War 2010, as a minor Super Shocker member. He was part of Super Shocker's forces in the final battle, surviving even up to Doras' arrival and siding with it alongside other Kaijin. However, he was destroyed by Heisei Kamen Rider's.
Let's Go Kamen Riders
Due to a change in history caused by Ankh leaving a O Medal behind in 1971, Shocker achieved its goal of world dominion with the Shocker Greeed which defeated the Double Riders, and new members from the various groups that would have manifested in the normal timeline after Shocker's destruction. Poison Lizard Man was among the many monsters who were part of the this alliance.
Heisei Rider vs. Showa Rider: Kamen Rider Taisen feat. Super Sentai
???
Community content is available under
CC-BY-SA
unless otherwise noted.