Jurassic World: Dominion Dominates Fandom Wikis - The Loop
Play Sound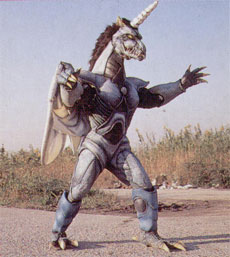 Polluticorn is a flying unicorn-like monster and a villain in Mighty Morphin' Power Rangers.
He is voiced Michael Sorich.
History
A flying unicorn monster created by Finster, it was created to spread pollution wherever it went. Its main weapons were the horn on its head, its wings, and physical strength. Once its horn was cut off, it lost some of its power. Rita then made it grow. After it blew the Megazord a good distance with its wings, They finished the battle with a blow from the Power Sword and destroyed Polluticorn.
Powers And Abilities
Strength: Polluticorn is shown to be far stronger then previous monsters fought by the Rangers before hand, being able to swiftly take them out during their first battle.
Expert Hand-To-Hand Combat: In addition to Poluticorn's incredible strength, he is also a skilled fighter, being able to both block and avoid the Red Ranger's strikes while at the same time being able to subdue them.
Armor: Polluticorn posses strong knight-like armor to withstand blows from his enemies and not even get a scratch.
Extraordinary Leaper: Polluticorn can leap incredible distances.
Flight: Polluticorn can fly in high speeds thanks to the wings behind his back.
Power Winds: Polluticorn can flap his wings in high speeds and blow his enemies away and also damage them with energy blasts.

Toxic Winds: When Polluticorn becomes giant, they get upgraded and become Toxic Winds, they look similar to their counter-part but are now stronger, being able to blow the Dino Megazord off the ground with ease.

Lightning Vision: Polluticorn's strongest attack where he can fire highly focus light blue and yellow colored lightning beams from his eyes. These beams are devastating, being able to take out all five Rangers and later the Dino Megazord with just one hit.
Arsenal
Claws: Polluticorn posses dragon clawed hands for combat.
Unicorn Horn: Being a unicorn-themed monster, Polluticorn possesses a sharp horn located on his forehead for which he can also use in combat.

Power Source-Pollutcorn's horn is the source of his power. He is unbeatable for as long as it remains intact.
Energy Balls: Polluticorn can fire sparkling light pink colored energy balls from his horn on the middle of his forehead.
Trivia
Polluticorn appeared as the boss of the 6th stage in Mighty Morphin Power Rangers for SEGA Game Gear.