Jurassic World: Dominion Dominates Fandom Wikis - The Loop
Play Sound
This article's content is marked as Mature
The page Mature contains mature content that may include coarse language, sexual references, and/or graphic violent images which may be disturbing to some. Mature pages are recommended for those who are 18 years of age and older.


If you are 18 years or older or are comfortable with graphic material, you are free to view this page. Otherwise, you should close this page and view another page.
| | | |
| --- | --- | --- |
| " | If having faith in one's fellow man is paramount, then must be also be true that there's no greater offense to a fellow man then the act of disrespect. Listen carefully. Abusing that trust is unacceptable. Not only does the act dishonor the benefactor of that fragile trust, then it also jeopardizes his very life and livelihood. Money and profit mustn't cloud your judgement. It doesn't matter if you lost a seat at the theatre or even a bus stop. We don't engage in actions that risk one's own life. Conflict's a sport for barbarians. It's a pastime for fools. But, if I or any of my men are disrespected, all bets are off pivello. In the eyes of God, murder is acceptable when one has been disrespected. I commit that to memory. | " |
| | ~ Polpo | |
| | | |
| --- | --- | --- |
| " | Did he really kept the flame alit for twenty-four hours? Or did he relit the lighter and become a Stand User? I don't care either way. Young ones like him can be easily manipulated, we can do whatever we want of him now! | " |
| | ~ Polpo | |
Polpo (in Japanese: ポルポ, Porupo) is an antagonist and the first enemy Stand user encountered by Giorno in JoJo's Bizarre Adventure: Golden Wind. He is a capo of Passione serving time in jail and who recruits new members for the gang.
In Japanese, he was voiced by Yuji Kishi in the PS2 game adaptation of JoJo's Bizarre Adventure: Golden Wind and Hideo Ishikawa in the anime. In English, he was voiced by Brook Chalmers in the latter's dub.
Biography
Prior to the events of JoJo's Bizarre Adventure: Golden Wind, Polpo was arrested and sentenced to fifteen years in prison for an unknown crime.
Giorno first meets Polpo when Bruno urges him to make an appointment with him if he truly wishes to join Passione. Giorno pays a visit to Polpo in his cell who gives him a tricky test to prove his worth by keeping up the flame of a lighter for twenty-four hours without relighting it or letting it go out.
Unfortunately for Giorno, a janitor accidentally spills water all over him, which kills the fire. After the janitor relights it, Polpo's automated Stand, Black Sabbath, attacks the man and kills him by pulling out his spirit with an arrow in its mouth. Giorno manages to find out about Black Sabbath's weakness by pulling it on sunlight, forcing it to return back to his owner.
Polpo, unaware of Giorno's failure, lets him pass the exam and join Passione. Before going, Giorno secretly turns one of Polpo's bananas into a revolver with his Gold Experience which tricks Polpo to accidentally shoot himself, although it was believed by Bucciarati that he committed suicide. Away from the crime scene, Giorno secretly prompts Polpo to enjoy his last meal before giving posthumous justice to the innocent janitor his Stand killed.
Appearance
Polpo is an absurdly and grotesquely obese man and over twice the size of an ordinary human being. He is impossibly tall and wide with an enormous head, long pointy nose and eyes with a reversed color scheme. Polpo is always wearing his yellow inmate outfit and a cap with multiple sticks coming out of it.
Personality
Polpo initially appears as a very affable and approachable person who has an interest in renaissance art and food. Despite acting like a sophisticated person, he is also very vulgar at times and has bad table manners, regularly even chewing his own fingers. As the one responsible for recruiting new members, Polpo views trustworthiness as the most important factor when it comes to being a mobster. He also seems to be a somewhat religious and faithful person, as he believes that even murder is a forgivable sin if it is to protect someone's honor.
Powers and Abilities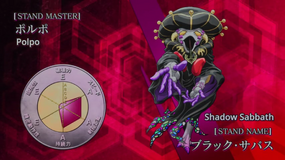 | | | |
| --- | --- | --- |
| " | You're the one who ignited the flame! I offer two paths, but you must pick the one that leads to salvation! Time to choose! Do you live on and become one of the chosen, or do you recede along the path of death? | " |
| | ~ Black Sabbath | |
Polpo's Stand, Black Sabbath, is an automated Stand similar to that of Yoshikage Kira's Sheer Heart Attack, although it is able to receive detailed instructions from its owner. It is not sentient however, (despite talking to its victims) and is impossible to damage. Black Sabbath's main ability is to move within shadows and sense a person's presence. It can move at an incredible speed but cannot enter sunlight without burning. Whenever this occurs, Black Sabbath returns back to his owner.
Polpo uses Black Sabbath's ability to drag out person's souls with a Stand Arrow hidden its mouth to kill those who fail his test as a punishment for not showing enough trustworthiness to be a member or the gang.
Gallery
Images
Videos