Jurassic World: Dominion Dominates Fandom Wikis - The Loop
Play Sound



Click to help Cruella!

This scum Poltroon is driving Cruella insane!
IT MUST BE REWRITTEN OR ADDED TO!!
So sayeth the great Lord of Darkness Sauron, or he will send Darth Vader to terminate you.

Help improve this article by rewriting, expanding, updating the poorly written text of the article. ✓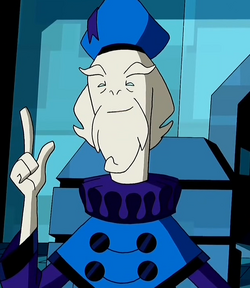 Paltroon is a Lewodan in Ben 10: Omniverse. He first appeared in Food Around the Corner. He was introduced as the vice-minister of Lewoda but he turned out to be the leader of a coup d'tat to take over his planet and destroy the Appoplexians.
Appearance
Paltroon is a white-colored humanoid with a flexible body.
Personality
He is shown to have a great lust for power and is very snobbish, especially toward Appoplexians.
History
He had plans to seize power over the Lewodan Republic for himself when tried to sabotage the peace conference, he was sent to Plumber Prison for the time being and was forced to endure an invasion to his skin by the same Hulex Fleas he had hired.
Powers and Abilities
Paltroon has shown to be able to hold his own against Rath in hand-to-hand combat for a brief time, but he's not above cheating with weapons. He carried a special Sonic Frequency Device|device that emitted a special sonic frequency that was fatal to Appoplexians, though it was destroyed by a microscopic Rook Blonko|Rook.
Weaknesses
Paltroon is physically no match against an Appoplexian, especially against an extremely angry Rath.
Appearances
Ben 10: Omniverse
"Food Around the Corner" (first appearance)