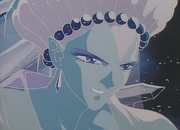 Princess Snow Kaguya
is the main antagonist in the
Sailor Moon S
movie,
Hearts in Ice
. She is an icy humanoid alien who freezes planets for her collection. She is voiced by
Melissa Fahn
in the redub.
Biography
Kaguya previously tried to freeze Earth, which she wanted in her collection the most, but was banished by means of the Silver Crystal.
Many years later, she traveled on an icy comet and returned to Earth. She began her freezing of Earth by bringing winter and sending her Snow Dancers to invade, searching for a missing piece of her comet which had been discovered by a scientist, Kakeru Ozora, and was draining his life force.
Eventually, Kaguya appeared before Kakeru, and he thought she was the real Princess Kaguya from the fairy tale. She took the comet shard and threw it into the ocean, beginning the process of freezing Earth, while continuing to drain Kakeru's life energy. Sailor Uranus, Sailor Neptune, and Sailor Pluto fought her, destroying many Snow Dancers, and eventually the other Sailor Scouts/Sailor Guardians arrived.
After a fight, in which Kaguya gained the upper hand, Sailor Moon transformed into Super Sailor Moon, but Kaguya easily countered her Rainbow Moon Heartache, so she decided to use the Silver Crystal instead. As Kaguya powered up for a final attack that would obliterate the Sailor Guardians, Tuxedo Mask held off the Snow Dancers while all nine Sailor Guardians combined their power for a Silver Crystal Power attack, entering a beam struggle with Kaguya. Though Kaguya initially had the upper hand even here, the Sailor Guardians were eventually able to overpower Kaguya, destroying her and the remainder of her Snow Dancers, as well as all her influence on Earth.
Personality
Kaguya is cruel and sadistic, wanting the Sailor Guardians to suffer before their defeat, and freezing inhabited planets merely to make them part of her collection.
Powers and abilities
She has power over ice, snow, and cold, and all similar things such as hail and frostbite. She demonstrates this by causing blizzards.
She can also shoot two energy balls from her hands, as well as shooting a powerful energy blast from her chest, though this apparently takes some time to charge.
Trivia
She is based off Princess Kaguya from the Japanese fairy tale, The Tale of the Bamboo Cutter (despite the fairy tale Kaguya being the protagonist). Other anime villains based off her would follow in Inuyasha and Naruto. Interestingly enough, both Sailor Moon and Inuyasha's depictions of Kaguya were in their second movies.
She is also based off the Snow Queen, as an evil humanoid made of ice who intends to freeze the world, and looks similar to both animated depictions of the character.
Community content is available under
CC-BY-SA
unless otherwise noted.