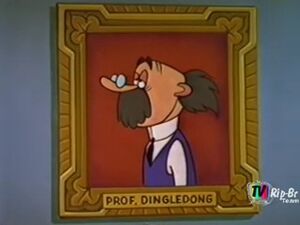 Professor Dingledong is a recurring antagonist from the Woody Woodpecker Show, and one of many characters who served as Woody's foil. He was voiced by the late Dallas McKennon.
Dingledong appears as a tall, bespectacled professor. He has had two distinct roles: In Private Eye Pooch and How to Stuff A Woodpecker he acts as a taxidermist, trying to capture Woody to add to his stuffed animal collection. On his other appearances he acts as an astronomer, trying to capture Woody while being bullied by him in Round Trip to Mars as he mistakes Woody for a Martian, while in Woodpecker in the Moon he is stranded on the Moon and tries to hijack Woody's rocket to return to Earth.
While in his original appearance he's portrayed as a total jerkass, his later appearances show him as more sympathetic scientist.
Appearances
Private Eye Pooch (1955)
Round Trip to Mars (1957)
Woodpecker in the Moon (1959)
How to Stuff a Woodpecker (1960)
Trivia
Dingledong is often confused with Professor Grossenfibber, another scientist character who replaced him later in the show.
Community content is available under
CC-BY-SA
unless otherwise noted.