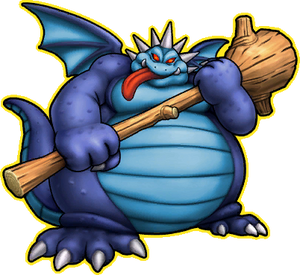 Pruslas
is one of
Psaro
's most powerful henchmen and a guardian of one of its barrier towers in
Dragon Quest IV
.
Pruslas is a giant chubby purple reptile monster that wields a massive club in a similar fashion of Atlas. Though Pruslas at first may seem like a recolor of Baalzack and the Night Clubbers, it is proven by the Dragon Quest Monsters: Joker series to be way bigger. 
This creature does not fight fair: when encountered in his tower he will trick the hero/heroine to look in the middle of the room for a gift in recognition of he/she making it so far. But the moment he or she turns his/her back at him, the monster will attack by surprise and the battle will start with the monster getting the first turn. To avoid this the hero/heroine must speak with the monster again without turning back. It reappears in Dragon Quest X, first as a boss, and then as a normal enemy by 3.5 onwards, with its reappearance in Dragon Quest XI reprising the role of a normal enemy. In Dragon Quest Heroes II, he appears as one of Fractos's lackeys guarding the Black Manse and battling the Heroes, after using a Disruptive Wave to rid them of their buffs. He fights as the other bosses do, but when he reaches half heath, he says the party deserves a "reward", which is him stomping the ground 3 times. He is defeated and is not seen again, though more of him are seen in the Seven Realms after Fractos, and by extension, the game, is defeated.
Community content is available under
CC-BY-SA
unless otherwise noted.