Jafar says: Read my lips and come to grips with the reality!


This article is a stub and is in need of expansion. You can help Villains Wiki by expanding it.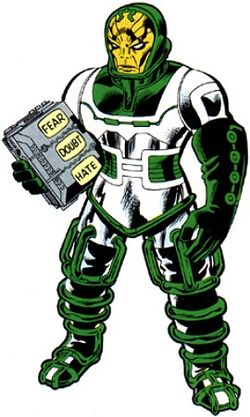 Psycho-Man is a villain in the Marvel universe. He lives in the Microverse and has the power to control the emotions and mental states of his enemies. Psycho-Man is a mad scientist that determined that it would be easier to cross other dimensions than to travel to other systems.
Deciding to use scientific means to enter the normal-sized universe, t he was only able to achieve microscopic size in this world and has to resort to a human-sized, armored exoskeleton to interact with anything not on a microscopic scale.
It ended when the Psycho-Man captured Spider-Man, who led a revolt against Psycho-Man with the other previous Captain Universe hosts and eventually defeated the villain, leading him to be tossed from his own ship while his former captives took possession of it.
He returned to Earth and used an android known to stimulate hatred among the population of New York City through pamphlets. The Hate-Monger also succeeded in turning the Invisible Woman into the hateful warrior Malice, sending her to destroy her teammates. Psycho-Man succumb to the nerve degeneration. Dying, he returned to gain vengeance on his greatest enemies.
Gallery
Community content is available under
CC-BY-SA
unless otherwise noted.