She-Hulk Trailer Dropped - The Loop
Play Sound



Click To Help DIO!

DIO has declared that this article has stopped in time, and any and all information on it may be outdated.
Help improve this article by checking and updating it's info wherever necessary
And now time resumes!

✓
| | | |
| --- | --- | --- |
| " | Who am I? The Psycho-Pirate. Now stop talking and hate. | " |
| | ~ Psycho-Pirate | |
| | | |
| --- | --- | --- |
| " | The Psycho-Pirate is a man who could make gods go mad. A man who could make the mad gods sane again. | " |
| | ~ Amanda Waller about Psycho-Pirate's abilities. | |
Psycho-Pirate is the name of two DC Comics supervillains, dating back to the Golden Age of Comics.
Biography
As Psycho-Pirate, Roger Hayden used his powers to torture the Flash (Barry Allen) who had been captured by the Anti-Monitor. The Anti-Monitor also augmented Hayden's powers so he could influence the minds of all who lived on Earths-4, X, and S. The plot was foiled thanks to Harbinger and several heroes.
During the Psi War story line, the Psycho Pirate appears and takes out Hector Hammond and the H.I.V.E. Queen who were both fighting for control of the city. When Superman arrives at H.I.V.E.'s headquarters, Hayden confronts him and drains his mind too.
He is then surprised by Lois Lane, who was infected with the same psionic virus by Senator Hume, yet another member of the Twenty.
The two fight with Hayden getting the upper hand. He then proceeds to make Metropolis' citizens act on pure emotion, creating riots and chaos throughout the streets.
A recovered Superman, Lois Lane, Hector Hammond and the H.I.V.E. Queen then team up to fight the Pirate and a fierce battle ensues, during which the Queen and Hammond are beaten. Superman manages to pull the Medusa Mask of Hayden's face and incinerates it with his heat vision, defeating the Psycho Pirate. However, he disappears in the aftermath of the battle.
At the same time as he was clashing with Superman, Roger Hayden also sends an astral projection to confront Superboy and Doctor Psycho who are in New York City looking for a psychic called Shift. He reveals that Psycho was only manipulating Superboy to get his power. A three-way battle ensues between the three characters, which ends with Doctor Psycho being defeated and Superboy falling unconscious only to wake up in a cell powerless.
Television History
Justice League Unlimited
In Justice League Unlimited the Roger Hayden version of Psycho-Pirate makes a cameo appearance as a member of Gorilla Grodd's Secret Society. He has no lines and takes no significant action in any episode. Notably, he is lacking the Medusa Mask.
Batman: The Brave and the Bold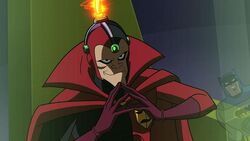 The Roger Hayden version of Psycho-Pirate appears again in Batman: The Brave and the Bold episode "Inside the Outsiders" voiced by Armin Shimerman.
In this appearance he is a sadist who kidnaps the group of teenage heroes known as the Outsiders (Black Lightning, Katana, and Metamorpho) and feeds off their rage caused by twisted nightmares. Batman goes inside their minds to save them, but Psycho-Pirate fakes his victory, almost causing Batman to feed him rage by pretending to kill the Outsiders.
Batman realizes this, and thinks positive thoughts, starving the villain, and defeating him. Psycho-Pirate also made a cameo appearance in "Mayhem of the Music Meister" in the musical number "Drives Us Bats", as one of the patients at Arkham Asylum mesmerized into singing by the Music Meister.
Arrowverse
| | | |
| --- | --- | --- |
| " | Don't worry, Doctor. Everything is as it should be. The stage is set. Worlds will live, worlds will die. And the universe will never be the same. | " |
| | ~ Hayden announcing his plan to John Deegan. | |
In the NBC series Constantine episode "Blessed are the Damned," the Medusa Mask is briefly seen among the artifacts stored in Jasper Winter's house.
He first appears during the breakout at Arkham Asylum, He and a bunch of other prisoners attempt to escape in a van, but are stopped by Batwoman.
Movie History
Justice Society: World War 2:
A version of the second Psycho Pirate, Charles Halstead, also called the Advisor, is the main antagonist in the movie Justice Society: WW2. He was a member of the Nazi Party and servant of Adolf Hitler. Instead of wearing the Medusa Mask, he has mind control powers, similar to the comic Maxwell Lord.
Powers and Abilities
Charles Halstead has no superhuman powers, he is however a brilliant criminal mind with an excellent grasp of human psychology and emotions.
With the Medusa Mask, Roger Hayden is able to project emotions into people. Often, it seems to intensify emotions a person already feels, no matter how small. Hayden later shows the power to manifest DC Multiverse characters that had been destroyed during the Crisis on Infinite Earths. This power expands to any multiverse character, including the still living. Psycho-Pirate has also shown some sort of regeneration of body control as he is able to reform after being crushed by Power Girl, and also disguises himself as a Legion flight ring.
During his 90s revamp, Psycho-Pirate was an "emotion vampire", able to drain emotions from people.
Following the New 52 reboot, Roger Hayden is depicted as a psychic who specialists in telepathically manipulating people's emotions. Examples include calming a person to make them more reasonable or amplifying negative emotions such as fear or anger to the point of sending people into a murderous frenzy. While wearing the Medusa Mask, Hayden's emotion manipulating powers were increased to the point where he could control all of Metropolis without straining himself. The mask also provided him with a number of other abilities including shielding his mind against intrusion from other telepathy, levitation, draining other psi-powered individuals of their mental energies to increase his own, projecting psionic constructs in the form of giant orange snakes which he used to attack, forming a psychic link with another person, projecting his mind over tremendous distances, essentially granting him omnipresence, deflecting psionic attacks, projecting bolts of psionic energy, and creating illusions.
Gallery
New Earth
Prime Earth
Other Meida
Trivia
He was created by Gardner Fox and Murphy Anderson.

Villains
Comics
Adolf Hitler | Amos Fortune | Atomic Skull | Avatar of Tech | Black Adam | Blackbriar Thorn | Brainwave | Brutale | Captain Nazi | Crime Champions | Darkseid | Demons Three | Doctor Destiny | Doctor Polaris | Dragon King | Eclipso | Empty Hand | Evil Star | Extant | Felix Faust | Fiddler | Fisherman | Fourth Reich | Gambler | Gentleman Ghost | Gog | Ian Karkull | Icicle | Injustice Society | Johnny Sorrow | Key | Kid Karnevil | King Kull | Kobra | Kulak | Major Force | Mekanique | Mirror Master | Monocle | Mordru | Nekron | Onimar Synn | Per Degaton | Plasmus | Psycho-Pirate | Roulette | Science Squad | Secret Society of Super Villains | Solomon Grundy | Spectre | Spirit King | Sportsmaster | Thinker | Ultra-Humanite | Vandal Savage | Weather Wizard | Weeper | White Dragon | Wizard | Wotan
Movies
Justice Society: World War II
Charles Halstead | Brainiac
Television
Stargirl
Injustice Society of America (Icicle, Brainwave, Sportsmaster, Tigress, Solomon Grundy, Gambler, Dragon King, Anaya Bowin, & Wizard) | Eclipso | Injustice Unlimited (Cindy Burman, Fiddler, & Artemis Crock) | Shade

Villains
Comics
Abra Kadabra | Amanda Waller | Amos Fortune | Amazo | Anarky | Angle Man | Anti-Justice League | Anti-Monitor | Appellaxians | Aquarius | Asmodel | Atomic Skull | Axis America | Bane | Barbatos | The Batman Who Laughs | Black Adam | Black Hand | Black Lantern Corps | Black Manta | Black Spider | Blockbuster | Blue Beetle (Dark Multiverse) | Brainiac | Bronze Tiger | Brother Eye | Brotherhood of Evil | Cadre | Calculator | Calendar Man | Captain Boomerang | Captain Cold | Castle Bat | Catalyst | Catman | Catwoman | Cheetah | Chemo | Cheshire | Circe | Clayface | Clock King | Cluemaster | Copperhead | Construct | Cosmic King | Crazy Quilt | Crime Syndicate of America | Crucifer | Cyborgirl | Darkseid | Dark Supergirl | Deadline | Deadshot | Deathstroke | Demolition Team | Demons Three | Despero | Doctor Alchemy | Doctor Destiny | Doctor Double X | Doctor Impossible | Doctor Light | Doctor Manhattan | Doctor Phosphorus | Doctor Polaris | Doctor Poison | Doctor Psycho | Doctor Regulus | Doctor Sivana | Dominators | Doomsday | Dragon King | Dumas | Earthworm | Eclipso | Electrocutioner | Elite | Enchantress | Epoch the Lord of Time | Eradicator | Evil Star | Fatal Five | Felix Faust | Fiddler | Floronic Man | Funky Flashman | Gamemnae | General Eiling | Genocide | Gentleman Ghost | Golden Gilder | Goldface | Gorilla Grodd | Gunhawk | Harley Quinn | Hector Hammond | Hellgrammite | Human Flame | Hyena | Ibac | Icicle | Imperiex | Injustice League | Intergang | I.Q. | Johnny Sorrow | Joker | Key | Killer Croc | Killer Frost | Killer Moth | Kite Man | Kobra | Kobra Cult | Krona | League Buster | League of Assassins | Legion of Doom | Lex Luthor | Libra | Lobo | Mad Hatter | Mageddon | Magpie | Manchester Black | Manhunters | Matter Master | Maxwell Lord | Mekanique | Merlyn | Mirror Master | Mister Atom | Mister Mind | Mister Nebula | Mr. Freeze | Mongul | Mordru | Morgaine Le Fey | Multiplex | Nekron | Nekron (Pre-Crisis) | Neron | Neutron | Nightshade | Obsidan | Ocean Master | Overman | Parademons | Parasite | Penguin | Perpetua | Pied Piper | Plastique | Poison Ivy | Professor Ivo | Professor Zoom | Prometheus | Psycho-Pirate | Queen Bee | Queen of Fables | Ra's al Ghul | Rainbow Raider | Rama Khan | Red Death | Red King | Red Panzer | Red Volcano | Riddler | Roulette | Royal Flush Gang | Satanus | Scarecrow | Science Squad | Secret Society of Super Villains | Shadow-Thief | Shaggy Man | Shark | Simon Stagg | Sinestro | Solomon Grundy | Star Sapphire | Starbreaker | Starro | Steppenwolf | Suicide Squad | Superboy-Prime | Tattooed Man | Terra-Man | T.O. Morrow | Two-Face | Ultra-Humanite | Vandal Savage | Volcana | Warp | Weather Wizard | White Martians | Wizard
Theatrical Movies
Justice League: Steppenwolf | Parademons (Parademon Scout) | Darkseid | Black Clad (Black Clad Alpha) | Lex Luthor | Deathstroke | Ares
Zack Snyder's Justice League: Darkseid's Elite (Darkseid, Steppenwolf, DeSaad, Granny Goodness, & Parademons) | Lex Luthor | Deathstroke | Black Clad (Black Clad Alpha) | Ares | Joker
Direct-to-video Movies
Justice League: The New Frontier: The Centre | Captain Cold
Justice League: Crisis on Two Earths: Crime Syndicate of America (Owlman, Ultraman, Superwoman, Johnny Quick, Power Ring, J'edd J'arkus, & Black Power) | Lex Luthor | White Martians | President Slade Wilson | Rose Wilson
Justice League: Doom: Legion of Doom (Vandal Savage, Bane, Cheetah, Ma'alefa'ak, Metallo, Mirror Master, & Star Sapphire) | Royal Flush Gang (King, Queen, Jack, Ace, & Ten)
Justice League: The Flashpoint Paradox: Professor Zoom | Wonder Woman | Aquaman | Ocean Master | Black Manta | Deathstroke | Lex Luthor | Clayface | Rogues (Captain Cold, Captain Boomerang, Top, Heat Wave, & Mirror Master) | Joker | Yo-Yo
Justice League: War: Darkseid | Desaad | Parademons | Ocean Master
Justice League: Throne of Atlantis: Ocean Master | Black Manta | The Trench | Lex Luthor
Justice League League: Gods and Monsters: Will Magnus
Justice League vs. Teen Titans: Trigon | Legion of Doom (Lex Luthor, Cheetah, Solomon Grundy, Toymaster, & Weather Wizard) | Atomic Skull | Ra's al Ghul
Justice League vs. the Fatal Five: Fatal Five (Emerald Empress, Mano, Persuader, Tharok, & Validus) | Bloodsport | Two-Face | Harley Quinn | Poison Ivy

Video Games
Injustice: Gods Among Us: One Earth Regime (Superman, Wonder Woman, Yellow Lantern, The Flash, Aquaman, Cyborg, Shazam, Nightwing, Raven, Hawkgirl, Sinestro, Black Adam, Killer Frost, Solomon Grundy, Catwoman, Bane, & Doomsday) | Joker | Lex Luthor | Deathstroke | Ares
Injustice 2: Brainiac | Gorilla Grodd | Captain Cold | Reverse Flash | Cheetah | Deadshot | Poison Ivy | Bane | Scarecrow | One Earth Regime (Superman, Wonder Woman, Aquaman, Cyborg, Nightwing & Black Adam) | Dr. Fate | The Lords of Order | Grid | Atrocitus | Joker | Darkseid
See Also
Justice League Dark Villains | Justice League International Villains | Justice Society Villains | Young Justice Villains
Villains
Comics
Alex Luthor | Amanda Waller | Amazo | Anomaly | Anti-Monitor | Atlas | Atomic Skull | Ballser | Bane | Barbatos | Bernadeth | Bertron | Bizarro | Black Adam | Black Banshee | Black Mercies | Black Zero | Blanque | Blackrock | Blaze | Bloodsport | Bloody Mary | Brainiac | Bruno Mannheim | Boss Moxie | Bug-Eyed Bandit | Captain Boomerang | Captain Cold | Catwoman | Cheetah | Chemo | Chessure | Circe | Clayface | Coldcast | Commander Gor | Composite Superman | Cyborg Superman | Cythonna | Dabney Donovan | Dark Knights | Darkseid | Dax Novu | Deathstroke | Desaad | Deuce & Charger | Dev-Em | Devilance | The Devastator | Doctor Light | Doctor Manhattan | Doctor Polaris | Donna Troy | Doomsday | Earth-Man | Eclipso | The Enchantress | Epoch | Equus | Eradicator | Eradicator (Dark Multiverse) | Ernest Smalley | Eve Teschmacher | Faora Hu-Ul | Fastbak | Female Furies | Fifth-Dimensional Imps | Forgotten Villains | Francis Redhorn | Funky Flashman | Galactic Golem | Gilotina | Gorilla Grodd | Granny Goodness | Green Man | Glorious Godfrey | Gzptlsnz | H'El | Heat Wave | Hector Hammond | Hellgrammite | Helspont | Hfuhruhurr | Imperiex | Intergang | Jax-Ur | Joker | Jon Lane Kent | Justice League of Earth | Kaizen Gamorra | Kalibak | Kanto | Karkull | Killer Croc | King Shark | Kobra Cult | Ku Klux Klan | Lashina | Last Sun | Legion of Super-Villains | Lex Luthor | Livewire | Lobo | Mad Harriet | Magpie | Major Disaster | Major Force | Malice Vundabar | Manchester Black | Mandrakk | Mantis | Master Jailer | Masters of Disaster | Match | Maxima | Maxwell Lord | Mercy Graves | Metallo | Mister Oz | Mongal | Mongul | Mongul II | Morgaine Le Fey | Morgan Edge | Mr. Freeze | Mxyzptlk | Neron | Neutron | Nick O' Teen | Nimrod The Hunter | Overman | Parademons | Parallax | Parasite | Phantom Zoners | Planeteer | Plasmus | Plastique | Prankster | Preus | Princess Zala Jor-El | Prometheus | Psycho-Pirate | Queen Bee | Queen of Fables | Rampage | Rogol Zaar | Reverse-Flash | Royal Flush Gang | Samuel Lane | Scarecrow | Secret Society of Super Villains | Shockwaver | Shrapnel | Silver Banshee | Sinestro | Sleez | Solomon Grundy | Subjekt-17 | Suicide Squad | Superboy-Prime | Superdoom | Superman Revenge Squad | Superman (Earth-2) | Superman (The Dark Side) | The SuperMan | Spellbinder | Steppenwolf | Stompa | Talia al Ghul | Tarantula | Thaddeus Killgrave | Thunder & Lightning | Titano | Tobias Whale | Toyman | Two-Face | Ultra-Humanite | Ultraman | Ursa | Vincent Edge | Virman Vundabar | Vyndktvx | Weather Wizard | Whirlicane | Whisper A'Daire | William Dunn | Xa-Du | Zod
Theatrical Movies
Superman: Lex Luthor | Otis | Eve Teschmacher | General Zod | Non | Ursa | Brad Wilson
Superman II: General Zod | Non | Ursa | Lex Luthor | Otis | Eve Teschmacher | Rocky
Superman III: Ross Webster | Corrupted Superman | Vera Webster | Lorelei Ambrosia | Gus Gorman | Brad Wilson
Superman IV: The Quest for Peace: Lex Luthor | Nuclear Man
Superman Returns: Lex Luthor
Man of Steel: Sword of Rao (Dru-Zod, Faora-Ul, Nam-Ek, Jax-Ur, Tor-An, Car-Vex, Nadira, & Dev-Em II)
Batman v Superman: Dawn of Justice: Lex Luthor | Doomsday | Anatoli Knyazev | Mercy Graves | Cesar Santos | Amajagh | Joe Chill | Zod | Steppenwolf
Direct-to-video Movies
Superman: Brainiac Attacks: Brainiac | Lex Luthor | Mercy Graves | Mister Mxyzptlk
Superman: Doomsday: Lex Luthor | Superman Clone | Doomsday | Toyman | Mercy Graves
Superman/Batman: Public Enemies: Lex Luthor | Major Force | Metallo | Amanda Waller | Toyman | Solomon Grundy | Gorilla Grodd | Killer Frost | Lady Shiva | Giganta | Mongul | Captain Cold
Superman/Batman: Apocalypse: Darkseid | Female Furies (Granny Goodness, Gilotina, Mad Harriet, Lashina & Stompa) | Doomsday
Superman/Shazam!: The Return of Black Adam: Black Adam
All-Star Superman: Lex Luthor | Solaris | Parasite | Nasthalthia Luthor | Bar-El & Lilo-El
Superman vs. The Elite: The Elite (Manchester Black, Coldcast, Menagerie & Hat) | Atomic Skull
Superman: Unbound: Brainiac
The Death Of Superman: Doomsday | Lex Luthor | Intergang (Bruno Mannheim) | Mercy Graves | Cyborg Superman
Reign Of The Supermen: Cyborg Superman | Darkseid | Parademons | Lex Luthor | Mercy Graves
Superman: Red Son: Superman | Brainiac | Lex Luthor | Batman | Superior Man
Superman: Man of Tomorrow: Parasite | Lobo | Lex Luthor
Television
1940's Superman: Bulleteers | Inventor | Mechanical Monsters | Mad Scientist
Superman: The Animated Series: Lex Luthor | Brainiac | Darkseid | Metallo | Toyman | Intergang (Bruno Mannheim, Spider Spinelli, & Blaine) | Mercy Graves | Joey | Parasite | Dr. Vale | Lobo | Alien Robot Girls | Gnaww | Preserver | Kanto | Earl Garver | Jax-Ur | Mala | Prometheon | General Hardcastle | Weather Wizard | Livewire | Bizarro | Kurt Bowman | Luminus | Mister Mxyzptlk | Superman (Brave New Metropolis) | Lex Luthor (Brave New Metropolis) | Titano | Desaad | Kalibak | Joker | Harley Quinn | Karkull | Corey Mills | Suit | Maxima | De'Cine | Steppenwolf | Parademons | Female Furies (Granny Goodness, Stompa, Mad Harriet, & Lashina) | Volcana | Kurt | Starro | Roxy Rocket | Penguin | Bane | Riddler | Mad Hatter | Darci Mason | Sinestro | Unity | Reverend Amos Howell | Society of Shadows (Ra's al Ghul, Talia al Ghul, & Ubu)
Krypton: Brainiac | Zod | Doomsday | Lobo | Jax-Ur | Kol-Da | Lis-Ser | Daron-Vex | Araame | Lyta-Zod Clone
Superman & Lois: Tal-Rho | Ally Allston | John Henry Irons | Leslie Larr | Mitch Anderson | Bizarro | Zeta-Rho | Superman (John Henry Irons' Earth) | Reno Rosetti | David Fuglestad | Atom-Man | Zod | Phillip Karnowsky | Kit Faulkner | Intergang (Thaddeus Killgrave)
Video Games
Superman Arcade: Emperor Zaas | Lex Luthor | Metallo | Parasite
Superman: Shadow of Apokolips: Lex Luthor | Darkseid | Metallo | Livewire | Parasite | Kanto | Mercy Graves | Volcana
Mortal Kombat vs. DC Universe: Dark Kahn | Lex Luthor | Scorpion | Shang Tsung | Darkseid
Injustice: Superman | Brainiac | Doomsday | Aquaman | Black Adam | Sinestro | Lex Luthor | Joker | Darkseid
See Also
Legion of Super-Heroes Villains | Lobo Villains | Smallville Villains | Steel Villains | Superboy Villains | Supergirl Villains | Superwoman Villains

Villains
Comics
Black Manta | Black Spider | Brain | Brick | Bronze Tiger | Brother Blood | Brotherhood of Evil | Catman | Cheshire | China White | Clayface | Clock King | Count Vertigo | Constantine Drakon | Crumbler | Cupid | Deadshot | Deathstroke | Double Down | Dr. Light | Dr. Sivana | Electrocutioner | Jinx | Joker | Killer Croc | Kodiak | Komodo | League of Assassins | Longbow Hunters | Mammoth | Merlyn | Metallo | Mister Freeze | Neron | Onomatopoeia | Professor Ojo | Professor Zoom | Prometheus | The Queen | Ra's al Ghul | Red Dart | Richard Dragon | Riddler | Royal Flush Gang | Skylark | Solomon Grundy | Stinger | Warp | Wizard
Movie
DC Showcase: Green Arrow: Merlyn | Count Vertigo
Television
Season 1: Oliver Queen | Malcolm Merlyn | China White | Edward Fyers | Billy Wintergreen | Adam Hunt | Constantine Drakon | Martin Somers | Deadshot | Jason Brodeur | Royal Flush Gang | Huntress | Frank Bertinelli | Firefly | Ted Gaynor | Count Vertigo | Amanda Waller
Season 2: Oliver Queen | Deathstroke | Isabel Rochev | Brother Blood | Anthony Ivo | League of Assassins (Nyssa al Ghul & Al-Owal) | China White | Dollmaker | Mayor | Officer Daily | Amanda Waller | Count Vertigo | Cyrus Gold | H.I.V.E. (Milo Armitage) | William Tockman | Suicide Squad (Bronze Tiger, Deadshot & Shrapnel) | Huntress | Frank Bertinelli | Clinton Hogue
Season 3: Oliver Queen | League of Assassins (Ra's al Ghul, Maseo Yamashiro, Nyssa al Ghul & Chase) | Matthew Shrieve | Amanda Waller | China White | Werner Zytle | Komodo | Cooper Seldon | Captain Boomerang | Roy Bivolo | Danny Brickwell | Deathstroke | Michael Amar | Joseph Cray | Suicide Squad (Deadshot & Cupid) | H.I.V.E. (Mina Fayad) | Jake Simmons
Season 4: Oliver Queen | H.I.V.E. (Damien Darhk, Ruvé Darhk, Malcolm Merlyn, Andrew Diggle, Milo Armitage, Phaedra Nixon, Mina Fayad, Thomas, Demolition Team, Michael Amar, Danny Brickwell & Cooper Seldon) | Shadowspire (Baron Reiter, Conklin & Joyner) | Amanda Waller | Lonnie Machin | Jeremy Tell | Rogue Anti-Vigilante Task Force (Liza Warner) | Vandal Savage | Calculator | Cupid | Brie Larvan | Evelyn Sharp
Season 5: Oliver Queen | Prometheus | Talia al Ghul | Evelyn Sharp | Black Siren | Konstantin Kovar | Ishmael Gregor | Tobias Church | Lonnie Machin | Ragman | Janet Carroll | J.G. Walker | Derek Sampson | Scimitar | Vigilante | Dominators | Laura Washington | Hideo Yamane | Sean Sonus | James Edlund | China White | Liza Warner | Cupid | Anatoly Knyazev | Captain Boomerang | Justin Claybourne
Season 6: Oliver Queen | (Ricardo Diaz, Black Siren, Anatoly Knyazev, Kimberly Hill & Sam Armand) | Cayden James | Sheck | Vigilante | Alex Faust | Jackals (Joe Wilson & Nylander) | Dark Arrow | Overgirl | Eobard Thawne | Prometheus (Earth-X) | Quentin Lance (Earth-X) | Athena
Season 7: Oliver Queen | Ninth Circle (Emiko Queen, Dante, Virgil & Beatrice) | Kevin Dale | Ricardo Diaz | Longbow Hunters (Red Dart, Kodiak & Silencer) | Stanley Dover | Danny Brickwell | Derek Sampson | John Deegan | Monitor | A.M.A.Z.O. | Psycho-Pirate | Ghost Initiative (Joe Wilson, China White & Cupid)
Season 8: Oliver Queen | Anti-Monitor | Deathstroke Gang (John Diggle, Jr. & Grant Wilson) | Monitor | Athena | Edward Fyers | Billy Wintergreen | Shadow Demons | Lex Luthor

Video Games
Injustice: Superman | Killer Frost | Solomon Grundy | Sinestro | Black Adam | Wonder Woman | Nightwing | Raven | Catwoman | The Flash | Bane | Gorilla Grodd

Villains
Comics
Alphina | Anti-Monitor | Appex | Atomic Skull | Atrocitus | Barry Metznerr | Belinda Zee | Bizarro | Bizarro-Girl | Black Banshee | Black Flame | Blackstarr Blithe | Brainiac | Buzz | Carnivore | The Council | Chemo | Cyborg Superman | Dark Angel | Darkseid | Dark Supergirl | Decay | Delacore | Despero | Diasporans | Dollmaker | Dominators | Doomsday | Emerald Empress | Eradicator | Female Furies | Felix Faust | The Gang | Granny Goodness | Graviton Man | H'el | Hecate | Insect Queen | Indigo | Intergang | Kryptonite Man | Lady Styx | Lena Luthor | Lesla-Lar | Lex Luthor | Livewire | Lobo | Metallo | Mongul | Mxyzptlk | Nasthalthia Luthor | Nightflame | Parasite | Positive Man | Powerboy | Princess Zala Jor-El | Psi | Reactron | Reign | Rogol Zaar | Roho | Satan Girl | Selena | Shrapnel | Silver Banshee | Simon Tycho | Splyce | Superboy-Prime | Superman Revenge Squad | Superwoman | Toyman | Twilight | Ultra-Humanite | Worldkiller-1 | Xenon | Zod
Television
Season 1: Astra and Non's Army (Non, Astra, Indigo, Vartox, Hellgrammite & Maxima) | Maxwell Lord | Reactron | Livewire | Ethan Knox | Red Tornado | T.O. Morrow | Jemm | Dirk Armstrong | Bizarro | Toyman | Miranda Crane | Master Jailer | Silver Banshee | Project Cadmus (Colonel James Harper)
Season 2: Queen Rhea | Project Cadmus (Lillian Luthor, Cyborg Superman & John Corben) | Scorcher | Roulette | Parasite | Dominators | Phillip Karnowsky | Livewire | Mister Mxyzptlk | Music Meister | Beth Breen | Rick Malverne | Lex Luthor | Zod
Season 3: Worldkillers (Selena, Reign, Purity, Pestilence & Thomas Coville) | Morgan Edge | Bloodsport | Psi | Dominators | New Reich (Dark Arrow, Overgirl & Promethus) | Eobard Thawne | Red Tornado | Livewire | Lillian Luthor | Red Daughter
Season 4: Lex Luthor | Children of Liberty (Agent Liberty, Mercy Graves, Raymond Jensen & Natalie Hawkings) | Otis Graves | The Elite (Manchester Black, Pamela Ferrer, The Hat & Morae) | Hellgrammite | Monitor | John Deegan | A.M.A.Z.O. | Psycho-Pirate | Leviathan (Eve Teschmacher & Margot Morrison) | Red Daughter | Phil Baker | Lillian Luthor | Malefic J'onzz
Season 5: Leviathan (Gamemnae, Rama Khan, Tezumak, Sela, Andrea Rojas, Margot Morrison, & Eve Teschmacher) | Lex Luthor | Malefic J'onzz | Lena Luthor | Lillian Luthor | Anti-Monitor | Midnight | Shadow Demons | Toyman | Mister Mxyzptlk | Worldkillers (Selena, Reign, & Thomas Coville) | Children of Liberty (Agent Liberty & Otis Graves) | Dominators
Season 6: Nyxlygsptlnz | Lex Luthor | Lillian Luthor | Otis Graves | Zulian Maletarians | Eve Teschmacher | Mister Mxyzptlk | Leviathan (Gamemnae)
Video Games
Injustice: Superman | Brainiac | Wonder Woman | Black Adam | Nightwing | Cheetah