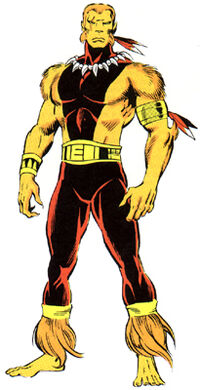 Puma is a villain/anti-hero from Marvel comics who was an enemy of Spider-Man.
Thomas Fireheart was genetically and mystically mutated by his Native American tribe and given the power transform into a half-puma half-human hybrid. He was the protector of his tribe, but also became a mercenary and assassin for hire under his Puma identity. He often worked for the Kingpin and the Rose, and crossed paths with Spider-Man several times, once being hired by the Rose to kill Spidey.
As Thomas Fireheart, he is a successful and capable business leader, and the head of Fireheart Enterprises.
Eventually Puma reformed and joined Silver Sable's mercenary anti-hero group, the Outlaws, this time working alongside Spider-Man. He also had a romantic relationship with the Black Cat.
Puma turned back to crime when he was accused of federal bribery and had his assets frozen. He joined M.O.D.O.K.'s group of supervillains to help pay to defend himself in court, but much to his tribe's displeasure.
Powers and Abilities
In his Puma form, Fireheart possesses superhuman strength, speed, agility, and stamina, and also has a healing factor and very acute senses. He is very intelligent and is a highly skilled fighter, having trained in Japan. He also has powerful retractable claws that can tear through metal.
Gallery