Jurassic World: Dominion Dominates Fandom Wikis - The Loop
Play Sound
| | | |
| --- | --- | --- |
| " | Nobody messes with the Purple Dragons. | " |
| | ~ Johnny, a member of the Purple Dragons gang. | |
The Purple Dragons are a street gang led by Hun that often fight the Ninja Turtles and major antagonists in the Teenage Mutant Ninja Turtles comics, animated TV series, and video games. The gang as a whole is one of the the most dangerous organzations the Turtles have faced.
Biography
They mostly commit robberies and threaten people. They're one of the most dangerous street gangs in all of New York City (if not the most dangerous), and they work for the Shredder on most occasions. Because of this, they sometimes also carry out acts of assassination and even terrorism.
In MNT Gaiden, Purple Dragons are a favorite target of vigilante fights involving Raphael Hamato, Casey Jones and Shadow Jones, the latter two fighting the Purple Dragons while masked.
According to Chapter 13: Back into the Shadows, the renegade NYC Foot Clan leader Eikichi Gotoh holds the Purple Dragons in contempt as an organization, because Purple Dragon members only follow their own individual desires, whereas the NYC Foot Clan establishes a common group goal that is served by all its members as a whole. An unnamed gang that is similar to Purple Dragons was featured in 1987 TV Series. They were led by Bebop & Rocksteady.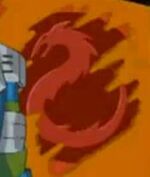 In the 2012 series, the Purple Dragons are a Chinese American gang that, up until Casey Jones vs The Underworld, consisted of 3 members, Fong, the unofficial leader who occasionally wields a butcher knife, Sid, the muscle who occasionally wields an axe and Tsoi, a mustached middle-man who occasionally wields a sledgehammer. The Purple Dragons mostly commit petty street-level crimes, such as mugging citizens, robbing banks, forcing business owners to pay protection money and doing lackey work for bigger crime lords (Shredder and, at one point, Ho Chan). Unlike in other versions, the Purple Dragons are portrayed as comic relief villains who couldn't put up a fight with the teenage Casey Jones, much less the turtles; thus, proving that they only serve as threats towards those who can't defend themselves.
Despite their numerous defeats and failures, the Dragons are a respected and feared gang who commit crimes in broad daylight unopposed. In Casey Jones vs The Underworld, the Dragons become a much bigger threat when they are now lead by Hun, who, unlike in the 2003 version, is a quick and nimble martial arts master and a clear homage to Bruce Lee. With Hun still in tow, the Purple Dragons are now seen as a much bigger threat who now can easily take on the likes of Casey Jones, Michelangelo and Karai with her friend Shinigami at the same time. Despite this impressive feat, they end up becoming comic relief again during their last few appearances, such as when April easily defeated them when her powers were out of control.
In the Rise Of the Teenage Mutant Ninja Turtles 
The Purple Dragons are a group of teenage criminals with Kendra as the leader with Jase and Jeremy as her cohorts.
Members
Johnny (deceased)
Max
Mohawk
Sunny
Spike
Spuds
Tsoi
Vang
Kendra
Jase
Jeremy

Villains
Comics
Shredder (Mirage, Archie, IDW, Mirage Comics, Raphael, Doctor Shreddarius & Lady Shredder) | Foot Clan | Foot Elite | Karai | Ch'rell | Baxter Stockman (Archie & IDW) | Krang (Archie & IDW) | Hun | Purple Dragons | Adolf Hitler | Ninjara | Slash | Leatherhead | Triceratons | Commander Mozar | Zanramon | Shredder Clones | Tokka & Rahzar | Alopex | Kitsune | Koya | Bludgeon | Rat King | Agent Bishop | Bebop and Rocksteady | Savanti Romero | Skonk | Darius Dun | Tatsu | Master Sliver | General Tragg | Dragon | Null (IDW Version) | Maligna (IDW Version) | Craniac | Armaggon | Old Hob | Master Traquer | Johnny Lee Raeburn | Punk Frogs | Jasper Barlow
Television
1987 TV series: Shredder | Bebop & Rocksteady | Baxter Stockman | Krang | Rat King | Lord Dregg | Antrax | Barney Stockman | Don Turtelli | General Tragg | Groundchuck & Dirtbag | Krangazoids
1997 TV series: Foot Clan (Shredder) | The Rank (Dragon Lord | Wick | Dr. Quease | Good Dragon | Rank Lieutenant | Clone Turtles) | Simon Bonesteel | Silver | Monkey Thief Mick and Monkey Thief Dick | VamMi | Bing | Chi Chu | Heavy Duke
2003 TV series: Utrom Shredder (Future Self, Tengu Shredder & Cyber Shredder) | Karai | Hun | Baxter Stockman | Agent Bishop | Rat King | Drako | Ultimate Ninja | Darius Dun | Sh'Okanabo | Dark Turtles | Viral | Torbin Zixx | General Blanque | Zanramon | Commander Mozar | Lonae | Dr. Chaplin | Mr. Touch and Mr. Go | Abigail Finn | Parker | Harry Parker | Kluh | Ammag | Levram Wizard | Dragon Face | Johnny | Two Ton | Yukio Mashimi | Moriah | Weasel | Master Sliver | Savanti Romero | Skonk | Triple Threat | Nano | Mephos | Boss Zukko | High Mage | Lord Hebi | The Brotherhood (Councilor) | Garbageman | Necro Monster
2012 TV series: Foot Clan (Shredder, Karai, Tiger Claw, Rahzar, Fishface, Bebop, Rocksteady, Baxter Stockman, Antrax, Shredder Mutants/Mega Shredder, Hattori Tatsu, Chrome Dome & Koga Takuza) | The Kraang (Kraang Prime & Kraang Subprime) | Triceraton Empire (Emperor Zanmoran & Captain Mozar) | Lord Dregg | Armaggon | Savanti Romero | Newtralizer | Slash | Kavaxas | Rat King | Purple Dragons (Hun & Fong) | Don Vizioso | Snakeweed | Spider Bytez | Overmind | Za-Naron | Dracula | Justin | Mutagen Man | Pizza Face | Dream Beavers | Speed Demon | Squirrelanoids | Chimera | Spy-Roach | Maximus Kong | Verminator Rex | Jei | Wyrm
Rise of the TMNT: Baron Draxum | Albearto | Baxter Stockboy | Big Mama | Meat Sweats | Hypno-Potamus | Foot Brute | Foot Lieutenant | Warren Stone | Repo Mantis | Evil League of Mutants | Shredder | Krang (Rise of the TMNT)
Movies
TMNT 1 & 2: Foot Clan (Shredder, Danny Tatsu, Tokka and Rahzar)
TMNT 3: Walker | Lord Norinaga
TMNT (2007): Stone Generals (Aguila, Gato, Mono & Serpiente) | Foot Clan (Karai)
TMNT (2014): Foot Clan (Shredder, Eric Sacks, Karai & Baxter Stockman)
TMNT: Out of the Shadows: Krang | Foot Clan (Shredder, Karai, Baxter Stockman, Bebop and Rocksteady)
Batman vs. TMNT: Foot Clan (Shredder & Baxter Stockman) | League of Assassins (Ra's al Ghul, Ubu & Talia al Ghul) | Joker | Harley Quinn | Scarecrow | Mr. Freeze | Poison Ivy | Bane | Two-Face | Penguin
Video Games
NES Platformer: Shredder | Mechaturtle
TMNT II: The Arcade Game: Shogun | Tora
TMNT 2: Battle Nexus: Utrom Shredder
TMNT 3: Mutant Nightmare: Utrom Shredder
TMNT: Mutants in Manhatten: Krang | Shredder
TMNT: Shredder's Revenge: Foot Clan (Shredder, Bebop and Rocksteady) | Krang | Groundchuck and Dirtbag | Rat King | Tempestra | Tokka and Rahzar | Wingnut | Leatherhead | Triceratons | Baxter Stockman | General Tragg | Chrome Dome | Slash