| | | |
| --- | --- | --- |
| " | This world is illusion. You can hold it in your hand and still be holding nothing. | " |
| | ~ Queen Remedi | |
| | | |
| --- | --- | --- |
| " | I am the wish-gatherer. I am the world-maker. Desire is the thread that binds the world together. | " |
| | ~ The Li-Grim | |
Queen Remedi (クィーン・レメディ, Kuīn Remedi) is the main antagonist of Final Fantasy Tactics Advance. She is the queen of Ivalice, where she rules with her husband Judgemaster Cid Randell. She is the mother of Prince Mewt.
History
While Remedi died from an illness in the real world, she somehow lives on in Ivalice. However, she is not what she seems to be. Remedi does everything she can to keep the fantasy world of Ivalice in existence, constantly thwarting Marche Radiuju's attempts to revert it to normal.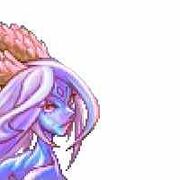 When her husband, Judgemaster Cid, leaves after learning Ivalice is not a "real" world, Remedi creates a evil clone of her son Mewt, and calls him Llednar Twem, she then sends him to destroy Marche. Llednar is eventually defeated, after which the heroes go to face Remedi who, after defeated in her battle queen form, reveals her true nature as the "Li-Grim", a very shiny, blue, pure-magic representation of everyone's wishes for the world to exist. Remedi is defeated and the world of Ivalice starts reverting back to normal.
After the main story, the player can later choose to take a quest where Marche and his team are accompanied by the former palace mage Babus to investigate a disturbance. They are confronted by Remedi in her battle-gear, who questions the loyalty of Babus. After Babus turns her down, the queen summons a few monsters to fight alongside her. Remedi battles Marche once more, but is defeated for the very last time and fades away. It's revealed that the party truly battled the lingering spirit of the late queen, who managed to assume a physical form by clinging onto something: Mewt's teddy bear, his greatest keepsake from the real world.
Gallery
Trivia
Her name is derived from the word remedy, which means "something that heals".
Remedi has 2 motifs that play during the final battle at Ambervale. The penultimate theme, against the Battle Queen, is "Surpassing the Wall". It has some minor similarities with "Altima, the Nice Body" (its equivalent from Final Fantasy Tactics), including being in the same key.
When Remedi transforms into the Li-Grim, "Surpassing the Wall" is replaced by "Incarnation". This song undergoes a gauntlet of key switches partway through the piece, but remains in minor key. It is somewhat darker and more suspenseful in tone than "Surpassing the Wall", given the mystery of the Li-Grim compared to the preceding battle.