Jurassic World: Dominion Dominates Fandom Wikis - The Loop
Play Sound
This article's content is marked as Mature
The page Mature contains mature content that may include coarse language, sexual references, and/or graphic violent images which may be disturbing to some. Mature pages are recommended for those who are 18 years of age and older.


If you are 18 years or older or are comfortable with graphic material, you are free to view this page. Otherwise, you should close this page and view another page.
Quentin Glass is the secondary antagonist of the 2004 Marvel film The Punisher. He is the personal assistant, best friend and right-hand man for Howard Saint. He is a ruthless homosexual mobster, but he is most of all known for his sadism.
He was portrayed by Will Patton, who also portrayed Alan Wilson in 24.
Biography
Quentin Glass was the right-hand man to Howard Saint, and blackmails Jimmy Weeks into giving up Castle's identity.  Glass is one of the participants to Puerto Rico to assassinate Frank Castle and his family. Through Mickey Duka's spying, it's revealed that Quentin is secretly gay, which only Livia aware of and Frank Castle takes photographs of him kissing another male in an alley in order to help Frank Castle on his revenge.
With Duka's help, Castle manipulates Howard into believing that Livia Saint and Quentin are having an affair, with Howard oblivious for the fact about his close friend's homosexuality. Quentin come home to find his furniture moved and Howard throws a knife on the ground, urging Quentin to pick it up, Quentin doesn't since he's confused and Howard does it. Howard stabs Quentin and fatally wounds him.
Personality
Quentin is a highly cold, ruthless, violent and sadistic person. He is a sadist as he enjoys harming, tormenting, abusing and torturing people for fun and for gaining information.
He is sort of both a good "cop" and a bad "cop". For example; he is enjoying doing jobs to the Saints and aiding Howard, while he is also an evil individual as he will be ready to do anything to make sure that rivals or enemies of the Saints will die.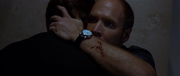 Relationships
Allies
The Saint Family - Employers
Enemies
The Punisher/Frank Castle
Mickey Duka - Former Ally turned Enemy
Trivia
Quentin Glass does not exist in the comics at all, and he is an original character created for the film.

Villains

Villains
Animated Features
Preminger | Madame Carp | Midas | Nick and Nack | Laverna | Fungus | Firebird | Wenlock | Wenlock's Griffin | Ollie | Fungus Maximus | Raquelle | Todd | Frieda | General Hemmer | Yegor | Lady Vain | President Stone | General Heckler | Cora | Hamegg | Tony | Rogues (King) | Cecil Clayton | Tublat | Edwin Carbunkle | PATBOT 3000 | Wilf | Anthony Trumper | Pigs | Bull | Mr. Greene | Mel & May | Linnux | Riff | Skozz | Storm King's army (Storm King, Tempest Shadow, Grubber & Storm Creatures) | Lord Nooth | Agent Red | Mugg-1N5 | The Hazmats | M.A.D.
Live-Action Films
Boy | Snik | Lady Van Tassel | Headless Horseman | Reverend Steenwyck | Patrick Bateman | Rachel Newman | Leprechaun | John Kramer | Amanda Young | Zep Hindle | Punisher | Howard Saint | Quentin Glass | Livia Saint | John Saint | The Russian | Harry Heck | Mickey Duka | Georges Rutaganda | Gregoire | Yuri Orlov | Andre Baptiste Sr. | Andre Baptiste Jr. | Tony Shepard | Lawrence Gordon | Madea | Mark Hoffman | Karen Crowder | Tatmadaw (Major Tint, Lieutenant Aye) | River Pirates | Jigsaw | James Russoti | Carmine Gazzera | Ink | Maginty | Schist Petroleum Company (Frederick Schist & Jake Schist) | Rodney Thibadeaux | Wayne Thibadeaux | Linda Davis | Anton Poldark | Glaze | Tatiana Creel | Larry | Abalam | James Munroe | General Garza | Dan Paine | Lawrence Sparks | Jonah King | Animal Masked Assailants, (Fox Mask, Tiger Mask, Lamb Mask) Felix Davison Crispian Davison Zee President Coriolanus Snow | Gamemakers (Seneca Crane) | Peacekeepers (Romulus Thread) | Erudite (Jeanine Matthews, Caleb Prior) | Dauntless (Eric Coulter, Max, Peter Hayes) | Factionless (Evelyn Johnson, Edgar) | The Bureau of Genetic Welfare (David, Romit) | Jean Vilain | Hector | The Sangs | Arthur Tressler | Willard Hobbes | Lester Clark | Drake | Senator Quintas Corvus | Marcus Proculus | Cootie Kids (Shelley Linker, Patriot, Dink, Angela, Tricycle Girl, & Racer Dopkins) | Conrad Stonebanks | Krug | Goran Vata | High Table | Viggo Tarasov | Iosef Tarasov | Avi | Ms. Perkins | Kirill | Bel and Genesis | Vladimir Malevich | Adrian Yates | Crane | Laughter | Fausto Alarcón | Walter Mabry | Tsarnaev Brothers | Santino D'Antonio | Ares | Gianna D'Antonio | Cassian | Dukhovich's Soldiers (Vladislav Dukhovich, Jean Foucher) | General Milić | Leatherface | Burt Hartman | Jonathan | Logan Nelson | Hal Hartman | Joanna | Orian Franklin | Crosby Franklin | Acapulco | Pinhead | Sean Carter | Jophiel | The Stygian Inquisition | Vivienne Nimue | Gruagach | Camazotz | Baba Yaga | Demons | The Adjudicator | Zero | Winston | The Elder | The Shinobi | Olga | Ransom Drysdale | Fran | Hugo Martinez | Victor Martinez | El Flaco | Aristotle Papadopoulos | Michael Bryce Sr. | Nanobot Swarm
See Also
Aardman Villains | Agatha Christie Villains | Barbie Villains | Blumhouse Productions Villains | Castle Rock Entertainment Villains | Cooties Villains | Escape Plan Villains | EuropaCorp Villains | Hellboy Villains | Hellraiser Villains | John Wick Villains | Lantern Entertainment Villains | Luc Besson Villains | Man-Thing Villains | My Little Pony Villains | Netflix Villains | Punisher Villains | Rambo Villains | Ridley Scott Villains | Saw Villains | Sleepy Hollow Villains | Studiocanal Villains | The Expendables Villains | The Hunger Games Villains | Tim Burton Villains | Texas Chainsaw Massacre Villains | Warner Bros. Villains
Template:Summit Entertainment Villains